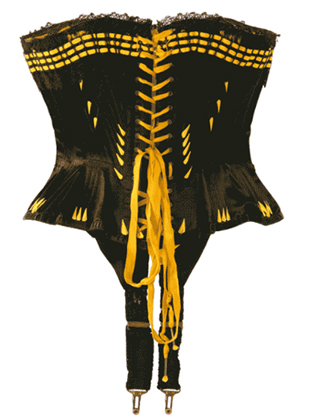 The magnificantly classic Rijks Museum in De Neuwe Kerk [The new church] is the setting for the Fashion DNA exhibition, in Amsterdam's Dam Square.
The aim of the show, is to be to show how fashion design and creation, is often an evolutionary process, more than a revolutionary one. The curators use the method of showing items made centuries ago, for a particular purpose, or occassion, and the contemporary equivalent, or where the modern designer, label or brand, took their inspiration from…essentially where modern designers took the DNA from.
If you visit, you will see some amazingly beautiful items, from old lawn tennis dresses from the 19th century, to even a massive rotating toothbrush from the 19th century. Juxtaposed against these types of pieces are some contemporary items, like Fred Perry & Lacoste tennis-wear & an Oral B electronic toothbrush.
The exposition is split into eight specifc categories. SPORTS, where you will find the unreleased Parra x Nike collaboration, INNOVATIONS, which houses Puma's Mongolian BBQ [a customisable concept, for those of you not in the know!], MAINTAINANCE, HYGEINE, BIRTH AND BABIES, MY BODY, MOURNING and ENHANCEMENT. They are all colour-coded so that it's easy to navigate from one section to another. There's even a section called 'Who Am I' where visitors can try on some classic clothing from Elizabethean times, and some tv monitors, showing some film, video and still clips, to further enhance the theme of the section.
The problem with the exhibition, is the editing and the quality. There is none. There is just to much stuff on display, with no consideration for a 'Less is More' approach. Nope, it's more like, 'Let's see how much stuff we can throw in there', including itens such a Nivea moisuriser that you can buy around the corner at the Dam Square supermarket! The displays are also amateurish, using a bit too much plastic and MDF, so that at times it comes across as a students final year display, including badly spray mounted colour photocopies of inspiration imagery. Not good!
It's a real shame, because the location is fantastic and worth visiting in it's own right, and this exhibition has some beautiful pieces, including old parasols and quaint bone china, with embellished with peasant imagery. Unfortunately, the exhibition does not live up to the location's standards. Still, if you are a tourist visting Amsterdam, and have a passing interest, our curiousity of how fashion comes about, and it's origins, then this is the show for you.

Fashion DNA
Date: 1st August – 22nd October, 2006
Place: Rijks Museum
Address: De Nieuwe Kerk, Dam, Amsterdam
Open: 10:00 – 18:00
Tel +31 [0]20 638 69 09
http://www.nieuwekerk.nl
Text: Slite
Images are courtesy of The Nieuwe Kerk, Amsterdam
[Help wanted]
Inviting volunteer staff / pro bono for contribution and translation. Please
e-mail
to us.