TAKU ANEKAWA EXHIBITION "HIDDEN CURRICULUM"
After a successful showing in Tokyo, Taku Anekawa is now displaying his unique art in Sapporo, and afterwards in New York with his exhibition, "Hidden Curriculum". Using an interesting blend of old and new technology, Anekawa creates an amazing array of embroidered and silkscreen pieces. Now, gathered together in one spot are some of his best works for people to view and enjoy. It has been highly recommended that people go and experience such an exquisite selection of inspiring work.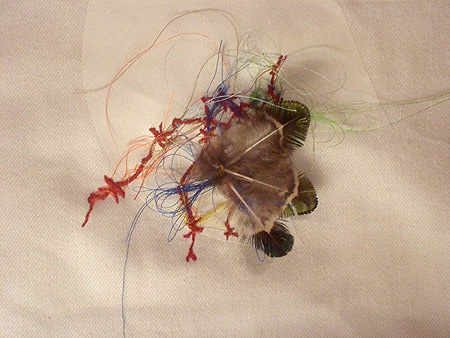 The opening party for "Hidden Curriculum" was held on Saturday July 1, 2006 at SOSO Cafe. While the sun was still up, people could come in and enjoy a few drinks while observing Anekawa's works. However, when the sun set is when things truly began. With the café packed with people and smooth beats flowing out of the speakers, Taku Anekawa made his appearance. A very friendly man, he always had a smile on his face and was more than happy to have a chat with the spectators.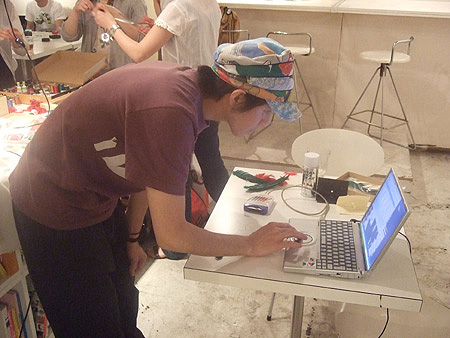 Anekawa put on a live showing of his work. Using a special type of sewing machine that could read memory cards, from his laptop Anekawa would create a design, copy it to a memory card, put that memory card into the sewing machine, set the device, and then the machine would function automatically. While the machine was running, Anekawa was free to do detailed work on some of his other pieces, while watching the machine carefully and making minute adjustments as needed.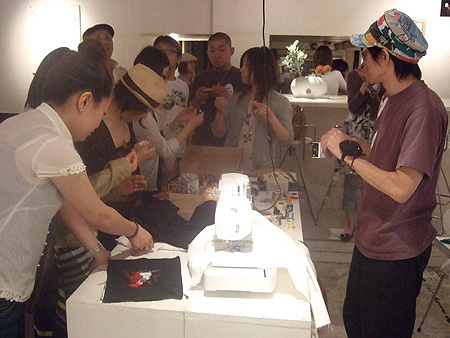 For the entire night there had been an astounding amount of thread, feathers, beads, and all other sorts of materials placed on a long table. These were there, not only for his use, but for the guests as well. Everyone was encouraged to go and make something out of the materials and he would later use those pieces in some of his works later that night while the guests watched on. A crowd quickly gathered around the table – everyone working hard crafting their contribution, eager to have it immortalized in one of Anekawa's works. They weren't disappointed. He showed an impressive level of flexibility at incorporating all the various colors and styles into his work, even taking requests. It was truly fascinating to watch.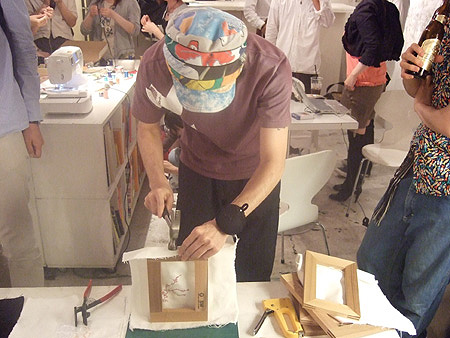 As the night wore on, more guests were drawn to the cafe to witness the artist's work and enjoy the relaxing atmosphere with a cold beverage. Anekawa worked on tirelessly and by the end of the night had produced nearly 10 pieces.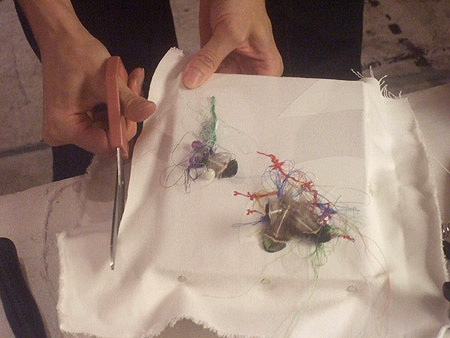 The entire night was a truly enjoyable experience with amazing art, good music, and interesting people. Embroidery is not a form of art that is often recognized, at least not in modern times, but I believe Anekawa will be able to change that point of view. I encourage everyone to stop in at the café and take in the pieces themselves. Though still impressive through photos, these pieces have to be seen in person to be truly appreciated.
TAKU ANEKAWA EXHIBITION "hidden curriculum"
Date: 1st – 28th July, 2006
Open: 11:00 – 21:00
Place: SOSO
Address: 1F Sansei Bld. S1 W13 Chuoku, Sapporo, Japan
Tel: +81-11-280-2240
Supported by phil co.,ltd.
www.shift.jp.org/soso/
Text and photos: Jacqueline Ste-Croix
[Help wanted]
Inviting volunteer staff / pro bono for contribution and translation. Please
e-mail
to us.