On June 9th, the first day of 2006 FIFA World Cup in Germany, "60 Football Visions" by 60 groups of creators started at "KDDI DESIGNING STUDIO" in Harajuku, Tokyo. At the reception on the preceding day of June 8th, the venue was crowded with approximately 800 people.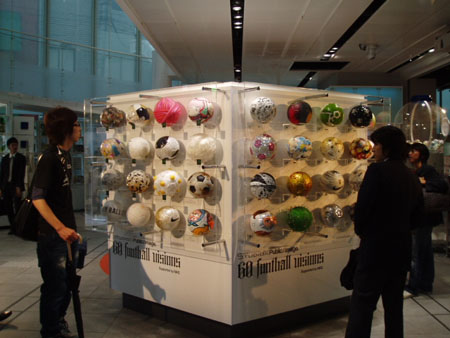 This exhibit was evolved from "Football Visions" project at "Football Liberated" section in a free graphic magazine "Public/image.magazine VOL.3". Participants are creators in a various media such as designers, artists, illustrators, stylists and photographers.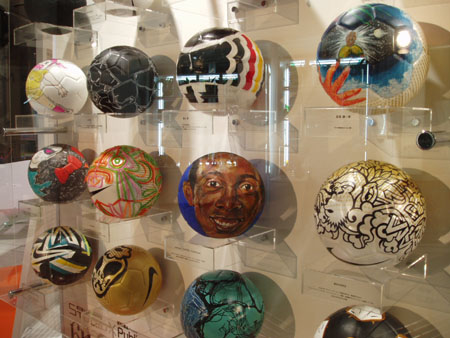 The works are exhibited at the 1st floor of "KDDI DESIGNING STUDIO" and catch your eye before you enter the venue because these can be seen from outside.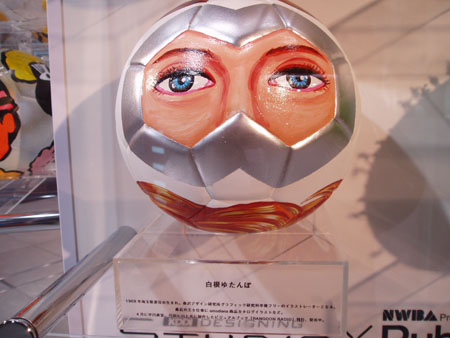 A director of "Public/image.", Kenjiro Harigai from "Adapter" says, "It was just an idea to customize football as one of the magazine projects, but the idea went bigger in the progress. Good offers came in good timing (NIKE providing balls, and KDDI DESIGNING STUDIO collaborating with us), and then we could make it to do the "60 Football Visions". It was a great opportunity to make plans one by one, exchanging opinions with makers like KDDI and NIKE, which are in different position from us."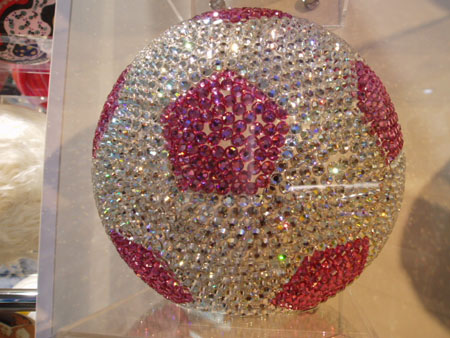 Harigai also talked about his thought for "60 Football Visions". "This project had artists both who like football and also who are not really interested in it, but all of them simply enjoyed the cube representation with football, as an artwork. Having this easy-to-understand subject, I also would like people who had never had contact points with us to see the works in this exhibition. For "Public/image.", this is the first attempt to collaborate with corporations in such large scale. I would like to continue trying to join together such unexpected points."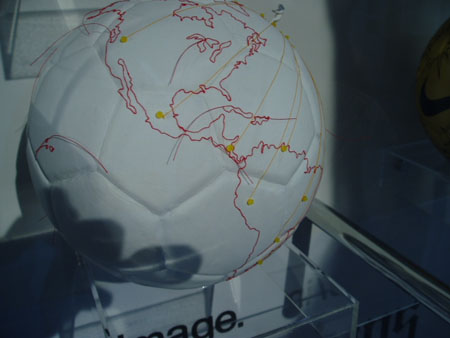 A director of KDDI DESIGNING STUDIO, Natsuko Kimura said, "I could feel empathy with this interesting attempt, which was not held to the frame of NWBA and NIKE. I, also as KDDI DESIGNING STUDIO, would like to value the space of communication art."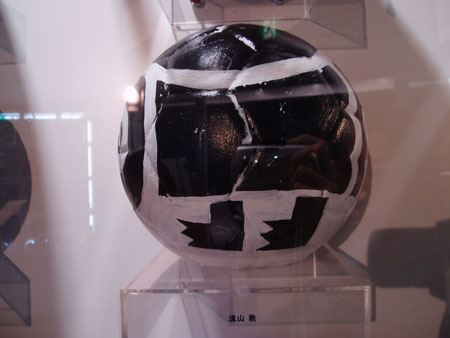 At the same time as the start of the exhibition, "60 Football Visions auction" at "au auction" has also been launched. You can get the exhibits in "au auction", and all 60 works have been exhibited for 4 weeks, by 15 works each. The most popular work during the first week was one by "Schnabel Effects" who is flourishing in many genres as an illustrator and an artist.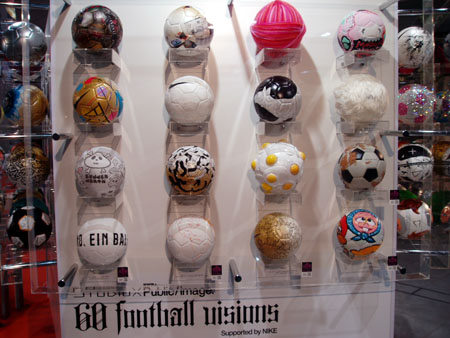 Each football piece is very unique as it is designed by artists from various fields. Because different aspects are seen in the balls depending on angle, it catapults you into watching from all directions. People can participate in the auction to get the exhibits, and also see all works by 60 groups of famous creators at one place. It might be one of the aims of this project that you can feel the close distance between visitors and creators.
Artists: ASYL CRACK / ASYL DESIGN / ADAPTER / Taku Anekawa / Kensui Arao+Takeshi Tanaka / UNNON/Keiji Ito / Imai TOONZ / Hiroshi Iwaki / Kozo Uchida / ESOW / Keiichiro Oshima / Hitochi Odajima / KAZUMOMOMI / Takahi Kawanishi / Yoh Canda / Akira Kitajima / Miho Kinomura (STUDIO D.O.G.INC) / Mari Kubota / Tomoki Kurokawa / Kiyohi Kuroda / SUNDAY-VISION / Junya Shigematsu / Schnabel Effects / Yutanpo Shirane / Toru Set (THROUGH.) / Dainippon Type Organization / AKIYOSHI TAKADA a.k.a.MADBUNNY / Tsuyoshi Takahashi / Toshihiro Takami/Koji Takeuchi / TAKORA/Katsuki Tanaka / Toshifumi Tanabu / Hiroki Tsukuda / Kosuke Tsumura(FINAL HOME) / diskah / Atsushi Toyama / Kenichiro Nagao / NA2ME / Hisashi Narita / hi-dutch / bakibaki(DOPPEL/EyeRhyme) / Emiko Hayashi / Tadashi Harada / Kozue Hyomi / Miki Furukawa / MUSTONE(iseneehihinee) / MAHARO/Kenichiro Mizuno / Syu Murakami / MECHIKURO / MON a.k.a.Monotype(DOPPEL) / Michihiko Yanai(Kaze to Rock) / Lallasoo Poopo Lab. / REI(hatos.normalization) / Miki Rezai / ROLLINGTHUNDER / LOKI/Hiro Watanabe
60 FOOTBALL VISIONS
Date: 9th June – 14th July, 2006
Place: KDDI DESIGNING STUDIO
Address: 4-32-16 Jingumae, Shibuya, Tokyo
http://public-image.org/60FootballVisions/
Text and photos: phil_internship
Translation: Yurie Hatano
[Help wanted]
Inviting volunteer staff / pro bono for contribution and translation. Please
e-mail
to us.