Introducing a solo exhibition by Ikuko Imamura, "My House". A house inside of a gallery, such that one can pass through and experience everyday feelings.
Contemporary Art Institute (CAI), Sapporo's centre for contemporary art has a school and holds exhibitions. It is situated in a quiet residential area away from the loud center of town.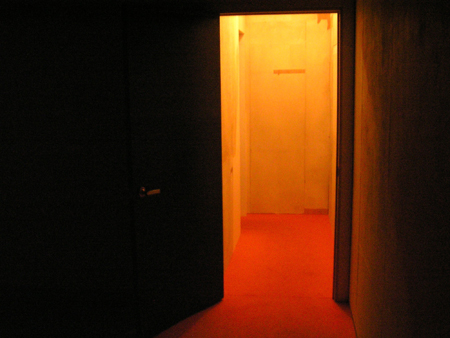 Now, I present Sapporo artist, Ikuko Imamura's exhibition, "My House". Using CAI's gallery space to the fullest, inside she has created a truly unique set up: a large scale building within a building.
Going down the stairs, the outside light is cut off by a curtain. When you go inside and look around in any direction: up, down, left, and right, you will start to feel like you're going insane from the pitch black darkness. It is slightly unsettling. It seems as though you have been thrown into a huge space. Your eyes never become accustomed to it, you can never see anything.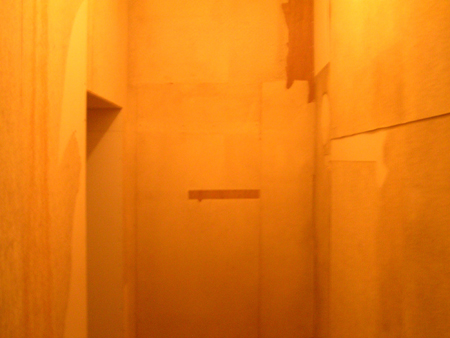 If you follow the wall with your hand, you will notice at the end of the wall on the right side is a door, it leads to the next room. A little light escapes through a small opening, therefore you will know it's there. Find the knob and go inside.
The next room is long and bright and appears to be a corridor. When you look at the end there is a door. Go through that door and you are in the last room with more than 10 pieces of work, natural light filtering in. This is the end.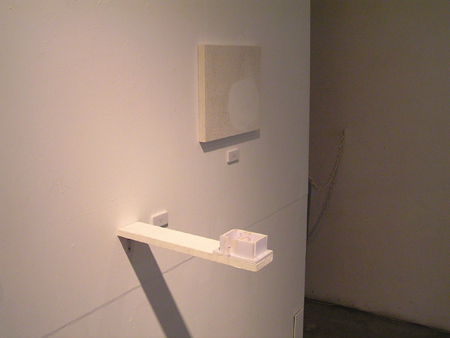 Ikuko Imamura is a contemporary artist. Originally, in high school, she preferred music to art and wanted to design record jackets so she moved towards being a graphic designer. After graduation she entered into CAI's school. She took an introductory course in Germany and became interested in various artists. Many times she has been in group exhibitions, this time she is going solo.
Imamura's self expression is giving substance to the images in her head. Merely getting a message through is a rather thin feeling, but to obtain sympathy from people,  even if just a little, then you get a sense of happiness, she says.
"My House" is based off of the artist's various memories of her childhood. Its something that everyone has, a common "sense". That is the skill of a true artist, to gain the greatest appeal, that's what I think.
Ikuko Imamura "My House"
Date: April 22nd – May 27th, 2006
Place: Contemporary Art Institute (CAI)
Address: 2-5, North 1 West 28, Chuo-ku, Sapporo
http://www.cai-japan.com
Text: Shinichi Ishikawa
Translation: Jacqueline Ste. Croix
Photos: Shinichi Ishikawa

[Help wanted]
Inviting volunteer staff / pro bono for contribution and translation. Please
e-mail
to us.