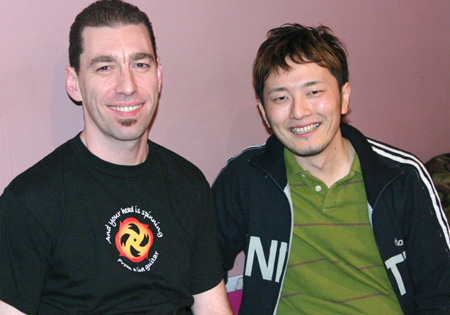 On a cold November night at Camden I met Jazztronik aka Ryota Nozaki, visiting London during his over a month world tour.
Producing Mond grosso, taro hakase, Gospelase and remixing the works of bird, M-flo, modaiji, Mika nakashima, he also has collaborated with UK label Counterpoint. Now he is the beloved artist by London Alternative DJs such as Gilles Peterson, Patrick Forge, Rainer Truby.
I asked him what he feels about London just one hour before his set. He has already played in the states, Italy, France and Nordic country as well.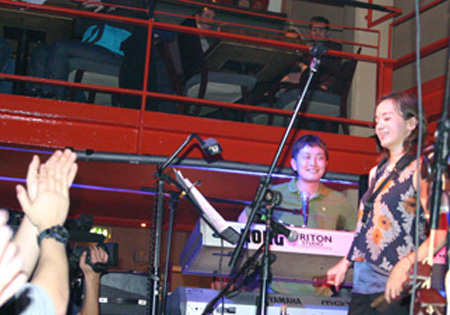 "I've loved it here since I was student. Looks like a doll house. Smaller than Tokyo but contains lots of ethnics. That's so interesting. In terms of music as well. Before London I went to NY but it is still different. I feel more energy from London. I am kinda new in Europe even though they reply if I do well. The name seems not that important. And I like how they seem to enjoy music a lot. "
Looks like it is part of their life. That is I think different from what I feel in Japan.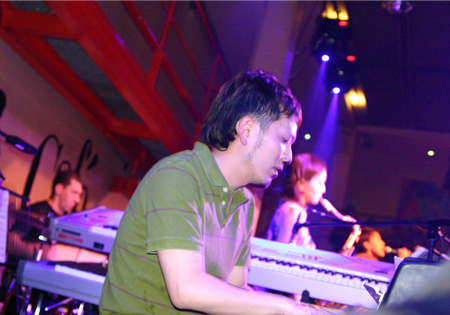 Even inside London he played at Bricklane, Angel, Jazz Cafe at Camden, all different taste of audience, I felt like he was pretty much satisfied and enjoying what he has done and what he felt from it.
"I can tell what people want in each place soon as am doing DJ for so long." he said.
There's an art event held in bricklane called MATSURI. It was made by three Japanese boys only their early twenties aimed of giving young artists the opportunity to show their works. Now it is going to be a massive crush between international artists. Jazztronik joined this event as special guest, at 26th Nov.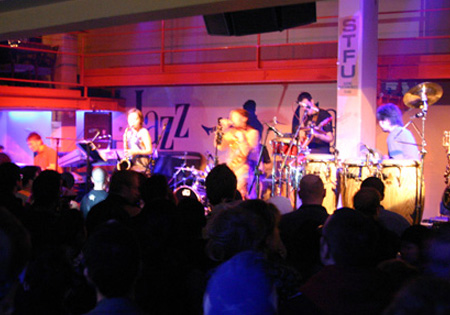 "I felt a good vibe, they express themselves, their youth and staff although I was really surprised there are so many Japanese. If they can think of their Japanese identity more not just follow foreigners, I think it will be great. We can't be someone like black people because we are not. But If you can accept you are a Japanese and try getting some more from different culture I think it is interesting."
Jazztronik doesn't have fixed members but collaborate with various other musicians time by time. His new album "EN code" he played with Japanese drums "Kodo". It is already something in Europe.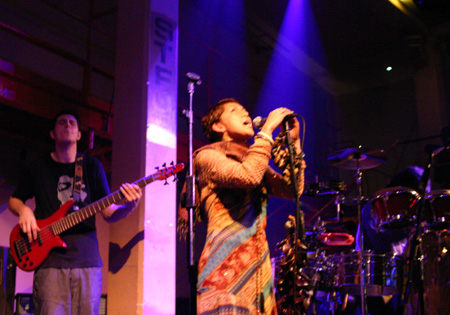 "If it is a band with 5 members, you can get 5 different ideas and staff but I m not satisfied with those limits. I want to know more and more people. Jazztronik's aim is to have sessions with many people."
When I asked the reason why Jazztronik have such crush In Europe, he just shrugged and said he dunno.
"Music should be like that, no border. Of course million hit pop songs are needed but if everybody does that there is no progress. I hope more and more Japanese artist play outside of Japan. I know it is pretty difficult though."
Though saying so, passing through all the borders, he will travel Sweden Italy and so on leaving us behind with feeling not enough dances yet.
JAZZTRONIK
Date: 28th November, 2005
Place: Jazz Cafe
Address: 5 parkway, comden town, NW1 7PG
www.jazztronik.com
Text and Photos: Sayaka Hirakawa
[Help wanted]
Inviting volunteer staff / pro bono for contribution and translation. Please
e-mail
to us.