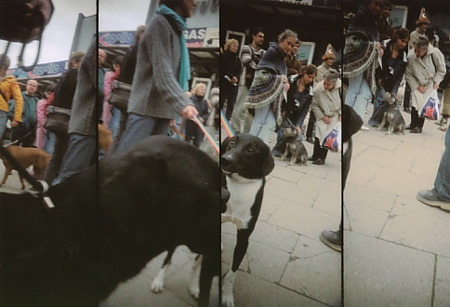 The pro-test lab was initiated by VILMA (Vilnius Interdisciplinary Lab for Media Arts) at the cinema "LIETUVA" in Vilnius and was testing the understanding of possible and/or impossible forms of protest.
Protest, which is accumulated, maturated, yet unidentified, unvoiced, still in search for its form, format and voice. Protest against control, our own inability and drift. Protest against our inability to protest against the undisputed scenario of a single system.
The pro-test lab addresses citizens with a request to propose a possible scenario of protest.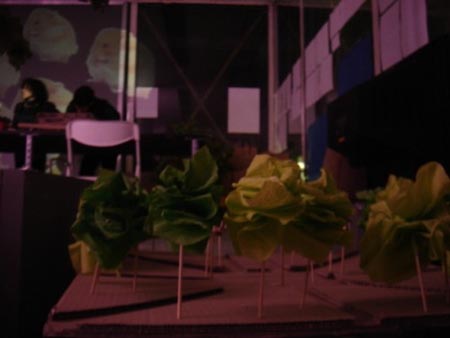 In defeated battlefields of the privatization, "Lietuva" cinema theather has become a significant orienting point. A defeated "Vilnius" cinema theather has bestowed the keys to Benetton.
Now the turn of "Lietuva" has come. The pro-test lab tried to addressed the citizens with a request to propose a possible scenario of the protest. The form of scenario was open: audio or video interview, texts, schemes, posters, performances or other expressions that represent wishes of the citizens, finally – circumstances of impossibility of such a scenario, contexts and reasons.
Therefore pro-test lab addressed cultural producers and theorists, who have recently discussed a lack and yearning for certain protest or political will, reflecting various issues ranging from monuments, urban development to lifestyle, consumerism, dominance of labels.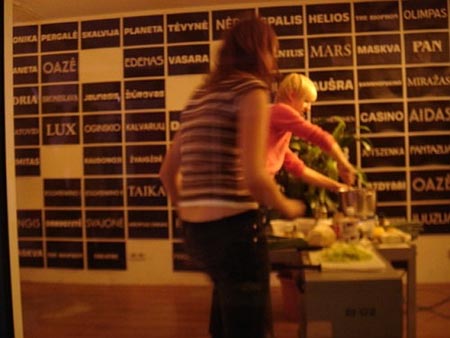 The pavilion, a former ticket office at the cinema "Lietuva" was converted into a pro-test lab to perform a function of recording device. Referring to the brothers Lummiere early model of camera, that performed twofold function (filming and screening), this recording device generated an action, registering the scenario of protest.
The volunteers joining the Pro-test lab were mostly young people, students from The Music Academy, Educational Film and TV Studio, Theater and Film faculty, University Cinema Club, Architecture Students Club, community movement "Spaces in City", community of vilma.cc mailinglist, and all others wishing to cooperate in staying, performing and archiving pro-test campaigns.
Action considered: "For "Lithuania" without the quotation-marks (campaign to protect the cinema), "We will not calm down without "Vilnius" (campaign against Benetton that superseded "Vilnius" cinema), "Return of the repressed: pioneers against the former communists (campaign reclaiming back the Pioneer Palace).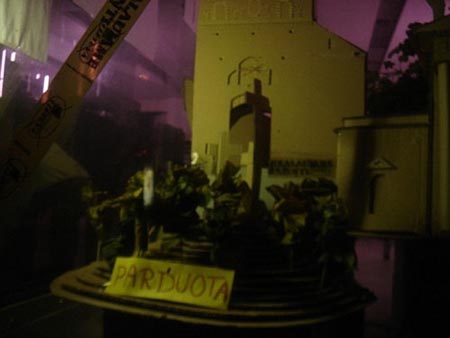 Pro-test lab squated the pavilion of the cinema "Lietuva" to run the function of the recording device that becomes the brainwork of the action, generating and registering scenario of the protest.The space of the lab maped and unfolded several areas of access.
LIETUVA TV – peoples television: to record and broadcast citizens voice with lots of different independed films.
MODELLING zone – was a creativity and work area for architects and/or anyone willing to model situations. Here signs/building models were produced for a game show "VIP Turgus" (VIP Market) by ASK – Architecture Students Club.
READING ROOM – was created to archive and navigate the protest scenario.
AViZa KITCHEN – was a nice place to cook the discussions and discuss the secrets of making!
GREEN STAGE – area for DJs and VJs, poetry or voice amateurs and professionals, podium for conversation or action, as needed.
And WISHES ZONE – to exercise the desires and to desire the exercises.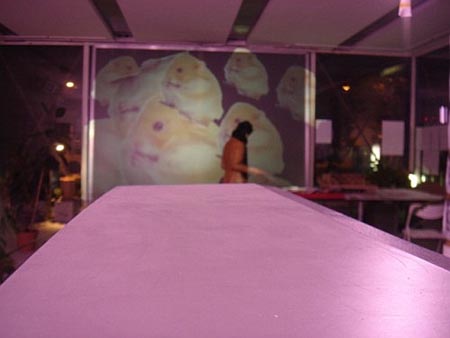 CARNEVAL IN LIETUVA was the last party in the lab with INTERMEDIA/KIT students and RUT RUT collective, which presented sound and visual session with telebridge to England's artists.
DOG VOICE IS NOT GOING TO HEAVEN was the title of the last protest of the pro-test lab. Vilnius citizens were invited to come with their dogs and with the help of their barking protest for "Lietuva" closing. An ironic event attracted lots of people expresing their love to this old cinema theather.
After that funeral candles were lighted and some simbolic corsses were build near "Lietuva". The event ended with two symbolic films – IDIOTS by Lars von Trier and ONE FLEW OVER THE CUCKOO'S NEST by Milos Forman.
Long live "Lietuva" cinema!
Text and Photos: Emanuelis Ryklys from RUT RUT
[Help wanted]
Inviting volunteer staff / pro bono for contribution and translation. Please
e-mail
to us.