MOVANA CHEN "EXPLORES THE RELATIONSHIPS BETWEEN THE BODY AND ITS CLOTHES; FINE ART AND FASHION"
HAPPENINGText: Samantha Culp
None of us really knew what to expect when we entered Para/site gallery on the evening of August 31st. The night air outside was still sweltering with summer, the newly-renovated main floor of the gallery was slightly darkened for this event, and even the curator was a bit fuzzy about what was to occur (Tobias Berger, new to Hong Kong by way of Germany and New Zealand, kindly agreed to let the organizers stage the show during a gap in Para/site's schedule).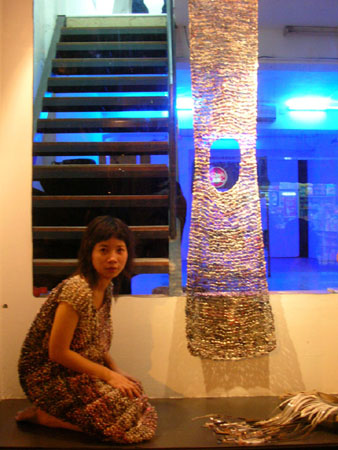 "Looking.Touching.Shredding.Knitting=Interacting" is the brain-child of Movana Chen, a Hong Kong designer just returned from study in London. Advertised as an exhibition/performance that "Explores the relationships between the body and its clothes; fine art and fashion," the event was intended mainly to showcase the unique fabric Movana created from magazine pages and used to make clothing.
She had collected magazines put out for recycling on the street, ripped them apart into single sheets, laid them end to end in enormous strips, laminated the strips, then cut the strips into linguine-sized ribbons (less than a centimeter wide), and finally wove these into intriguing dresses, tunics and sweaters, simultaneously organic and futuristic, shiny and infinitely tactile. But to bring her creations to life, she decided to go beyond mere fashion show.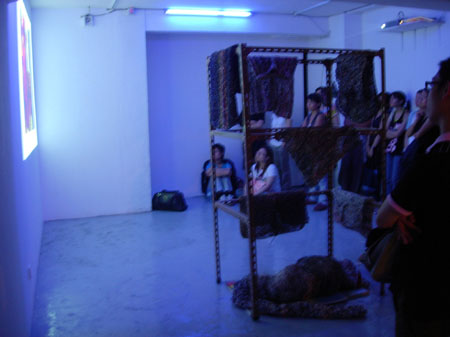 The space stood mostly empty, save a metal stand with the bulky textiles draped over the rods, and a large, long lump of similar material lying at the base of the stand. The audience crowded in, lining the white walls, sipping red wine from plastic cups, while one wall projected videos of Movana's working process on and previous fashion "premiere" of her fabric, along with some more conceptual clips of her playing with the long rolls of magazine paper on a staircase, and wandering around Central Hong Kong dressed in one of her tunics (cotton shirt and skirt visible through the holes, of course) while still knitting the hem of it, plastic-mag ribbons still trailing from a paper-shredder purse. Then the videos stopped, a hypnotic loop of light electronic music began, and the lights dimmed even further while our attention was drawn to the center of the room.
Read more ...

1
2
[Help wanted]
Inviting volunteer staff / pro bono for contribution and translation. Please
e-mail
to us.