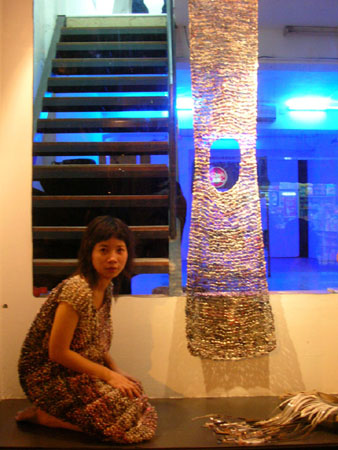 None of us really knew what to expect when we entered Para/site gallery on the evening of August 31. The night air outside was still sweltering with summer, the newly-renovated main floor of the gallery was slightly darkened for this event, and even the curator was a bit fuzzy about what was to occur (Tobias Berger, new to Hong Kong by way of Germany and New Zealand, kindly agreed to let the organizers stage the show during a gap in Para/site's schedule).
"Looking.Touching.Shredding.Knitting=Interacting" is the brain-child of Movana Chen, a Hong Kong designer just returned from study in London. Advertised as an "exhibition/performance" that "explores the relationships between the body and its clothes; fine art and fashion," the event was intended mainly to showcase the unique fabric Movana created from magazine pages and used to make clothing. She had collected magazines put out for recycling on the street, ripped them apart into single sheets, laid them end to end in enormous strips, laminated the strips, then cut the strips into linguine-sized ribbons (less than a centimeter wide), and finally wove these into intriguing dresses, tunics and sweaters, simultaneously organic and futuristic, shiny and infinitely tactile. But to bring her creations to life, she decided to go beyond mere fashion show.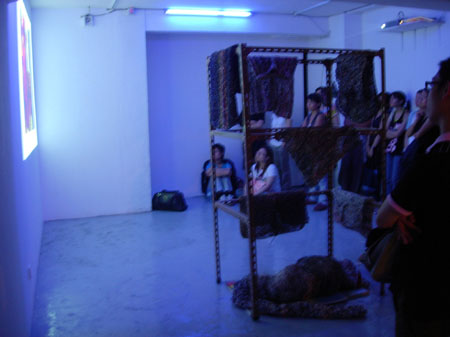 The space stood mostly empty, save a metal stand with the bulky textiles draped over the rods, and a large, long lump of similar material lying at the base of the stand. The audience crowded in, lining the white walls, sipping red wine from plastic cups, while one wall projected videos of Movana's working process on and previous fashion "premiere" of her fabric, along with some more conceptual clips of her playing with the long rolls of magazine paper on a staircase, and wandering around Central Hong Kong dressed in one of her tunics (cotton shirt and skirt visible through the holes, of course) while still knitting the hem of it, plastic-mag ribbons still trailing from a paper-shredder purse. Then the videos stopped, a hypnotic loop of light electronic music began, and the lights dimmed even further while our attention was drawn to the center of the room.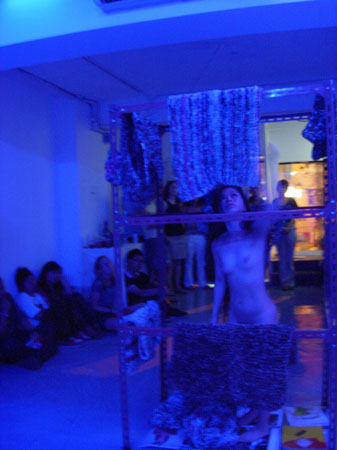 Subtly, gradually, our suspicions were proven correct as the lump of fabric began to move. "There's a person in there!" whispered one viewer to another. The lump twitched, stretched, and started a slow process of standing up. It bobbed and surged, rose and fall, cautiously testing the edges of the metal stand and the horizontal rods, poking its end gingerly through a space between them and with sonar-like precision, almost touched each metal edges, lovingly pulling back at the last moment each time.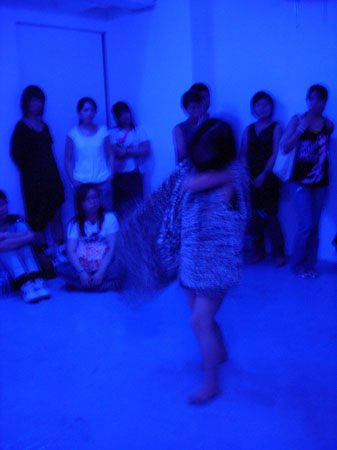 Once erect, the lump wiggled and undulated, progressively working what we could now see to be a tube of the magazine fabric upwards… revealing first a pair of bare feet, shapely legs, knees, thighs, then yes, wow, my goodness, a dark patch of hair, leisurely swaying hips, pale belly, heavy breasts, strong arms, a beatific female face (both ecstatic and blank) and finally, cascades of jet-black hair. Now free from her magazine-fabric tube, the creature (who seemed more fairy than human in the mesmerized moment) dipped and retracted, curled and unfurled, as slow as water dripping off the edge of a table, and just as magical. She explored the environment of the metal stand, now sighted, and enacted the same playful, almost seductive, dance navigating the positive and negative space of the metal bars. The repetitive soft glitches in the air scored her first step outside the bars, and her tour around her previous realm (really just the difference of standing beneath a clothes-rack and to the side of it, but her motions described "inside" and "outside" as two complete continents apart), before she began, unthinkably but inevitably, to clothe herself again. She played with the garments draped over metal, step by step drawing them off, and perhaps to the tips of her fingers or the top of her head, then began crossing that wall, by traversing the outward circle and getting the audience to help her make the final tugs.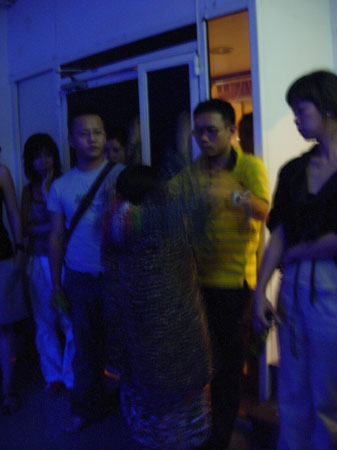 First a man– who seemed shocked for a moment, and then as if it were the most natural thing in the world to pull a plastic-crochet tunic over the head of a naked dryad in an art gallery. Then a woman, nudged by the creature's back who pulled a second garment over her. Then me, actually-she approached my corner of the gallery, looked at me unflinchingly and not without love as I touched the rubbery matrix and pulled. A third, then a fourth of these baggy synthetic knits, until she was almost a lump again. She then unrolled a bolt of the magazine fabric, and spoke for the first time, bursting out with letters and words as she struggled to decipher them on the strips in the half-light. "Ngoh!" "A!" "Yauh!" "9!" The shouts escalated, until silence seemed right again, and she curled back up in her former home of metal and air.
After the lights came back on and the applause began, the woman stood up and bowed, and the real world flooded back. I was introduced to Saffron Leung, the life model who so fetchingly created this alternate universe with a few avant-garments and a metal stand. Clothed she was no less beautiful, but more human, funny, textured. Since nudity is hardly shocking in the Western art world, I was amazed to realize how refreshing and exciting it was to see in this context, and how effortlessly meaningful the performer made it. Though Movana Chen's fabric is fascinating and innovative, the most compelling part of this "fashion" exhibit was ironically a single naked body, moving slowly in the muted light.
Looking.Touching.Shredding.Knitting
A project by Movana Chen and a team of London artists
Performer: Saffron Leung
Date: 31st Aug 2005, 7:30pm –
Place: Para/Site Art Space
Address: G/F, 4 Po Yan Street, Sheung Wan, Hong Kong
Tel: 25174620
info@para-site.org.hk
http://www.para-site.org.hk
Text: Samantha Culp
Photos: Movana Chen and collaborators
[Help wanted]
Inviting volunteer staff / pro bono for contribution and translation. Please
e-mail
to us.