The exhibition for the charity project "Toy Saves Children" took place at LAPNET CLUB in Harajuku and at COMME CA COMMUNE in Shibuya. For this project, a total of 28 artists were united from all over the world with a call by Ryosuke Tei of FuriFuri Company.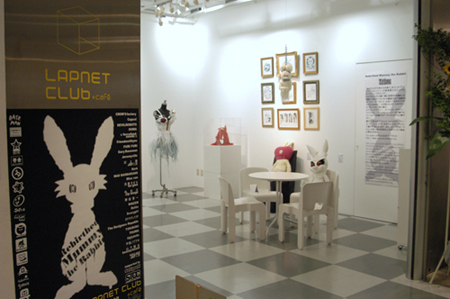 Each artist customized the stuffed toy of "Mammy the Rabbit", whose cartoon is serialized on the magazine KERA, and made the only "Mammy the Rabbit" in the world for this charity project. Also, after this exhibition, the works are going to be auctioned off and the proceeds are going to be put in Unicef.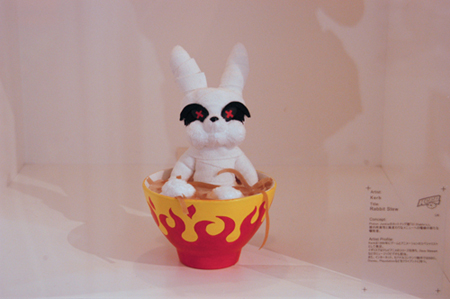 Each of the displayed stuffed toys was never the same and each taste was presented. Making a work in the motif of one is a try that is possible but previously unheard-of, so their original character was highlighted. I thought of various ideas that "this stuffed toy is simply interesting" or that "this artist customized like this" etc..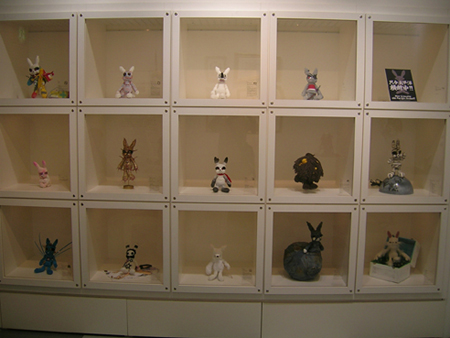 A "Mammy the Rabbit" by Nakagawa Dai is automatic. It breaks the concept of stuffed toys that they never moves until we touch them. It continued to move slowly and I took in its sequence of movement that is repeated. At toy shops, which are drastically decreased, there always used to be a battery-operated dog or monkey that was surrounded by fence; I remember to have taken in them for a long time without a interest of love of possession. I don't know why human beings are interested at automatic objects, but our dream for a robot is endless, becoming kind of reality. Aside from the fact whether I want it or not, I'm impressed to see moving ASIMO. It's certain that his peace had something impressing that is common to ASIMO.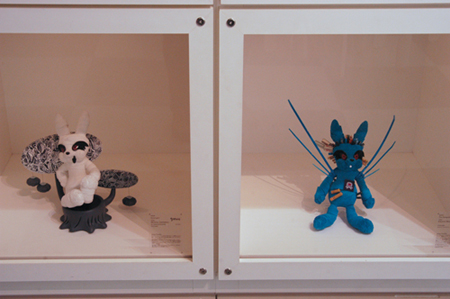 The piece by The Designers Republic was also like a Gundam though I'm afraid that they are linked on the point of a robot. Its appearance was really cool, so I imaged that the "Mammy the Rabbit", which has prominent looks among stuffed toys in the world, would be more stunning and survive in space.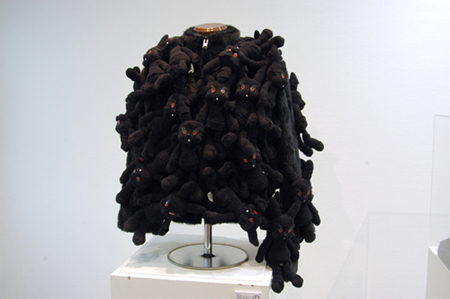 The other pieces were also cut, pasted, painted, put, hung. The exhibition hall had seemed to be a meeting of "Mammy the Rabbit".
The exhibition at LAPNET CLUB in Harajuku has already ended, but the next at COMME CA COMMUNE in Shibuya is until the 21st of August. I recommend you to go to see it.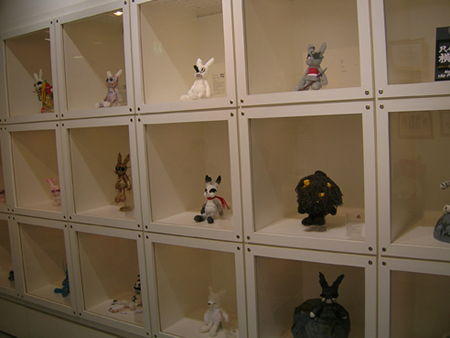 This "Toy Saves Children" was come about from a problem consciousness of "how can designers and artists make a contribution to society?". This was the first project and they seem to continue their activity to the future. This project surely evoked concern for the problems that the present world has. They must drill down on it with the second project. Though I'd forgotten the word "world's underprivileged children" in daily life, I visited the web site of Unicef for the first time after seeing this exhibition. I suddenly remembered there that this kind of information was often on TV, and I had a consciousness of the still continuing problem. Say, Julie Delpy had been doing activities like this in the movie "Before Sunset".
The participants artists: CROW'S factory, Cupco!, Devilrobots, DOMA, forcefeed:swede, Friendswithyou, FURI FURI, Gary Baseman, JAKe, Jeremyville, Noboru Kawakami (JAP Koubou), Kerb, MAD BARBARIANS, Miss Van, Kaoru Mitsukura (be-glee), Dai Nakagawa (Zip image), Shuichi Oshida, Rinzen, Rolito, Scarygirl, Noriya Takeyama, The Designers Republic, Tokidoki, TOUMA, Uglydolls, Nobuaki Udaka, Takao Yamashita (beauty:beast), YOU-KO (JAP Koubou)
TOY SAVES CHILDREN
Rebirthed Mummy the Rabbit
Date : 2nd – 10th July, 2005, 11:00-21:00
Place : LAPNET CLUB
Address : 4F FORET HARAJUKU 1-8-10, Jingu-mae, Shibuya, Tokyo, Japan
Ticket: Free
Opening Party: 2nd July, 19:00-21:00
TOY SAVES CHILDREN
Rebirthed Mummy the Rabbit
Date : 15th July – 21th August, 2005
Place : COMME CA COMMUNE
Address : 1-18-2, Jinnan, Shibuya, Tokyo, Japan
Ticket: Free
Text: Yasuharu Motomiya
Photos: Photoperformer Pas
Translation: Yuhei Kikuchi
[Help wanted]
Inviting volunteer staff / pro bono for contribution and translation. Please
e-mail
to us.