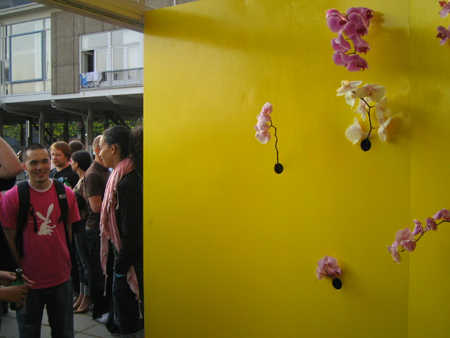 Last year I interviewed Garrett Chow who was a member of the street art crew, London Police, who have since disbanded. Garrett is now establishing himself as a stand-alone artist (he already has a successful career in graphic design) and the recent Nike Windrunner apparel re-launch at 90sqm was a perfect opportunity to see his latest work. The event celebrated a new take on the Windrunner apparel line with intriguingly re-worked jackets featuring splits.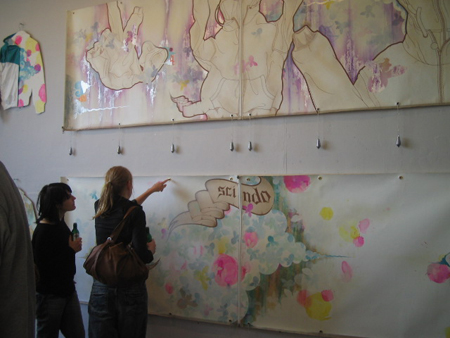 Garrett became involved with the new Windrunner having recently created lots of paintings for Nike in Cyprus. Someone had mentioned the forthcoming re-launch and Garrett had come up with a idea of a series of paintings with 'splitting content'. With Nike intrigued, he developed the theme further by incorporating orchids. 'I saw the orchids as closely related to the whole 'split' Windrunner concept. Orchids are bred to create unique new strains. The breeders take 2 strains and combine them to make a new wholly original one. I felt this relected the sentiment behind the new Windrunner'. Garrett's paintings were colour infused depictions of orchids with Windrunner elements locked into the frameworks. Some paintings even had zips centrally located allowing images to be mixed and matched.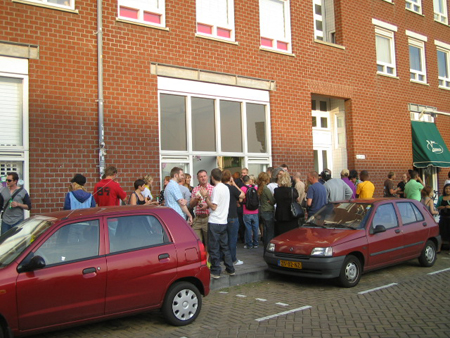 As with most events at 90sqm, a mixed crowd of people attended attracted by things to look at, drink and good tunes spun by DJ's. 90sqm is one of those places that is ideal for these kind of summer evenings as it's located right by the river and away from the hustle bustle of central Amsterdam. The events are always a good opportunity to catch up with friends and see what everyone is up to. Needless to say, this Windrunner re-launch was another big success for 90sqm with Ido (the owner) rushed off his feet accommodating all the eager customers. I'm looking forward to the next one.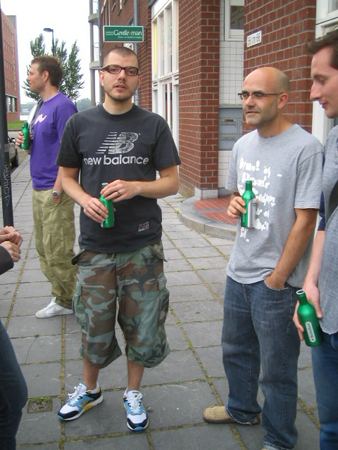 Summer in Amsterdam is also festival season and none is more prominent than De Parade, which is celebrating it's 15th anniversary in 2005. This is one of those festivals that everyone tells you is a must-see. I've never actually been but I am planning to go for the first time this year. De Parade (The Parade) is a traveling circus / funfair festival and draws upon medieval fair traditions without involving you in too much hippy, new-ageism festival antics. I get the impression this Dutch version is much darker and more surreal which appeals to me. As was custom at medieval fairs they "show off" by giving the audience a taste of their performance on a stage outside the tents in which they perform.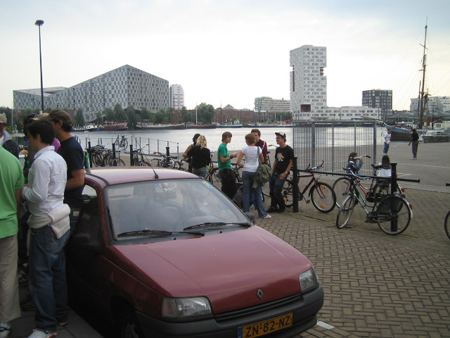 Having already visited Rotterdam, Den Haag and Utrecht, De Parade reaches Amsterdam on the 29th July and stays in the Martin Luther King Park until 14th August. Expect strange people, bizarre performances and lots of good food and drink. If you fancy it, check out their website for the performance agenda, ticket sales and directions or even better catch De Parade boat, which departs from Waterlooplein and takes you down the river Amstel to De Parade.
De Parade
Date: 29th July – 14th August, 2005
Place: Martin Luther Park, Amsterdam
Tel: +31 (0)33 465 4555
info@deparade.nl
www.deparade.nl
90sqm
Address: LevantPlein 52, 1019MB Amsterdam
Tel: +31 (0)20 419 2525
info@90sqm.com
www.90sqm.com
Text and Photos: Ania Markham from Post Panic
[Help wanted]
Inviting volunteer staff / pro bono for contribution and translation. Please
e-mail
to us.