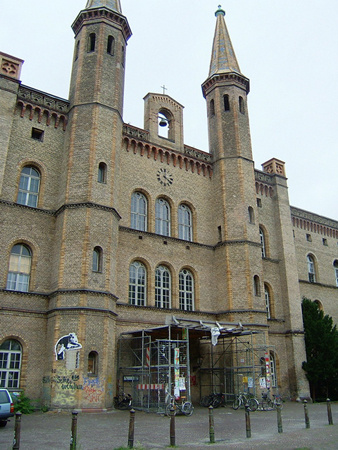 Kunstlerhaus Bethanien has became a topic of conversation a bit among Berliner folks. Residents of Hausprojekt Yorck59 has occupied an annex of Bethanien as a new residence after they have been evicted. Hausprojekt, as know as "squatting" in Japan, means an activity that occupy and keep living in a vacant building with a large number of people.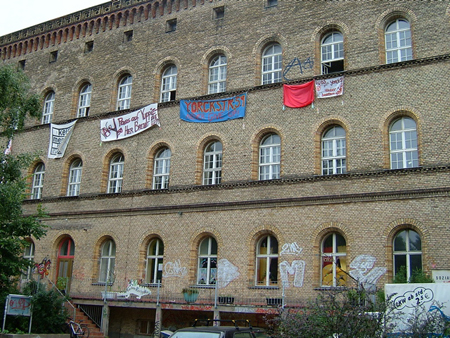 Besides, Bethanien is now a famous aritst-in-Residence that many artists are invited from all over the world and gather; however, it has started its history from an occupation of a vacant building that once used be a hospital. About 30 years ago, it has became an artist-in-residence. Because of this reason or not, it is said that there are not any big troubles between residents of Yorck59.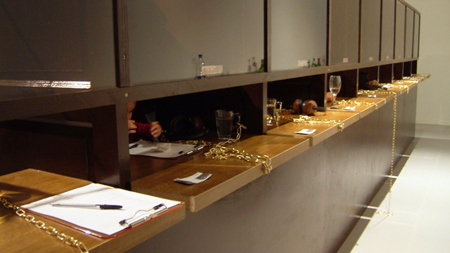 In these circumstances, there was a private exhibition called "Park
Party" by Shiro Masuyama who was the invited artist of 2004 to 2005. It
is Berlin version of his work introduced as "Supposed Opening" for the first time in NY in 2002.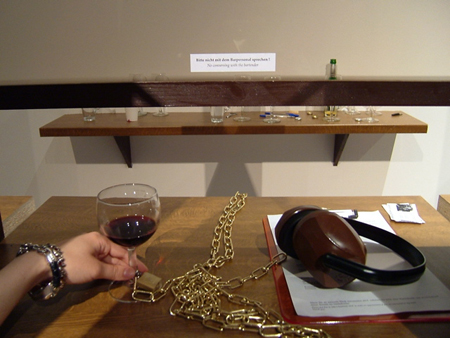 When you enter the hall, after passing a certain border, you will be filled with clamor of guests having a pleasant chat that does not really exist there. In front of you, the bar counter is forming a line in good order. However, it is not a regular bar counter. Each seats are divided by partition boards, and thick curtains cover those surfaces. Guests get in each spaces, put headphones as a soundproof, and write down their orders on order sheets. Drinks come with glasses which are on chains.
Guests are in sarcastic situation to taste drinks in these loneliness rooms. That is, this work has context in its background, which is to put sarcasm toward an opening party of exhibitions where people conventionally come for social relationships.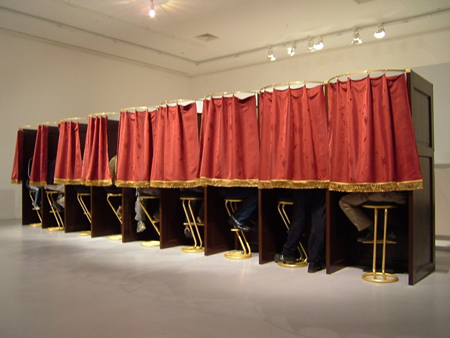 He constructs every details in order to orientate the audience naturally to his work. For example, thick curtains, that was put on to divide each seats from outside world, is interpreted and taken in to the work as a Berlin version of "the entrance to the bar". This is because in Berlin, thick curtains are usually put on to their entrances to shut out cold air from outside, When this work was exhibited in Japan, the curtain part was instead the "noren"/"swing door" and we could see his contriving skills and visions to the local.
Other than this, the scales which was forming a shape of a chair was presented in the exhibition place. It is now negotiated to set up in Alexanderplatz.
Shiro Masuyama Exhibition "Parky Party"
Date: 30th June – 17th July, 2005
Place: Kunstlerhaus Bethanien, Berlin
Address: Mariannenplatz 2, 10997 Berlin
Text and Photos: Yoshito Maeoka
Translation: Kosai Kato
[Help wanted]
Inviting volunteer staff / pro bono for contribution and translation. Please
e-mail
to us.