Furthermore, Atom TM by Senor Coconut was played at O-Crest as "Atom TM vs Pink Ellen". Pink Ellen has been their friends for a long time, and it was definitely a splendid view for fans. They played acid techno. Whenever these people plays like this it is a historical moment.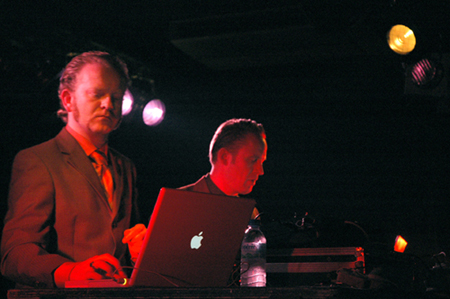 So far, all I could say about the performers was miraculous. It is unworthy of distinguishing music by countries or regions, though I suspect that there is a specific uniqueness and fertileness to German music when compared to music from the UK or US. At the last of the two days event, Mouse on Mars and Lali Puna performed. Mouse on Mars obtained and expressed very strong originality including experimentation, popularity and madness of German electronic music stretching from Kraftwerk and CAN. On the other hand, however, Lali Puna still has not been evaluated appropriately since they were pushed in a vague framework called German electronica.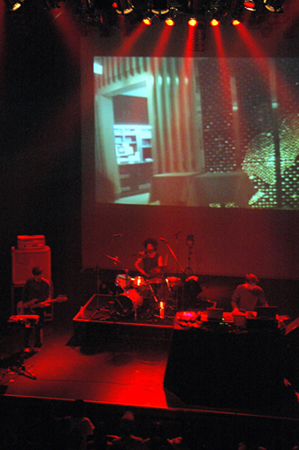 We had a chance to talk to Lali Puna's main members: Valery, (vocals and keys) and Marcus (bass). Charming Valery and taciturn Marcus like a philosopher look like they are facing and performing their favorite music really naturally. They still keep establishing their worldview as Lali Puna every time when they release new music, even though they certainly have a consistent common sound like My Bloody Valentine, which was mentioned in the interview as well. They should be evaluated widely also in Japan beyond the limits of Electronica, but in a category of rock music on account of the label Morr Music.
Mouse on Mars had performed the last and most popular number of the event. In the past three times, they had given full play to their stage performance ability; such as "Maria Ostobanhof at Idiology Tour", Metamorphose from last year, and music from this time. Each of those performances left me with different impressions. "Frosch", their last tune, evoked a sensation of shedding tears of gratitude.
Like Lali Puna's Marcus said in the interview, artists performed during this event are important ones to tell nowadays German pop-electronic music, even though they are not representing Germany. Moreover, we are able to catch a glimpse of tendencies of Japanese and worldwide music by feeling their music, and pursuing surrounding music sources and artists. Availing "Deutschland in Japan 2005/2006" festival, which presents Germany from cultural point of view (such as design, art and music) of an opportunity, it could be a chance to know various and sensational "borderground culture" that is also a topic of SHIFT.
Soundz From Germany 2005
Date: May 2nd and 3rd, 2005 18:00-
Place: Shibuya O-East/Shibuya O-Crest
Address: 2-14-8 Dogenzaka, Shibuya-ku, Tokyo
Tel: +81 (0)3 5458 4681
http://www.faderbyheadz.com
Text: Yasuharu Motomiya
Translation: Kousai Kato
Photos: Miho Kakuta


1
2
[Help wanted]
Inviting volunteer staff / pro bono for contribution and translation. Please
e-mail
to us.