ATSUSHI TOYAMA EXHIBITION
One night in Sapporo when white seagulls flew above the city like white crows, colorful birds in Soso cafe were celebrating the spring season. Atsushi Toyama Exhibition "And Your Bird Can Sing" had started.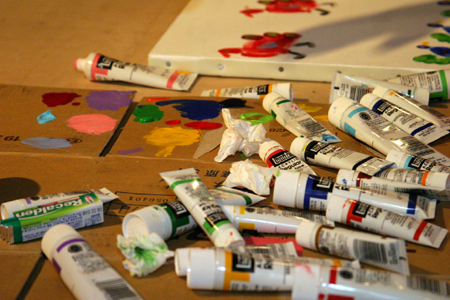 This is Atsushi Toyama's second exhibition at Soso following "Little Twelvetoes" in 2003. He is an illustrator who has started to gain attention in Europe while extending his working field. His works are unparalleled in the world and has continued to fascinate his fans year by year. This exhibition "And Your Bird Can Sing", with his drawings of 'birds' is held in two venues; Soso in Sapporo and IID Gallary in Tokyo.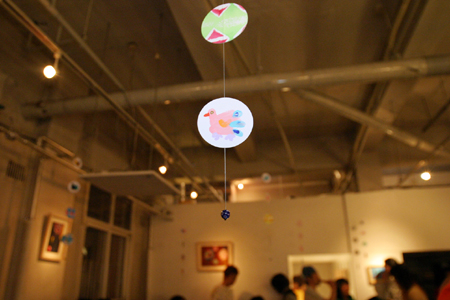 On the first day of the exhibit, May 14th, the venue was full of visitors who came to see his opening live performance. The event was standing room only. In the entrance, front space, right wall, left wall, and even in the small room behind, there were birds everywhere and mobiles were hung from the ceiling.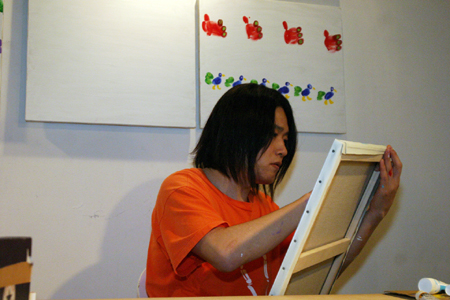 These birds were sometimes under the cover of a rainbow, and sometimes on an apple-shaped guitar. All the birds had individuality in their color, an object with, impression and expression, and it made us feel warm, fun, and bright. They were undoubtedly singing as if we heard the song from the drawings.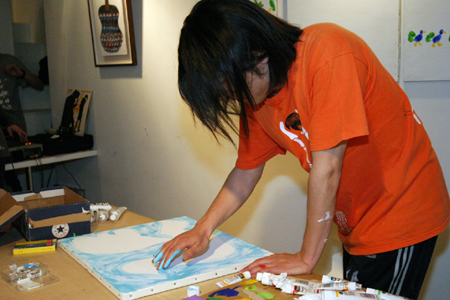 Atsushi's live performance showed a part of the root of such warmness. What he prepared for the performance was 6 white and square canvases, colors, water, and a towel. He boldly started taking the colors and water on his hand, and directly put it into the canvas. Sometimes showing his cute smile, he repeated the work; took off a canvas one by one, put colors on it, took off colors from his hand by a towel, and hung it on the wall again. Birds, quitar, and flowers, which were seen in other drawings in the gallery, appeared on the canvases with bright colors, and the six canvases were finished up little by little at the same time. The texture created by hand was unique, and the way he put his hand on the canvas was as if he was giving life to the birds by touching them.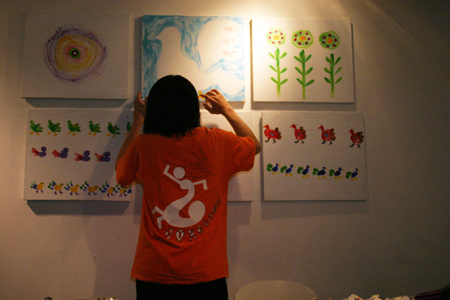 In his "live" performance he did not just finish his work, but also made the process a part of the show. His work kept changing many times, challenging people's expectations. For example, a flower object which seemed almost finished was covered completely with deep green at the next moment, and new flowers appeared again later on. The audience didn't want to miss any moments and kept staring at his performance. There were always five canvases on the wall, and with each changed scene the audience smiled.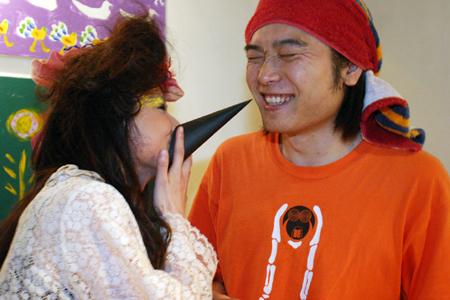 Gradually, the semi-tense atmosphere in the venue went down, and DJ's sense of humor helped the audience relax. Responding to the exhibition's title "And Your Bird Can Sing", a Beatle's song sometimes came out, and it increased a feeling of unity in the place. While the performance was getting close to the end, a stencil t-shirt printing was done inside the small room. It was Atsushi's original designed t-shirt with the title "And Your Bird Can Sing". He is also designing a shirt for "BeamsT", and both are displayed in Soso cafe at the moment.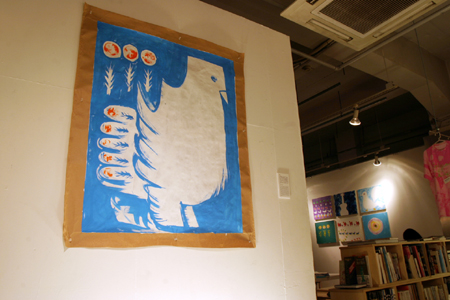 The opening party reached the end finally with a small declaration and the audience's applause and smile. The 6 canvases added brightness, fun, and warmth in the place. The exhibition at Soso will continue till June 30th. You can see "And Your Bird Can Sing" in Tokyo till June 19th. What kind of songs are you listening to from the birds?
Atsushi Toyama Exhibition
Date : May 14th – June 30th, 2005
Place : Soso Cafe
Address : 1F Sansei Bld., S1 W13 Chuo-ku Sapporo, Japan
Tel: +81-11-280-2240
Open: 11:00 – 21:00
Supported by phil co.,ltd.
Opening Event
Date : May 14th, 2005 20:00-23:00
Place : Soso Cafe
Address : 1F Sansei Bld., S1 W13 Chuo-ku Sapporo, Japan
Live performance: Atsushi Toyama
Fee: Adv.1000yen Day.1500yen (with 1 drink)
Contact: Soso Cafe (+81-11-280-2240)
http://www.shift.jp.org/soso/
Text: Yurie Hatano
Photos: Meyuga
[Help wanted]
Inviting volunteer staff / pro bono for contribution and translation. Please
e-mail
to us.