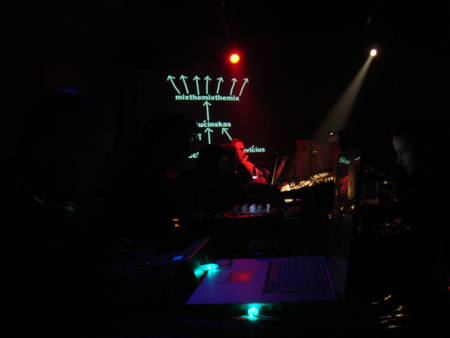 Vegetable music and digital "Matrix" world are two examples of this year JAUNA MUZIKA 2005 (YOUNG MUSIC) festival's program joining two opposite worlds – natural organics and artificial electronics. The main concerts took place in Contemporary Art Centre (Vilnius, Lithuania), the others were spilled through out the other places of Vilnius.
Four years this festival presenting electronic music creators in order to prove e-music festival name. But this year organizers wanted to take attention to the baseline of all digital music – life forms, nature and of course human itself, who controls all the software and hardware while creating and performing. And finally, who told that e-music could not be performed by instruments made of vegetables?
And this is not the rhetoric question, because it was proved during the first main concert of the festival where eccentric and fashionably ecological "The Vegetable Orchestra" from Austria played and performed with instruments that are 100% made from natural vegetables. Carrotrimbas, tomatodrums and other "instruments" made audience listen, laugh and listen again. We could not believe our eyes, but our ears convinced us. All the listeners were invited to taste a vegetable soup, which was prepared during the performance.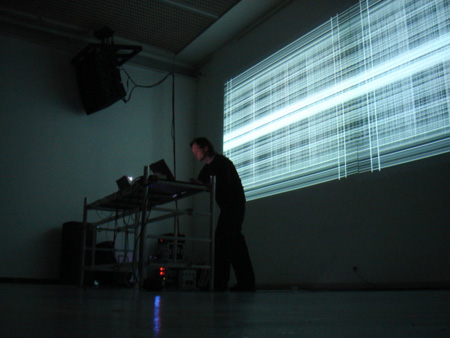 The other guests of JAUNA MUZIKA were also very impressive. The second evening of the festival invited us to listen and watch to a creative work of Carsten Nicolai better know as Alva Noto from Germany. Cold, concrete, glitch sounds and effective visuals let drown to the digital world of the composer.
French musician eRikm started his career as rock guitarist, but now he seemed as a very virtuosic mix master who "created" music live on stage by presenting his one of the most acclaimed sound projects "Snuff Mixx". During the same concert Holland artists presented Anne Wellmer compositions filled with original live nature sounds and visuals.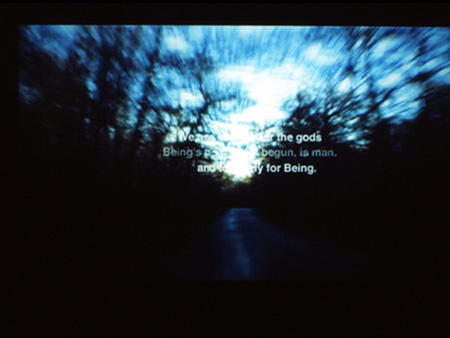 The final concert of the festival was dedicated electronic guru Japanese superstar Ryoji Ikeda who presented his brand new "C4I" project. Impressive visual plastics, unique nature and civilization synthesis. Ryoji Ikeda also performed and amazed with another audiovisual composition "matrix [for theatre]".
Two main festival evening were also dedicated to Lithuanian music. In one of them newest composition by different local authors – Donatas Prusevicius, Ramunas Motiekaitis, Zibuokle Martinaityte, Marius Baranauskas, and in Lithuania living Italian Luca Pavan – were presented. Electronics were mixed with various traditional instruments – guitars, flute, drums, and voice.
In the second Lithuanian evening composers Antanas Jasenka, Vytautas Germanavicius, and Vytautas V. Jurgutis accented abilities of multimedia.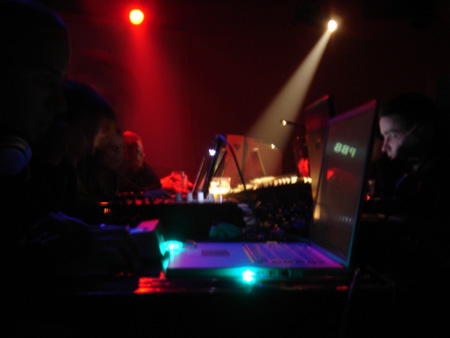 JAUNA MUZIKA also infected nightclub area. For one night INTRO club that can be proud of its most experimental programs was filled with "Mixthemixthemix" project driven by Arturas Bumsteinas and Antanas Kucinskas. They involved 12 young composers, DJs and artist who interpreted, manipulated, mixed, and remixed Antanas Kucinskas "Loop catalogue" compositions. Quite noisy but enough of amusement.
After the last concert of JAUNA MUZIKA in Pro-Test lab near cinema theater "Lietuva" the project by Lithuanian multimedia artists Nomeda and Gediminas Urbonas and composer Linas Rimsa called "Transaction Djembe Party" finalized the festival. It was based as an improvisation with djembe drummers and the VJ reacting to their sounds, but everyone could be the part of the open project.
JAUNA MUZIKA 2005
Date: 17th -23th April 2005
Place: Contemporary Art Centre
Address: Vokieciu st. 2, Vilnius, Lithuania
http://www.mic.lt
Text: Emanuelis Ryklys from RUT RUT
[Help wanted]
Inviting volunteer staff / pro bono for contribution and translation. Please
e-mail
to us.