Finally, Sapporo's snow has melted. It's enjoyable to go out without a coat. You can feel good with a light step. Now, if you have time after work and are trying to think of where to spend it at night I have a hot spot I can recommend you to go.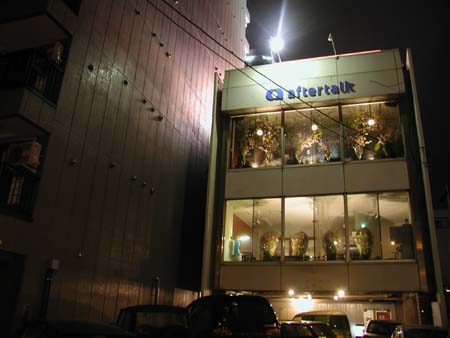 "Salon media communication aftertalk" is a salon space opened by Toshihiko Tokoro who used to be a creative director at an advertising agency, and a producer of the food industry Ryoichi Nakai and Toshiharu Shibata. It is placed in a three-storied building in east Susukino. On the first floor, there is a room for making coffee from original blended beans "aftertalk beans". On the second floor, there are an office space to share among design or advertising creators, and a select shop of original goods, sundries, and furniture. On the third floor, it is exist a salon space where you can enjoy coffee and alcohol from 12:00 to 24:00. This is a place to publish something interesting with hidden potential.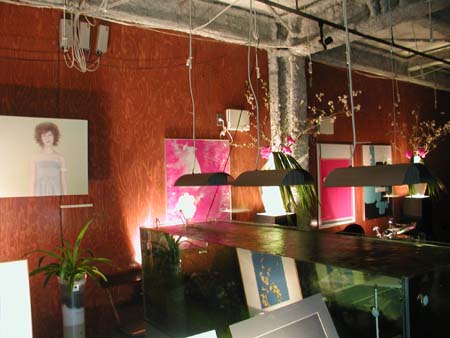 The 25th to 28th of April was the first "aftertalk" exhibition "bloom room 2005". In it, cherry-blossom flower arrangements were displayed throughout the whole building along with some creator's works. The concept was early "cherry-blossom viewing". They held a party on the last night of the 28th. I went there with a friend of mine, a photographer who exhibited his works there. It was about a 10 minute walk from Susukino. It seemed that various people were gathering there as the parking spaces were full of cars. The first and second floor sides were covered with glass, and we could see the displayed cherry-blossoms well with lighting inside. The glass part is unique allowing people passing by to see what was going on. This will be a useful feature for future events. Entering the first floor, we could see a coffee maker through the glass. We met a designer friend leaving the place while we were going upstairs from the side of the coffee maker. At the office space on the second floor, we stopped to talk to Mr. Tokoro who was working there. He informed us that "aftertalk" is comprised of 50% from the mass media and 50%.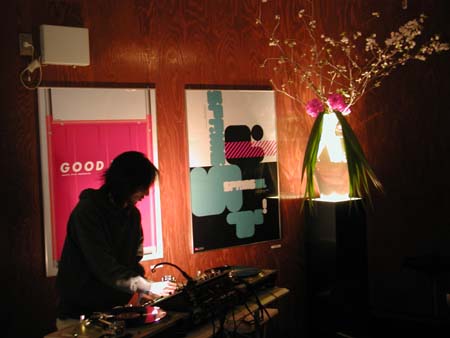 At the Salon on the 3rd floor, we could enjoy coffee and alcohol. The space was long and narrow shape, and there was a DJ booth and floor on the right side from entrance. The left side consisted of a counter with tables and fooseball behind. It was easy to talk with people due to the table arrangement. Everyone was enjoying food and talking to each other. This was certainly "cherry-blossom viewing". Graphic and picture works were exhibited on the walls and in some free spaces. The combination of plants and creators works was working much better than I expected. I myself also enjoyed talking with people until around 24:00.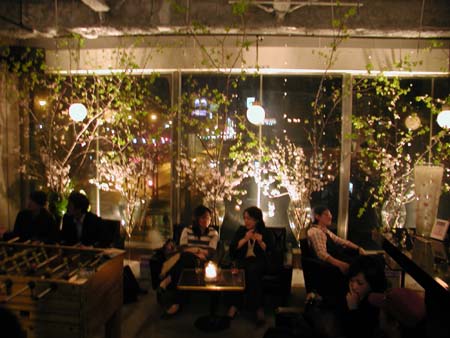 The artists who participated in this exhibition are the following. Naoya Sato (flowerist), Namara Tamura (graphic designer), Ikuo Minoguchi (graphic designer), Miyuki Sato (graphic designer), Hiroo Kumazawa (video director), Takayuki Shiino (video director), Kei Furuse (photographer), Hiromi Terashima (photographer), Asami Hoshino (photographer), Ryo Ueda (graphic designer), Yasuhiro Okano (illustrator/graphic designer), Naotoshi Ikeda (photographer), Kyosuke Baba (photographer), Junko Nishimura (photographer), Shinichiro Kitaoka (video director), Manabu Komori (photographer), Mikio Ishizaki (photographer), Masahiro Fuziwara (graphic designer), Katsuhiko Nakata (photographer), Kimura (graphic designer), Hirohiko Takahashi (graphic designer), Yoichi Kanno (interior designer), Miyuki Sato (graphic designer).
The Internet world has given us a virtual space beyond 'time' and 'space'. While "aftertalk" salon space in the real world might give us 'encounter' and 'feeling', which we cannot get from the Internet world. In this season which is good for staying out, this is the place I would like you to go.
salon media communication aftertalk
Address: 14-1 South 4 East 3, Chuo-ku, Sapporo
http://www.aftertalk.net
Text: Shinichi Ishikawa
Translation: Yurie Hatano
Photos: Shinichi Ishikawa

[Help wanted]
Inviting volunteer staff / pro bono for contribution and translation. Please
e-mail
to us.