Ever since its inception in1988 as a video art event, Transmediale has grown to be one of the biggest art festivals whose participating artists seek to interpret and reflect on the technologies that determine our experiential world.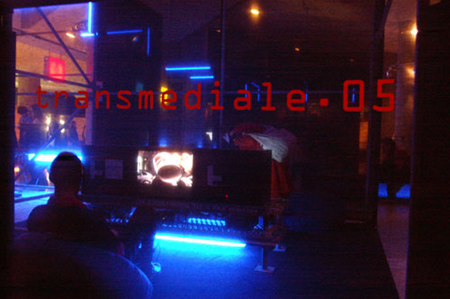 This year's Festival theme "Basics" compelled artists to provide answers to the questions' 'What are the Basics of your culture? Is your reality digital or analogue? Are you ethical or aesthetical?', helping to redefine new media art practice with relation to the myriad of technologies that affect us on many levels. For me, the point was not so much to try and make sense of this curatorial theme but simply to take in and absorb the latest visual and aural offerings from the international new media world.
Installations, workshops, lectures and performances were spread across ten intensive days, with the 'House of World Cultures' providing the venue for the daytime and early evening performances and screenings, and Berlin's cavernous warehouse nightclub 'Maria' the hotspot for nighttime activity.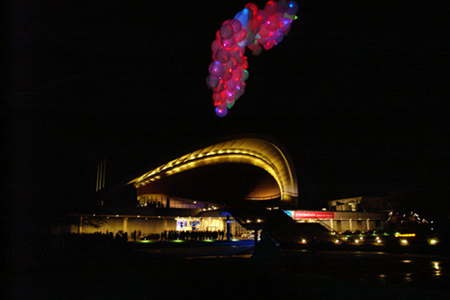 HAUS DER KULTUR DER WELT, SKY EAR
The Festival kicked off with an opening address and party, and a much-anticipated live art performance entitled 'Sky Ear' by Usman Haque [UK]. People filed outside to view the installation, and were given a small piece of paper with a mobile phone number to call. Slowly the mass of helium balloons rose into the night sky, with colored lights inside shimmering and changing, triggered by the mobile phone calls from the crowd below.
A shame that with a measly two cents of calling credit left on my phone, I wasn't able to dial in and be part of this interaction. It was enjoyable enough (save for trying to cope with the cold air seeping into your bones) to stand with your head craned back and watch the amorphous blobs shift and tilt from above, controlled like a kite with two long ropes attached and steadied by two men in overalls and headsets on the grassed area below.
Continuing on the theme of viewer participation was 'Gravicells', a brilliantly executed piece and most definitely one of my favorites, by Japanese artists Mikami, Seiko Ichikawa, and Sota. Viewers were invited to walk on a large square area of tiles, instantly creating a vector imprint of the person's weight and position on a topographical map projected on the adjacent wall. Most people were only quietly interacting with the piece, stepping and shifting their weight, and with so many people on at once it was quite difficult to distinguish one's own movements. I found that a more violent approach was needed, and jumped up higher, to land harder on the ceramic tiles, creating beautiful vector ripples on the projected wall that gave away my position instantly. (..I have since learnt not to be shy or intimidated with interactive media art, as it's often more interesting to test a work's limitations and hidden secrets, which can often only become apparent with a more determined approach).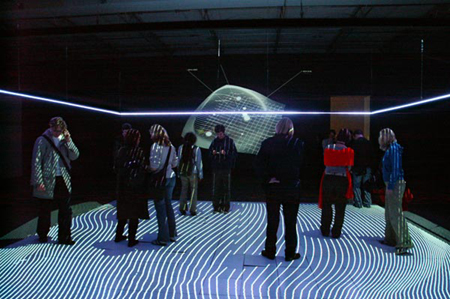 GRAVICELLS
Another favorite of the Exhibition was 'Pong mechanik' by Roy Niklas from Germany. 'Pong' is familiar to most as one of the first computer games ever programmed. In this exhibit, Niklas humorsly takes the Pong idea a step further – or back – by reconstruction the game completely out of analogue, mechanical parts. Two players stand on opposite ends and move a joystick, which in turn moves the small plate, hopefully deflecting the square cube that glides back and forth across the plexi-glass surface. It's a rare case of hardware emulating software, and mind-boggling to think how complicated it would have been to construct such an elegant and highly indulgent machine.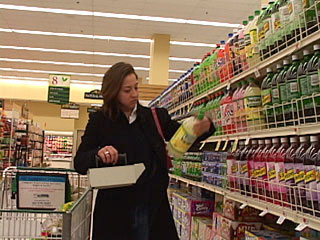 KNOWLEDGE
Directly at the entrance of the Workshop space stood another interactive artwork titled 'Knowledge' by James Patten(US), comprising of a supermarket shelf stocked with items. The interactive challenge this time was to pick up one of the 'Corporate Fallout Detectors', a beige box device with a barcode reader, and leisurely scan each product. The device gave out a series of beeps when passed over certain products, and the louder the beep, the less ethical the manufacturer of the product was reputed to be. No more excuses then not to make informed decisions about the everyday items one intends to buy…
Moving further into the dark corners of the Exhibition space and I discovered a wonderful piece called 'Ornamental Bug Garden' by UK based collective 'Boredom Research'. Mounted on the wall at eye level, bordered by stainless steel and a thick glass plate mounted on top, the flat screen display was more like a window into a microscopic digital world than a computer screen. A myriad of insect-like shapes buzzed and whirled in a pixelated garden, triggering curious sounds as they moved. This computer-generated ecological system was mesmerizing and beautiful to watch, and caught my interest for quite a long time indeed.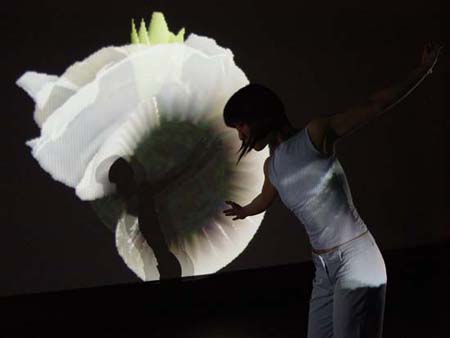 TURNED
In the early evening performance program, I made sure to get in early and reserve a place for 'Turned', a multimedia dance performance in the House of World Cultures auditorium, conceived by Christian Ziegler (Germany). A female dancer's movements were captured in real-time by a series of cameras and projected onto a large screen. Her movements were deconstructed and processed, and unsettlingly challenged her on-stage presence, as they shifted in space and time behind her.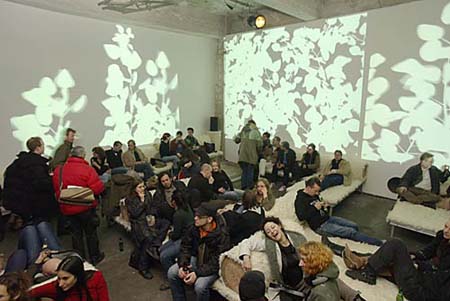 CHILLOUT ROOM
It was quite a task to get along to all of the performances and workshops taking place in the daytime program. One, which I was sad to have missed out on, was the 'Analog robots' workshop that gave participants the chance to build and construct their very own robots. Two of the robots from the workshop were displayed at the exhibition space, and although they hobbled about rather clumsily, where was something quite endearing about these electronic creatures as they bumped into one another and made loud whirring noises from a jumble of wires and computer parts.
All manner of different creatures, from nerds to ravers and everything in between, were to be found at nightfall, further east at Transmediale's Club venue; 'Maria Am Ufer'. The Berlin rock and clubbing institution was transformed from a warehouse shell to a multi-purpose space flickering with video projections, including even a record store and an all-white chill-out area sandwiched between the two main performance areas.
[NEXT]
[Help wanted]
Inviting volunteer staff / pro bono for contribution and translation. Please
e-mail
to us.