Working on the theme of what "Media Art" is, which is hard to define in spite of its genarally wide use, a highly motivated exhibition titled "Art Meets Media: adventures in perception" is being held at NTT InterCommunication Center starting on the 21st of January.
In this exhibition, they consider a span after the collapse of the cold war framework as the first chapter of history. Then, they deliberate on how it changes from the past into the present with the spread of PCs, characters and the potentiality of it.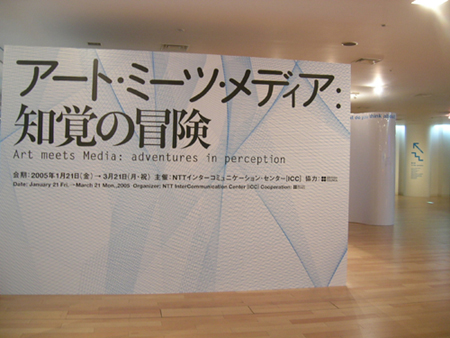 Well, let's move into the content of this exhibition. There are many different kinds of pieces ranging from interactive to technological to those that appeal to vision and hearing and ones that are social in nature. Each is expressed in various contexts around the framework of Media Art.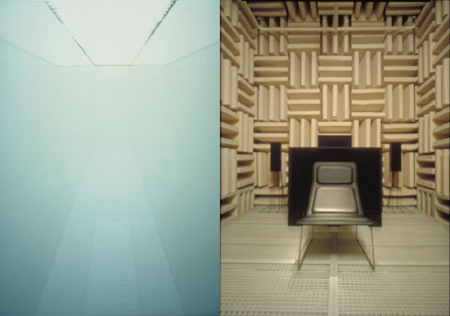 "db" Ryoji Ikeda, 2002
Courtesy of NTT InterCommunication Center (ICC)
This is a coupled installation of two rooms. One is a non-vibrant room with no light, and the other is surrounded with a surplus of white light cast by over 100 fluorescent tubes. This piece is something like an extreme crystallization of space and sound in two contrastive vectors. I am sorry that I don't have words enough to comment perfectly on this piece. Nevertheless, if I can say something, this artificial space and sound are not absent from the world we daily live in, but flood it. The notion rises out vividly with reality by experiencing this piece. We can slightly feel them because they are buried in other noises. This is a beautiful and ferocious installation, performed with an arrangement from Ryoji Ikeda's viewpoint which excludes all of real existence or useless information of light and sound.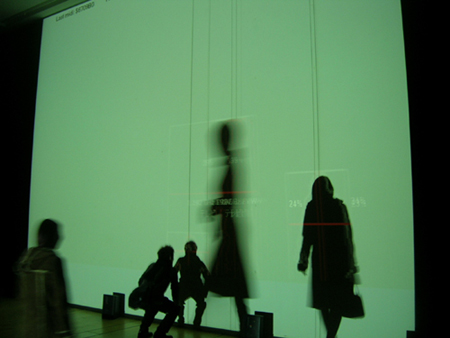 "Frequency and Volume" Rafael Lozano-Hemmer, 2003
The piece by Rafael Lozano-Hemmer is also an installation that uses sound and space, but it is wholly different from Ryoji Ikeda's. "Frequency and Volume" reflects a spectators' shadow with big lights. The shadow scans, on the spot, various radio frequencies, that exist in public space, and the sound of the frequencies comes out from loudspeakers that are placed in the room. You may be tricked into thinking of yourselves as a radio because the volume can be controlled with your shadow.

"Frequency and Volume" Rafael Lozano-Hemmer, 2003
Rafael also participated in an Artist Talk from Canada via the Internet and explained his past projects. For example, about "Amodal Suspension", held at Yamaguchi Center for Arts and Media, he gave an interesting explanation as to the historical background regarding the art and commonness reflected in the piece. Viewing the questions and answers between him and the audience through a monitor, I realized that communication over a physical distance can be realized in the present.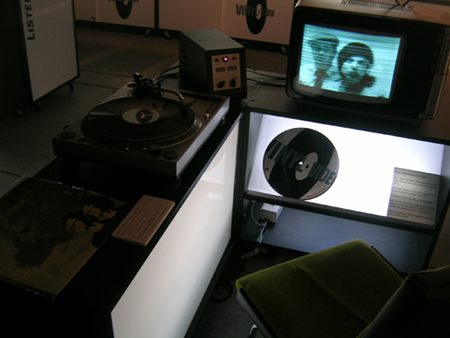 "VinylVideo" Gebhard Sengmuller, 1998-
"VinylVideo" by Gebhard Sengmuller is a device capable of recording and playing back movies via vinylrecords.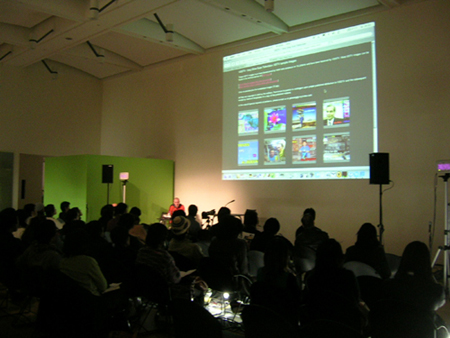 "VinylVideo" Gebhard Sengmuller, 1998-
Gebhard also participated in the Artist Talk, explaining the details regarding the piece. The booth for "VinylVideo" is, as if it were a Record shop. Moreover, the specially-made jackets of vinyl record for "VinylVideo"  have been made elaborately as if they were sold in real shops.

"Your Kidney Supermarket" Shilpa Gupta, 2002
Then, it is Shilpa Gupta that presents social messages, which are, at first glance, casual but are also heavy. "Your Kidney Supermarket" is a bit strange installation, which deals with kidneys as its title tells, shows movies about the related-information, and colorful kidneys made of sugar are displayed…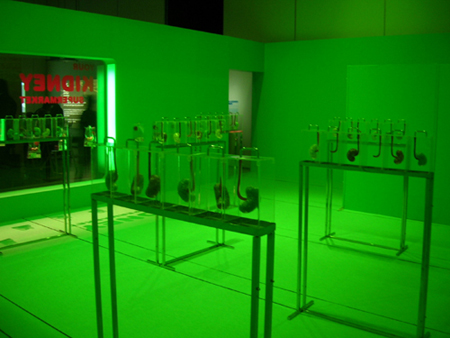 "Your Kidney Supermarket" Shilpa Gupta, 2002
You can buy these kidneys of sugar in fact. She also has participated in the Artist's Talk and other pieces of her and so on were presented there.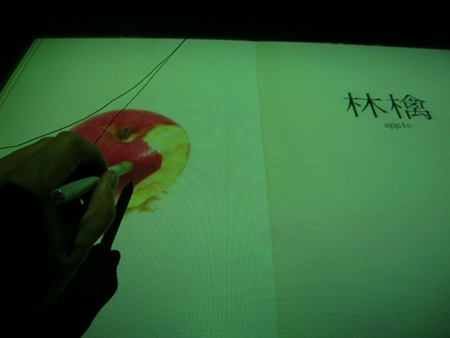 "Beyond Pages" Masaki Fujihata, 1995
Besides, "Beyond Pages" by Masaki Fujihata and "Seven Memories of Media technology" by Toshio Iwai and so on are exhibited.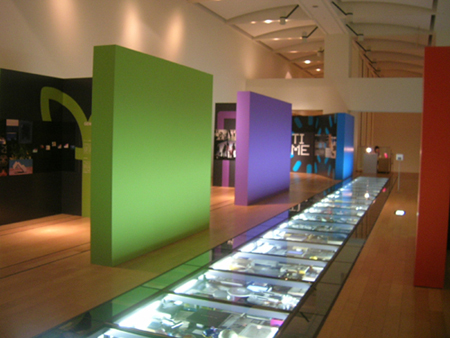 According to this exhibition's theme, displayed pieces aren't by any means at the forefront of Media Art. However, noting the late 80's as a starting point of Media Art and moving from there to the present this "Art meets Media: adventures in perception" has a massive amount of contents. The open period of this exhibition is until the 21th of March, so those who can, should come.
In our surroundings we have come to deal with plenty of infomation through the development of digital devices. Because of it, things like technology or social problems, which were previously dealt with by experts, are connecting with other mediums. However, I suppose that you don't daily feel or think about these events and relationships. Nevertheless, with the clear existence of problems and possibilities of technology, information, persons, surroundings and so on by artists through the cut of Art; things that are considered to be far away present before us suddenly, they awake your blank consciousness, and casual matters get to have rich senses.
Art Meets Media: adventures in perception
Date : 21th January – 21th March, 2005
Place : NTT InterCommunication Center
http://www.ntticc.or.jp
Text and Photos: Yasuharu Motomiya
Translation: Yuhei Kikuchi
[Help wanted]
Inviting volunteer staff / pro bono for contribution and translation. Please
e-mail
to us.