The idea of art on streets isn't something new. It's been around for decades, if not centuries. In cities like New York, you can't a walk a street without seeing something on the sides of the street – graffiti (which many people consider as "art") or an ad (which many people consider as "not art"), or just plain signs. Virtually every surface of the city is covered with something visual. Whether it's a wall of a building or scaffolding of a construction site, people find ways to use the surface to write, paint or advertise.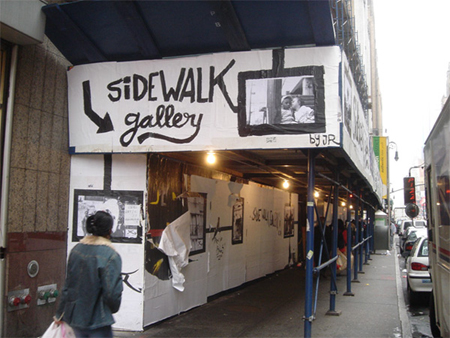 A week or so ago, something caught my eye while walking on 8th Avenue in Hell's Kitchen – a neighborhood in New York City that's still carries the dark feel of the 70's and 80's when the city was going through a drug epidemic – not necessarily the place you would expect to see art. On one of the scaffolding of a building under construction, a sign, which looked more like graffiti, read "Sidewalk Gallery."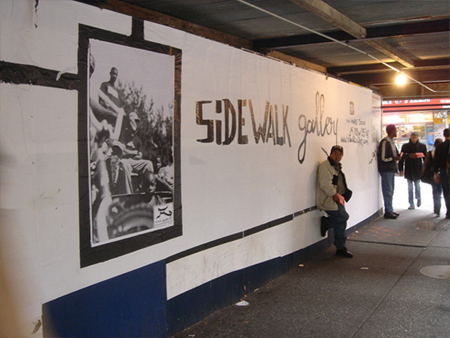 First, I thought it was a sign for an actual gallery space on the block. Quickly I came to realize that there was no such gallery but instead, the sidewalk itself was the gallery. The scaffolding provided the wall space for the work to be displayed. Along the wall of the sidewalk covered with the scaffolding were photographs of the artist signed "JR."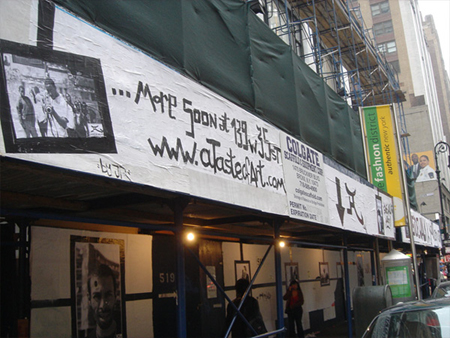 Ok, so the idea of a street gallery may not be new, either. In downtown New York on weekends, you can find tons of street vendors – i.e. struggling artists – selling their work. This was, though, the first one that I can remember noticing that clearly declared that it was art and it was a gallery on a street.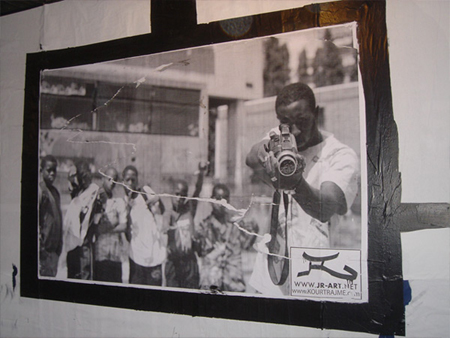 The work exhibited in this Sidewalk Gallery is photography – taken by JR who is a "photographer who uses a particular way of exhibiting photographs. He shows his pictures as posters on the different supports the street can offer (fences, billboards, walls… of the biggest European cities)."
In this particular exhibition, the subject of the work is Kourtrajme, a crew of young film directors shooting a movie on streets.
Text: Rei Inamoto
Photos: Rei Inamoto

[Help wanted]
Inviting volunteer staff / pro bono for contribution and translation. Please
e-mail
to us.