At Panasonic Centre near from lively Odaiba with summer vacation season, Digital Art Festival (DAF) Tokyo presented by a TV programme on NHK BS "Digital Stadium" was held. I didn't have a clear image of what is called as "digital art", much less "media art". They are interactive art, movie, web, etc…, simply to say, it's just "a work which is created using computer technology" and the way of expression is varied and friendly. It's not complex things at all and it's not a thing which only exist on a screen.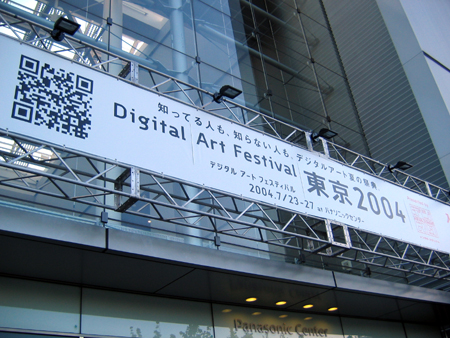 What the most interesting thing was "Gadgets" coloured with various ideas. "Tokyo Gadget Exhibition" was a part of DAF Tokyo. Gadget means "a small device or machine with a particular purpose" but the works exhibited were sometimes difficult to find out how to use/play with it. However, once you have the courage to touch them, you would be unexpectedly impressed. (too much exaggerated?) But I think it's a charm of "Toy". They are interesting because they are not just a "thing" but also they have a kind of world or idea which appears by touching them. Gadgets which were introduced in the exhibition attracts people not imitating some animation characters, sometimes having high technology on board which is unexpected from its pop design appearance and idea which give us small happiness.
Now let's introduce some gadgets.
The first is "Commotion" by Francobelge Design. It's a miniature car race toy which is driven by player's voice. If you swerve from the course, the helmet vibrate furiously. The speed is controlled by the voice volume so the loop part is very difficult point where players have to be very loud. Adults might be hesitant to do that…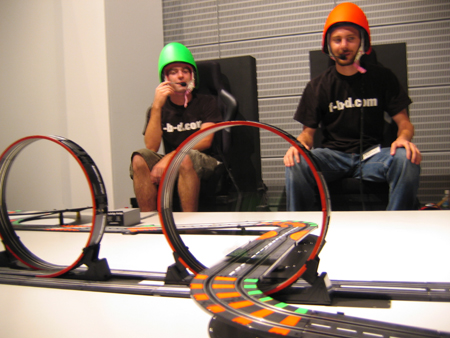 This work was set a high valuation by a device artist Ryota Kuwakubo at the TV programme "Digital Stadium" which was broadcasted just before this festival. However, the helmet was too heavy for children so it was lightened. This improved helmet is similar to Italian famous character, "Calimero". Children's shouting always echoed throughout the venue and two members of Francobelge Design commented "It is the most important thing and we are very happy with it."
They are an emerging creative unit of Alexandre Armand and Bram Dauw, who are students at ECAL (Ecole cantonale d'art de Lausanne).
Read more ...

1
2
[Help wanted]
Inviting volunteer staff / pro bono for contribution and translation. Please
e-mail
to us.