Though one has seen them time and time again in books or posters or in some other reproduced form, it is always shockingly fresh when they are seen in flesh. But going past the permanent ques (4 hours waiting time at its peak), hearing the news reports on record admission numbers (over 100,000 visitors in the first 20 days), and feeling the general buzz surrounding the exhibition, I couldn't help but wonder: had the Berliners (and visiting tourists) always loved modern art so much?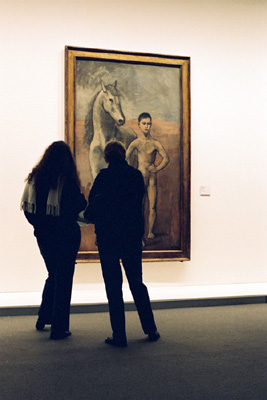 The exhibition reads like a who's who in modern art, from Cezanne, Van Gogh, Gaugin and Monet, to Picasso and Matisse, Kandinsky and Chagall, Miro and Dali; contemporary American painters such as de Kooning, Pollock, Hopper and Newman; pop artist including Warhol and Lichtenstein; sculptures by Flavin, Judd, and Hesse; as well as local heroes such as Otto Dix, Max Beckmann and Georg Grosz.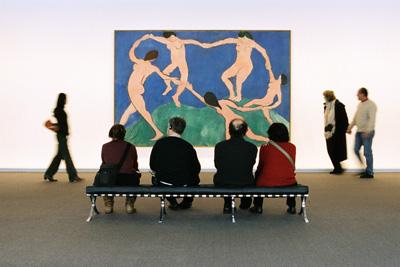 There is an enormous satisfaction in seeing these pieces, each brushstroke, each subtly selected color, the scale, the size, and I don't doubt for a second the pleasure and inspiration they bring to their audience, just as art should do. But for the many that had waited for hours for entry into this land of the artistic riches, it must also be irresistible not to relish in the "been there, seen that" factor; whether it be through boasting outloud or secretly smiling to oneself inside, there is a certain smugness to the thought, I have seen "The Dance", or "The Boy Leading a Horse", or "The Starry Night " or "Gas", or, actually, all of them at once! I have a sneaking suspicion that this is in fact, the x-factor behind the exhibition. Like the Eiffel Tower, or Big Ben, or Brandenburg Gate, the exhibition itself has become a monument to be visited and reported on at later occasions, an essential stopover for tourists, an obligatory call for locals. The smugness has now reach into the terrains of: "I have been to MoMA".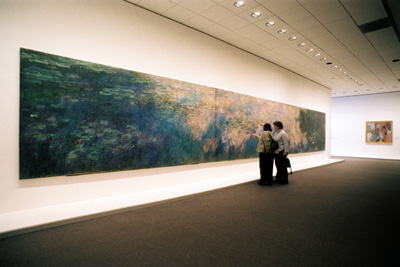 But of course, it is also about art. MoMA in Berlin is like a modern art encyclopedia condensed into the basement of Mies's small but perfectly formed building, and herein lies its beauty: unlike the Tate Modern or even New York's MoMA itself, which are larger in scale and perhaps more comprehensive, MoMA in Berlin offers a compact blitz-tour through the key points in modernism, guaranteeing the significance of each and every piece, like a compilation album of the Beatles's hits.
Personally, the most moving moment for me was seeing Klimt's "Hope II" and the gorgeously painted skin tones of the woman's chest. THAT would be worth queing up for.
MoMA in Berlin
Date: February 20th – September 19th, 2004
Place: Neue Nationalgalerie
Address: 50 Potsdamer Strasse, 10785 Berlin-Tiergarten
http://www.das-moma-in-berlin.de
Text: Kristy Kagari Sakai
Photos: Kristy Kagari Sakai
Additional photos courtesy of Jens Liebchen


1
2
[Help wanted]
Inviting volunteer staff / pro bono for contribution and translation. Please
e-mail
to us.