Saiman Chow, born in Hong Kong and grown up in US. He is broadening his active field greatly as proved that he has just finished a Nike project, "Art of Speed". In his art work, there seems rich multi-cultural essence brought by his unique background. Let's probe into his roots.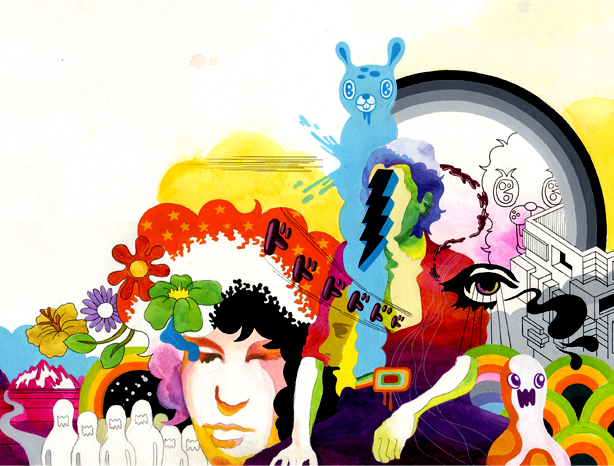 Could you introduce yourself?
Hello! My name is Saiman Chow. I was born in Hong Kong, came to U.S when I was 15. Study at Art Center College of Design and graduated with Illustration major in 2000. I've been doing motion graphic, illustration and exhibition ever since. I was also one of the 4 founder of Unitedbread. Currently I'm a freelance bladerunner.
What is your current activity?
I just finish a Nike speed compilation project, is going to be out on DVD in June. I'm currently working on designs for a new brand called "ESL". ESL means English as a second language and is a product base store. ESL will feature original design of clothings, toys, accessories and all sorts of products by different artists. The official launch will be in May and meanwhile there are going to be some tees for sale on my site. I'm also working on some freelance editorial and motion works as well.
I heard you were born in Hong Kong and moved to Los Angels. Does the cultural experience in Hong Kong and Los Angels influence your works?
Definitely, Hong Kong is a pretty unique place to be. It was a British colony, so we are pretty westernize. It borrow a lots of Japanese pop culture, and at the same time it maintain a strong Chinese tradition. It was a unique mixed cultural experience. When we were kid, everything around us were Japanese. We basicly grew up with Japanese cartoons ,comics and video games. Doraemon, Dr. Slump and Q Chan etc. Every kids love them. So my early works are all about Japanese pop stuff, Then later, as I live in the state longer, I discover more and more different genre of graphic art that I never thought I would be into, the whole 60's stuff. They blew my mind. psychedelic, archigram and Keiichi Tanaami etc. I am really bless that I was able to get in touch with different kind of cultural experience and eventually apply to what I do.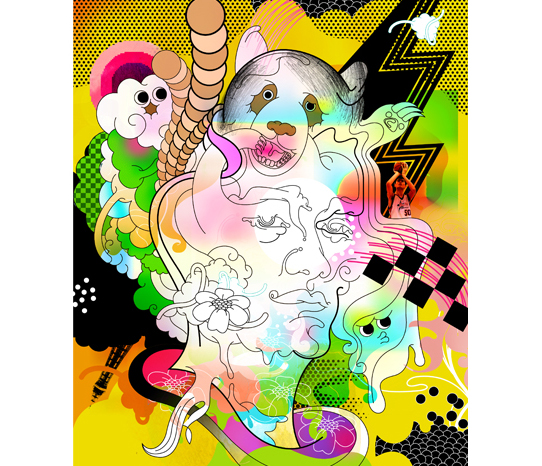 In your work, Japanese letter is used like an accent or the design is like comic. From what do you usually get ideas?
Comics, I just love the way they looks. Puuuya, yooooooooshiiii. You can tell how intense and energetic that frame looks by how the comic artist drew the "sound". I apply to my paintings for the same effect. I thought it was an interesting idea to add a soundtrack to a painting. Literally, when you look at a painting, somebody is screaming right next to your ear "yeeeeeeeeeyyaaaaaaaa".
There are a lot of collage-like works in your portfolio site. How do you create such works?
A lots of collage stuffs I did were done at Brand New School for different projects. I usually find photos online, or from magazine, but is always nice to shoot your own stuff.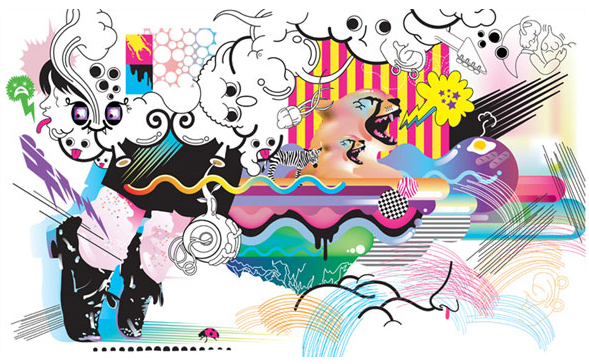 I found you have held an exhibition with your brother Albert. Do you still work with him in some project?
Certainly, we have great chemistry together and both have similar taste. He is a fantastic artist and a really good team player. we did some project together in the past, like gallery shows and recently the Nike project. Currently we are doing ESL together, and for sure there are gonna be more Chow's brother creations in the future.
Could you tell me the concept of the cover design this month?
I was trying to create a very long vertical shift movie poster, and the theme is "Romantic sci-fi comedic fantasy musical porn".
I found you have designed bear figure before. Is there anything you want to challenge from now on?
I enjoy doing different things involves with design. So, yes, if there's a chance, I would love to challenge anything. Product, print, motion, exhibition, anything are welcome.
Please pass the message to Shift reader.
My name Saiman and is pronounce as "Simon". Not simian or siamen. And certainly not semen. Thanks.
Saiman Chow
Address: 19434 Red Hawk Road Wainut CA 91789 USA
Tel: 310 404 7788
saiman@saimanchow.com
http://www.saimanchow.com
Text and Translation: Naoko Fukushi
[Help wanted]
Inviting volunteer staff / pro bono for contribution and translation. Please
e-mail
to us.