CHISATO SHINYA "IMAGINE STORY"
Chisato Shinya, a Sapporo based illustrator who did the Shift cover design for the March issue, held an exhibition called "Imagine Story" at Soso in March. In this exhibition, she created a kind of picture book with only illustrations , removing words from the story which she has so far kept in her mind. It enables you to be the storyteller, crafting your own story. In the opening event, inviting visual creator Kimiyoshi Futori and sound creator Kentaro Hamasato as guests, they presented a fantastic night.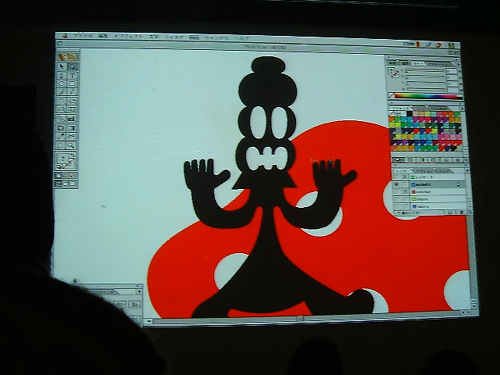 The first half of the session was a sound and visual performance by Kentaro Hamasato from SAL magazine/Nipponia Electronica.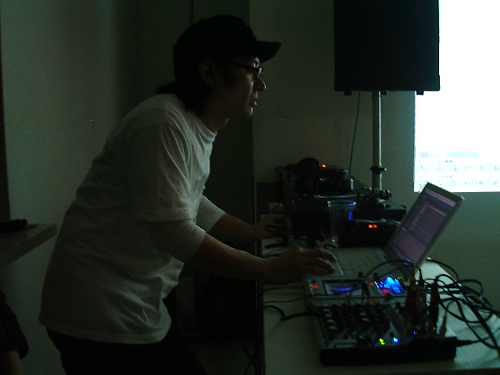 Do you know that demonstration records used to be attached to stereo speakers to show how the speakers worked? (It might only be in Japan.) Based on this idea, he demonstrated the characteristic of speakers by humorously mixing his sound and the movie. The mixture he created was very fresh and interesting: the voice which explains the mechanism used was like that of a veteran newscaster of a formal TV programme, the sound was heavy beat electronica and the movie depicted a man wearing thick frame glasses and a suit dancing excitedly. Moreover, a collage of opening short movies of news programmes and his electronic sound was also interesting. If you see the movie itself, you might not care about it but it looks different with his magic on top. Enjoying his performance, I suspected he might always see things like this performance in his head.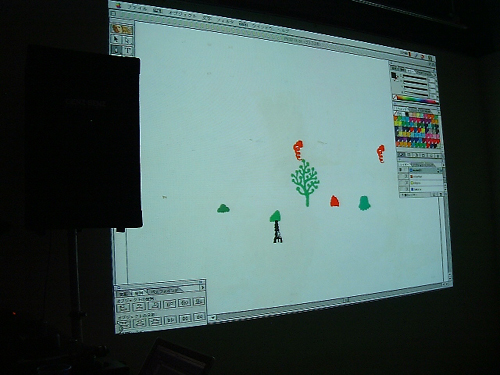 The second half of the party was a collaboration between the three of them. Kimiyoshi Futori is a visual creator who works in Tokyo. He has also had an exhibition at Soso Cafe. In this party, he and Chisato performed a live drawing performance using two macs and a projector. Each of them created their work in real time and the whole process was projected on a screen. Kentaro also joined to put sound effects onto their creation.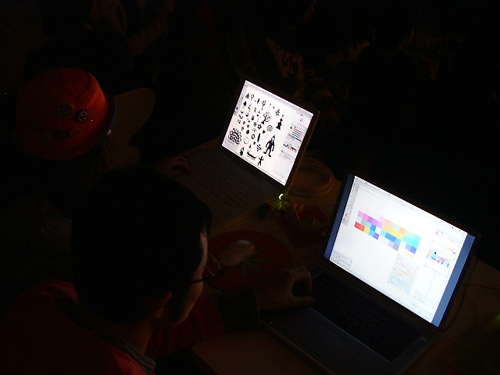 Chisato and Futori had prepared the basic elements on their own mac's. Every 10 minutes, they swapped seats to use a mac which was connected to the projector and made a collage with their elements. While sitting in front of another mac, they drew new elements. Looking at their process closely, I recollected a children's TV programme which I enjoyed in my childhood; a pair of boys and girls creates something or dances with a lot of children. I was really excited to see a dreamy and fantastic world being spread in front of me.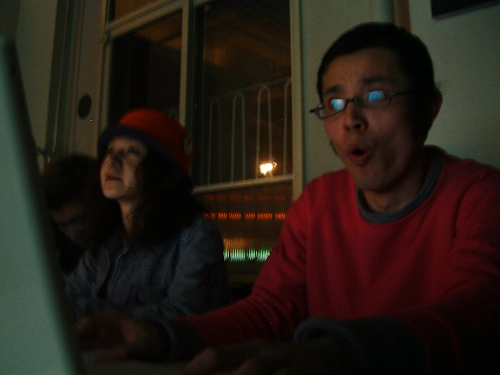 There might be an accident in their process. Showing a variety of facial expressions, they kept creating. The audience must have been imagining some stories looking at this picture which seemed to have a story behind it.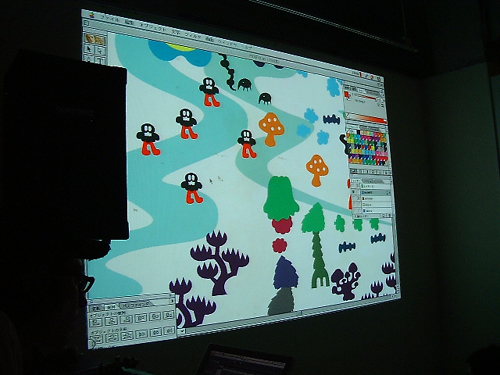 We can't forget Kentaro's sound effect as one of the factors which brought us into a fantastic and dreamy world. Making harmony with their process, he gave charming or mysterious sounds, which were sometimes repeated as a graphic technical term using electronic dictionary's voice function. Chisato and Futori seemed to be influenced by its voice like "I don't want to use purple now but the voice is saying to use purple!".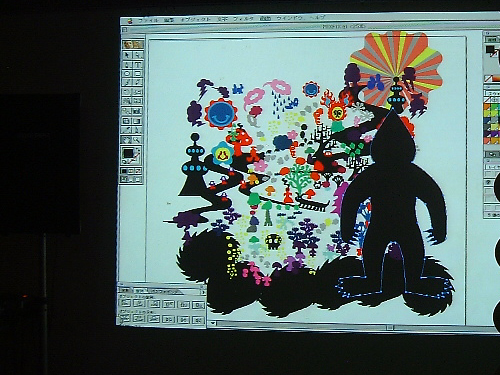 At the end of the story, a big black thing (might be monster or demon) appeared on the screen and told us the ending. With its appearance in the colourful world, there must be a different ending in every audience's mind.
Chisato Shinya Exhibition "Imagine Story"
Date: March 1st (Mon) – March 30th (Tue), 2004
Open: 11:00 – 21:00
Place: Soso cafe
Address:1F Sansei BD., S1 W13 Chuo-ku, Sapporo, Japan
Tel: +81-11-280-2240
soso@shift.jp.org
http://www.shift.jp.org/soso/
Text and Photos: Naoko Fukushi
"GRIMM" by Die Gestalten Verlag in which Chisato Shinya contributed some illustrations can be purchased at Amazon.
[Help wanted]
Inviting volunteer staff / pro bono for contribution and translation. Please
e-mail
to us.