THE 7TH JAPAN MEDIA ARTS FESTIVAL
The exhibition for award winning works of the 7th Media Arts festival was held at the Tokyo Metropolitan Museum of Photography from February 27th to March 7th. This event is organised by the Culture Agency to encourage artists and provide an opportunity for them to show their works to a wider public with an aim to develop Japanese media arts.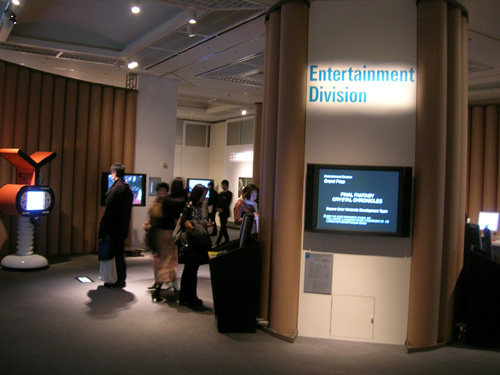 The "Digital art interactive" and the "digital art non-interactive" division from last year was changed to "art" and "entertainment" this year to make the judging process easy. There was also a "animation" and a "manga" division. Having a "manga" division was one of the most unique characteristics of this event. Apart from the awarded works for the above four divisions, screening from Student CG Arts Contest, symposiums by specialists and a showcase of international media art works were also included in the exhibition which added to the events variety.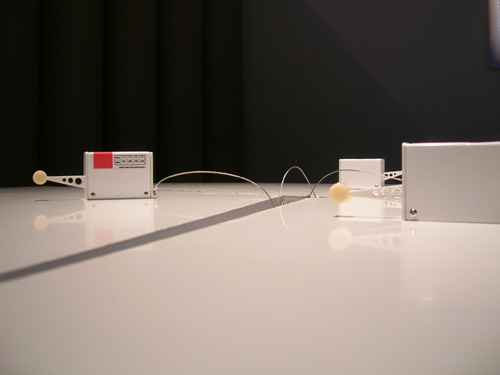 Grand Prize in Art: Digital Gadgets #6,8,9 (Interactive art) / Ryota Kuwakubo (Japan)
Generally speaking, works in the art division is sometimes difficult to understand for those who are not involved in art things. This exhibition, however, divided "art" into interactive art, installation, web, stills and motions so it might be easier for wider public. A grand prix, "Digital Gadget" attracted a lot of attention and there were always many people around the work.
Personally, I was impressed by the touch of "Venus" and the visuals which changed interactively with my hand. I hesitated to touch the attractive interface at first though.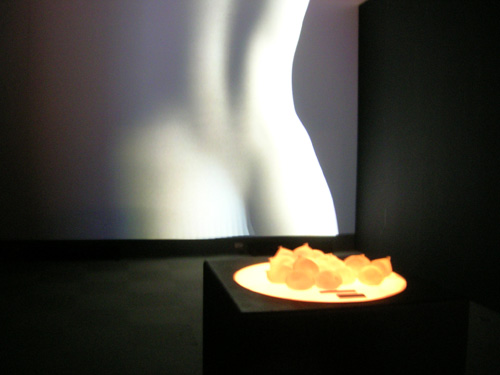 Excellence Prize in Art: Venus Villosa (Installation) / Sivia Rigon (USA/Italy)
In the entertainment division, there were peculiar Japanese games and vfx of characters. These are very ubiquitous things for Japanese people, same as the animation and manga division.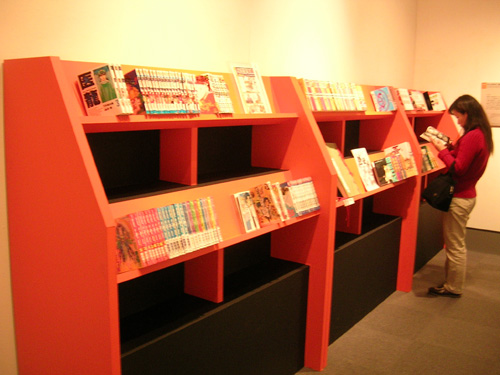 One of the highlights was Helter-Skelter by Kyoko Okazaki which won a prize for excellence. Many people had recommended me to read this work but there hadn't been a good opportunity until that particular day. For the detailed story, I recommend that you look into another material. After I read the work, I felt tired just like one sometimes feels after a feature film. The piece made me think seriously about my world of ease and comfort.
I felt manga's attraction as a new media outlet dealing with social themes. The pop and casual expression of manga make our obstinate mind pliable, then convey to us a strong reality or message different than formal novels.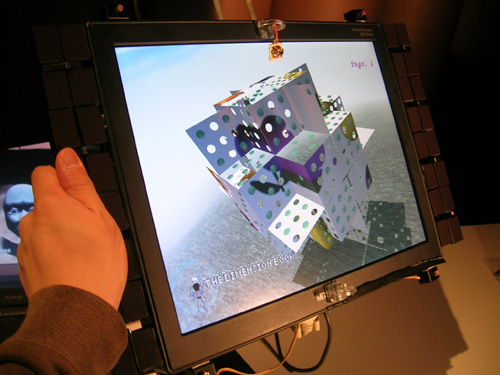 The Dimension Book / 2002-2003 Dimension
Recently, I have been visiting this kind of event a lot and getting bored. After this visit, however, I thought this exhibition has a unique point which doesn't exist in other events; exhibits covering a wide variety of fields and the way of display which was easy to understand. Even if high technology or technique is used in the work, when you push a button and anything happens, you might lose your interest in it.
However, works in this exhibition incorporated human feelings such as laughter, tears and despair and gave me sympathy. I don't mean to imply that other events are not human, but this exhibition was special for me especially as it dealt with manga. This event was made a success by the Cultural Agency, audience and creators.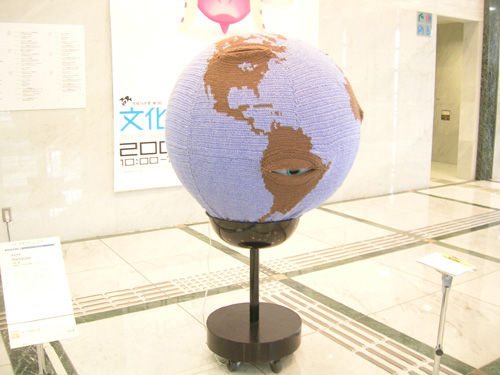 Manglobe / Saki Chikaraishi
There were loads of people from a wide age range of age, mainly because of the "free admission". The fact that a national institution like the Cultural Agency organized this kind of art event positively contributes to the show of art works to a wider public. This is also a chance for artists. There was plenty of playfulness, which wasn't like an event by national institution. Clerks were so friendly that one of them played a game with me. In my simple opinion, it was a great opportunity to see such high quality works in one time. This is one of the events which I want to come back to next year.
Award winning works are listed below.
Art
Grand: Digital Gadgets #6,8,9/Ryota Kuwakubo
Excellent: three/three
Excellent: Panorama Ball & Zerograph-Another story of media evolution/Norihisa Hashimoto
Excellent: E-Baby/Pleix
Excellent: Venus Villosa/Silvia Rigon
Encouragement: Tracks of Blue/Taro Suzuki
Entertainment
Grand: Final Fantasy Christal Chronicles/Square Enix Co., Ltd., Nintendo Deveropment team
Excellent: EyeToy: Play/Sony Computer Entertainment Europe, London Studios
Excellent: Ski Jumping Pairs Official DVD/ Riichiro Mashima
Excellent: Pokemotion/Pokemotion Development team
Excellent: THEgarden/Alessandro Orlandi
Encouragement: atMOS -Self Packaging Movie-/atMOS Project
Animation
Grand: Winter days/Kihachiro Kawamoto and others
Excellent: Ga-Ra-Ku-Ta – Mr.Stain on Junk Alley/Ryuji Masuda
Excellent: Komaneko/Tsuneo Goda
Excellent: Tokyo Godfathers/Satoshi Kon
Excellent: Frank/Taruto Fuyama
Encouragement: Hoshi No Ko/Kumiko Osanai
Manga
Grand: Kajimunugatai/Susumu Higa
Excellent: Tenjin-san/Naomi Kimura
Excellent: Baka-Kyoudai/Tetsu Adachi
Excellent: Helter-Skelter/Kyoko Okazaki
Excellent: Mushishi/Yuki Urushibara
Encouragement: Junkissa Nokoribi/Tai Ito
The 7th Media Arts Festival by the Culture Agency Exhibition for awarded works
Date: February 27th (Fri) – March 7th (Sun), 2004
Place: Tokyo Metropolitan Museum of Photography
Address: Ebisu garden place, 1-13-3, Mita, Meguro-ku, Tokyo
Tel: +81-3-3280-0099
museum@plaza.bunka.go.jp
http://plaza.bunka.go.jp/english/festival.html
Text and Photos: Yasuharu Motomiya
Translation: Naoko Fukushi
[Help wanted]
Inviting volunteer staff / pro bono for contribution and translation. Please
e-mail
to us.