"I'm trying to leave some trace behind me so someone knows I was here" (El Colectivo de Julian)

"El Colectivo de Julian" is one of our local examples of what we call music now. Their first album, "Colegiales Express", talks by itself. It has a clearly argentine voice which surely expresses a BA way of thinking. Maybe it's not the only way here in the big city, but it is one we can relate to.
The album is a mixture of the contemporary influence of our urban reality and some self referring thoughts of the composer and creator of the group, Julian Massaldi.
How was the band born?
It was born from some themes that I had composed, and I asked my former bands partners
to participate. At first we played at birthdays and then we organized concerts and I began
seeing myself as a singer. Before, I played the bass, and it protected me from the outside. I wanted to try the world and get out of that protection. So the first live performance was at a friend's house, who organized a party and created a stage for some bands to play, all friends of hers. It was a cold spring and so we began playing together with the rest of the band.
In the year 2000, we had a debut in a place located at San Telmo. The people was satisfied with the show.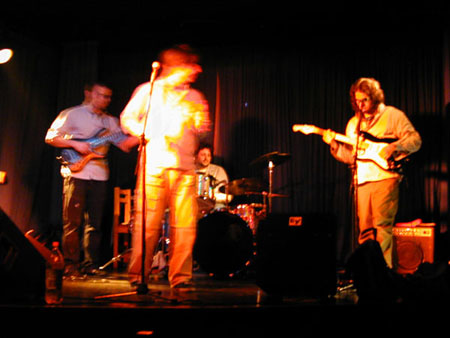 Why the name?
Well, that's a contradictory name. The original idea was that each concert was a mixture of things. The word "colectivo" has a double sense in Spanish. It means "bus", the transportation, and "collective", a group of people standing by a common goal. I find the bus to be an inspiring place, I spend a lot of time in buses where I think of lyrics, melodies, covers and stuff. It's a meditation place. Also, I wanted to add more things to the performances, but it's a bit complicated. I never liked the typical rock concert with a stage and some musicians who play songs only known by them, an awkward silence fills the space between the songs, then their friends ask for more, and they return. When the concert is over, people wave the musicians goodbye and then everybody leaves. I don't like that, it leaves you empty. I don't like the division between musicians and people, and want it to be more than an auditory thing, I want it to be visual. It's a live concert, not TV. We make little performances, like wearing light blue bus shirts, or mixing with the audience and dancing with them, we sing without microphone, we want to break through with the idea of passiveness.
How would you define the musical genre of the band? Is it rock?
I try not to. I think rock is comfortable, but I'm not interested. Rock strength is easy, but I like variations, cause you get to miss them with time. I like songs with variations.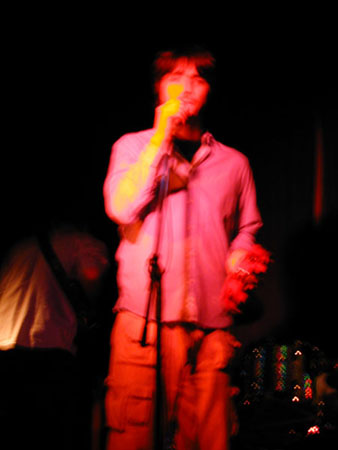 I like to listen to the record on my Discman, while I'm on the bus. Listening to that music changes my state of mind, it gets into my mood and suddenly I feel hopeful and relaxed. It chills me out. And I like it. An optimistic groove enlightens my soul. My ears are open to a different sound: life.
What was your first contact with music?
As a kid, I remember being a little record fetish, you know, the ones that came in colors. Once, a record melted in the sun, and I was horrified by that vision. I also played around a tree as if I was an old record player. My older brother had parties in the house to the rhythm of disco music. I was 6 years old and for me, that was a wonderful world. At 15, I began to play the piano. A little later, I started to compose my own songs. Right now, I guess we're like instruments touched by somebody else, who makes the decisions. That is the best feeling of all.
Let's talk a bit about the album "Colegiales Express". Tell me why the name.
Well, the name came up because that's the name of my neighborhood, and it makes me think of my house window, I also wanted to talk about buses and I found the word express, which I like. You know, later I discovered that there are two types of cookies with those names.
How is the record distributed?
We're being edited by an independent company, it's new and it works with many
independent bands. It's called Independent Musicians Union. It is a really great idea and very helpful for us.
Is there a message behind it all?
Well, I would say that I'm against passiveness, in a concert and in life. Real life happens outside a concert, and I like to agitate things.
The incredibly honest lyrics and unpretentious but deep meaning of those words turn the album into a strongly recommended piece of urban art. It is dedicated to "those who fight to keep the spirit of December, 19th and 20th of year 2001".
Those were revolutionary days in Argentina: the people burst into the streets and claimed for their rights, in some sort of an spontaneous fellowship. The air was different at that time, Buenos Aires became another city, a politically shaken one.
How's that?
I have this ambiguous thing. I'm not frivolous and like to pay attention to the world, but on the other hand I'm not that political. I like to criticize the world through art and creation. I admire those people who actually make real things to change the world. In one of my songs I say "I've got nothing but my art", I believe this is just music. You can't change the world through music. If you work with the poor people and spend your time there, well, maybe you can. I really admire them. What I have to offer is this little album.
I liked that revolutionary movement because it made me feel a part of this place. Before that, I felt like a stranger.
What are your next projects?
We're going to change our sound into a lighter format, with no drums. We want to create a "guerrilla" show, appear somewhere, anywhere and just plug and play. We like to experiment with sound, performances, humor, new noises and stuff. I want it to be more versatile, I'm truly enthusiastic about that.
My "Colectivo" record keeps playing inside my bag and into my ears. Outside, the world still goes round and round, while the people keep looking at each other, searching for something, anything.
I listen to the soft hopeful voice coming from my earphones: "Welcome aboard to Julian's bus, and we whistle tunes waiting for the end of the day. But they don't really say anything in particular". Nah, I sing. They actually are telling me one bright version of the world.
"I want to walk in the sun for a good while", I keep on singing. "And walk along seaside streets with the will to go on without fearing the new day".
While the streets are still so crowded and somewhat meaningless, this new groove opens my eyes to another world, where finally everything's possible.
Text: Gisella Lifchitz
Photos: Gisella Lifchitz

[Help wanted]
Inviting volunteer staff / pro bono for contribution and translation. Please
e-mail
to us.