The 5th Innovation Sessions was recently held at the Ballroom in Daikanyama, Tokyo on January 17th. This is a multimedia event aiming to provide young creators in Tokyo with the opportunity to communicate with other creators in an attempt to create a new network or find new ideas. This event had previously invited various guests such as James Lavelle, Futura, Namaiki, Eric Haze.
This time, The Light Surgeons (T.L.S) were invited as a guest and had a talk show on their visual and audio performance with a theme of "the evolving moving image brought to you by technological development". T.L.S is a creative collective from the UK. Their recent activities are the release of a DVD from Gas, a collaboration with Mo'wax and Ninja tune, and a short film called "Chimera Project" that looks at artists in Tyneside (northeast in UK) was broadcasted on the BBC.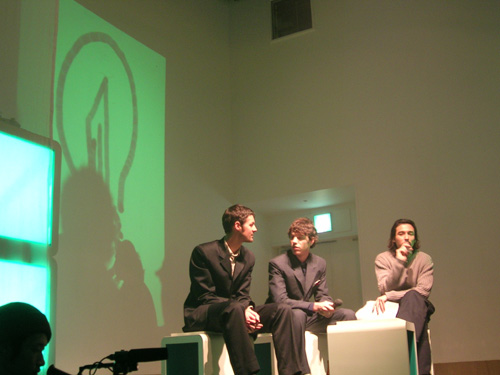 The first half of the event was the talk show hosted by directors Chris Allen and Rob Rainbow. For fifty minutes, they talked about the creative process and episodes of their works by actually showing motion graphics. They also spoke about the inspiration and innovation which are also themes for this event. Here are some extracts from their speech.
History of T.L.S
"This group was formed in 1995 by gathering artists from several fields. Then, we were strongly influenced by club culture, especially hip hop. So we came up with taking the method of hip hop, that is, sampling and cutting up."
About performance at clubs
"At clubs, we do some experimental things. At the same time it's a place and time to meet people and make a network. This is how we made an environment to collaborate with various people."
"Then we created our original visual language using a video such as slides or 16 mm films. "Selected Cuts" is a good example made by this method."
Motivation
"It's important for our works to feature unfamiliar language and deliver it to people."
Inspiration and Innovation
"Inspiration is to travel around to a lot of cities or countries and meet people. We are very lucky living in London, such a multi-cultural city. The things that we meet through our life here is our source of inspiration."
"Innovation is probably the light coming from the inside like the plastic ice cube does" (it's the light imitating the ice which was distributed on that day)
These are only parts of their comments. They also talked about the importance of an artist to deliver political or social messages to people.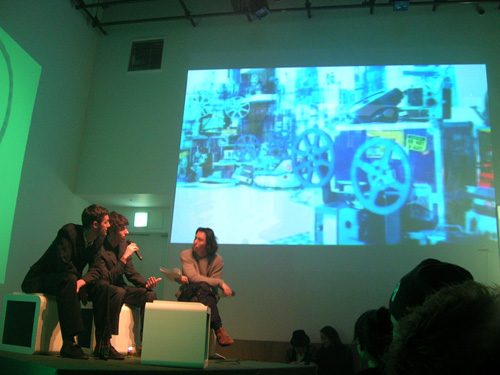 The work which was put on the screen during the speech was "Selected Cuts", which appeared in their comments above; "Thumbnail Express", a short film focusing on sound with narration by Robert A Wiser whom they met on the beach at California; "Stealing Beauty", an installation work; and "Lost Leader" which contains the above works and an interview which was taken at their studio in London is available from Gas.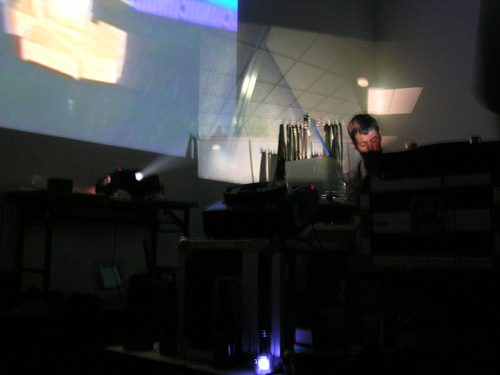 The latter half was an audio visual performance by DJ Jude Greenaway from T.L.S and T.L.S's visual. Their machine was installed at the back of a series of fine mesh sheets. The threesome that was playing were projected in the light through their works. It created an interesting design as a kind of visual and the visual works were projected to the middle, the front sheet and the side wall synchronized with the sounds.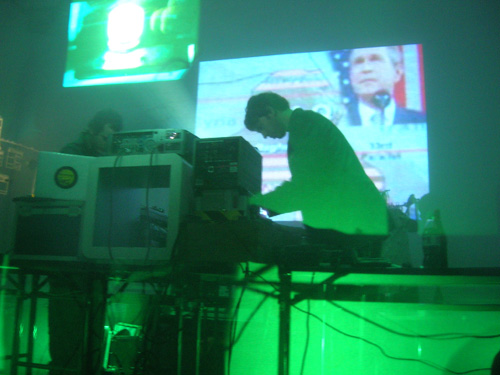 Synchronism of the sound and visual is regarded as not a special thing these days, however, I was amazed with the synchronism of the sound and visual as if they were cutting the beats together although T.L.S don't play with simple beats like techno but with hip hop which has complex and organic beats. As for the method, they keep lots of visual elements cut up from a source and they mix them to the main visual in real time listening to the music. In other words, they put the visual layers which can be operated in real time onto the main visual which is normally streamed.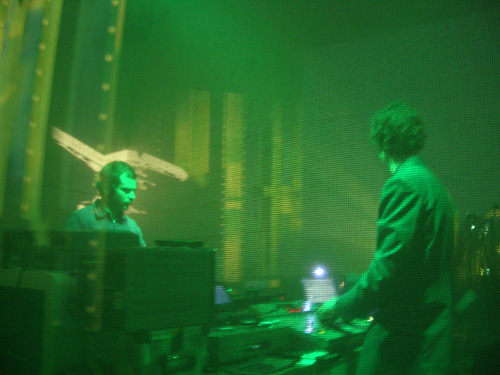 Nowadays, many people tend to emphasize the benefit of the digital technology too much but they think analogue is also an important factor. In the performance, an open reel film was projected on a rotating triangular pyramid shape mirror and they rotated it by their own hand to make the performance seem as if the visual was moving around in the space. I learned from their performance what is important for an innovator. In these times anybody can play and enjoy VJ using high performance VJ software like Motion Dive.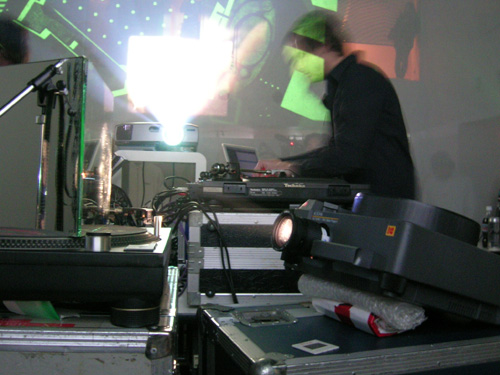 The music was by Scanone aka Jude Greenaway's hip hop tronica DJ. His sounds will become more available now that he will be a resident DJ for Fabric, a club in London. He was creating a very comfortable groove not too full on but not too chilled out with T.L.S's visuals. In the middle of the performance, there was a power source trouble but their performance was so great that we almost forgot the trouble by the end.
This session illuminated a certain whole surface from a viewpoint of a moving image how evolution of technology and innovation can make the urban culture attractive. How new ideas come out of young creators who received stimulus from such scenes. How about experiencing the "Innovation Sessions" which will be carried out on February 27th in Osaka or on 28th in Tokyo next time?
IInnovation Sessions #5
Date: January 17th (Sat), 2004 20:30-25:00
Place: Ballroom, in Daikanyama
Guests: The Light Surgeons (Chris Allen, Jude Greenaway, Rob Rainbow, Nicky Godleib)
Next schedules
Innovation Sessions #6 (invited guests only)
Date: February 28th (Sat), 2004
Place: Womb, in Shibuya
Guest: Ian Brown
Innovation Night presents U.N.K.L.E Sounds featuring Ian Brown (open to public)
Osaka: February 27th, 2004 at Grand Cafe
Tokyo: February 28th, 2004 at Womb
Inquiry: Innovation Sessions 03-5468-6382
Text and Photos: Yasuharu Motomiya
Translation: Naoko Fukushi
[Help wanted]
Inviting volunteer staff / pro bono for contribution and translation. Please
e-mail
to us.