The predecessor of "Nueva a "futuristic" film festival was "RETinevitable" started in New York in 1998 by David Levin. "Nueva" which means "New" in Spanish, was held over about two weeks from December 10th to 25th in Harajuku Laforet Museum, Tokyo.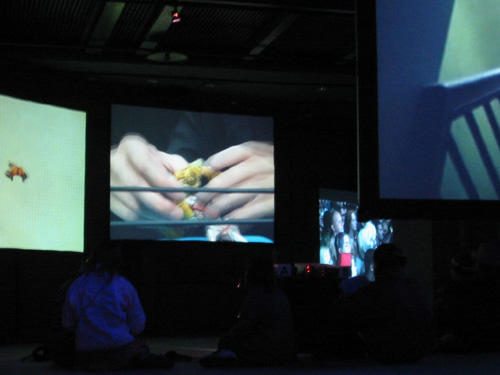 When I entered the hall, screens were circularly installed so that the hall was surrounded with four sets of monitors in the center. The works sent to this festival for display were shown everywhere. I shrank from the numerous amount of information for a moment not knowing where to start.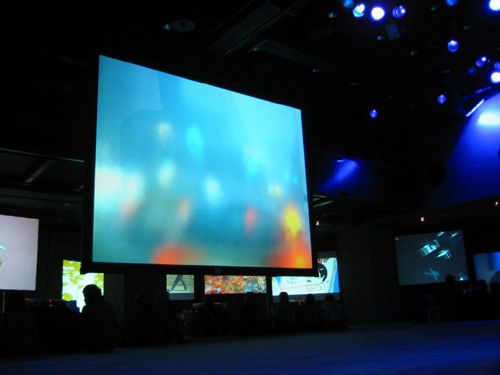 At Nueva, I got a clearly different impression compared to film festivals I had previously experienced. Usually, a program is fixed according to the time and date so people know the exact place and exact time to see what they want to see. However, at this festival, people can see films by just waiting for a while because there are many screens and each keep showing about 160 films.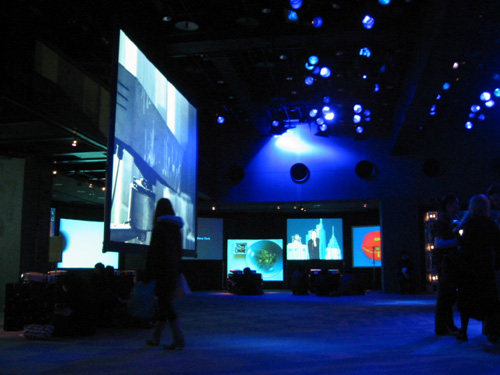 Once you understand the system, it's easy. By taking the programme in your hand, indicating what is shown on which screen, you just move from one screen to another as if changing a TV channel. Since headphones are installed for every screen sound is not mixed up with other screen's.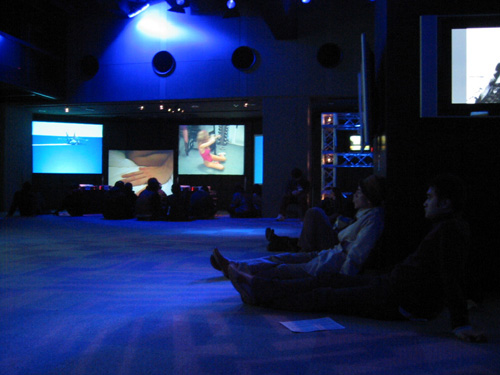 The shows programme had a wide variety of films, covering music clips, documentaries, motion graphics, and short films called "art films". Under the concept of collaboration with various arts, the artist's lineup was also varied showing directors, architects, fashion designers and photographers.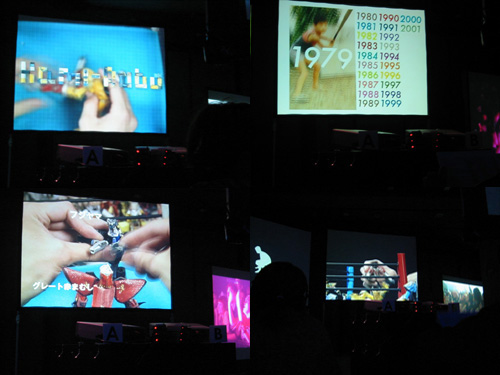 The documentary film "Kami-Robo" by graphic designer, Katsunori Aoki, was one of the most impressive works exhibited. The main character in the film is Tomohiro Yasui, a molding designer. The story follows the imaginatory world created by his paper robot.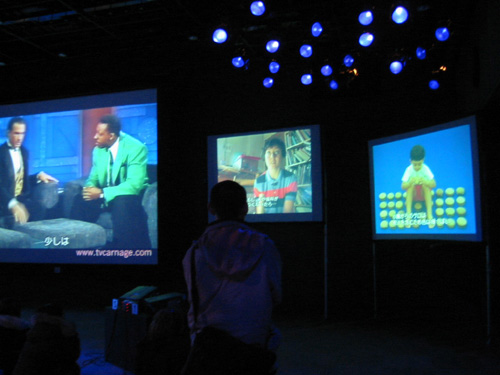 Thus, a good point of this festival is that people can view their favorite films any number of times during the festival. Simultaneously, the situation that favorite works can be accessed at any time leads people to not be able to concentrate on one work sometimes. For example, I thought I'd watch screen A and wore the headphones to concentrate on it but I glanced at screen B by chance and was fascinated by it then I started watching B with the sound for A. After a while, I tried to concentrate on A but my attention was distracted by B again and finally I moved to B. Nevertheless, I was still worrying about A! It was like the situation of watching a football game on TV and worrying about a baseball game at the same time and changing the channel often. The result is not following what's going on in both games. Another point for enjoying this festival is to watch films with perseverance and concentration, overcoming such situations.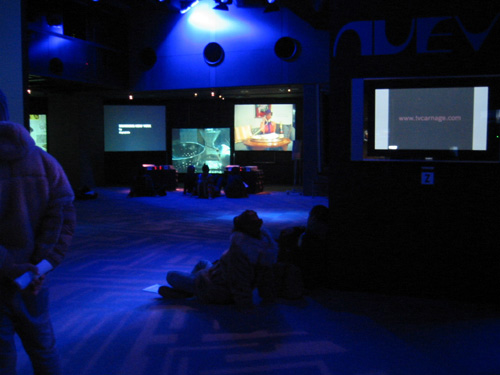 "Nueva" was held from a different viewpoint than conventional film festivals. Although I can't say whether this unique show method raises the value of films, new film expressions of the next generation will be produced when spectators digest this experience. I want to expect what new image experience will be projected by the screen of "Nueva" after this.
Nueva 2003
Date: December 10th (Wed) – 25th (Thu) 2003
Place: Harajuku Laforet Museum, Tokyo
Exhibited artists: Spike Jonze, Doug Aitken, Harmony Korine, Atom Egoyan, John Galiano, Naohiro Ukawa, and more
http://www.nueva2003.com
Text and Photos: Yasuharu Motomiya
Translation: Naoko Fukushi
[Help wanted]
Inviting volunteer staff / pro bono for contribution and translation. Please
e-mail
to us.