6TH BUENOS AIRES FASHION WEEK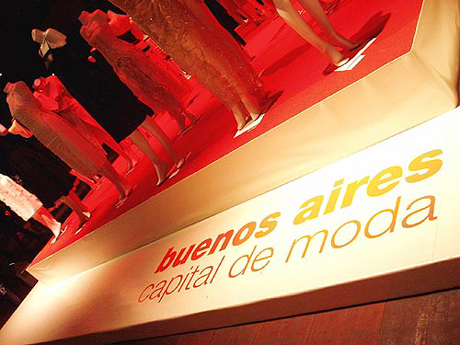 The sixth Edition of Fashion Week was held from 1st to 4th September in the Rural Society. This time, it was slightly different form the last ones. Designers were willing to show their creations through original, funny ways to a somehow overexcited crowd.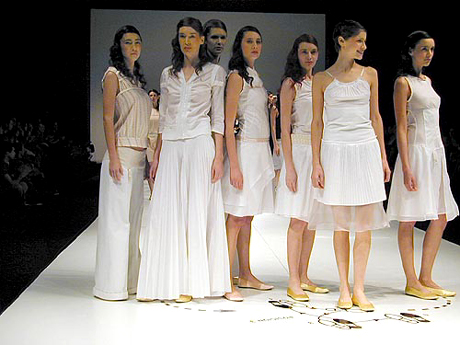 Organization, though, turned out to be awfully planned. Some bizarre sitcom- like episodes took place. Old ladies struggling with each other over a ticket, people losing their shoes in the middle of everybody, designers shamelessly criticizing their peers, were just some of them. Music was again terribly loud, but at one moment the only sound we heard was "A shoe! Anyone lost it?".
Inside the chaos, I managed to find some light and there it was: Cecilia Gadea's fashion show. Or maybe we should say concert.
A three men orchestra standing at the end of the catwalk marveled us with heavenly notes. Models walked peacefully through the runway, moving their skinny bones to the rhythm of that music. Me, I wanted to step out of my seat and leave the place with the musicians, who surely deserved the applause that followed.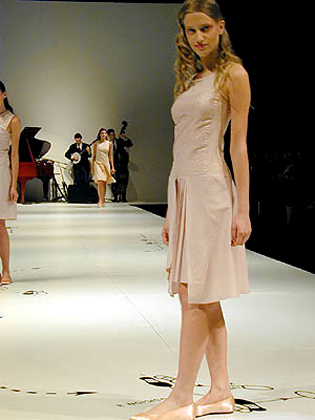 While this season the event was visited by many celebrities, the place itself was pretty empty. Not too many stands were presented and the same happened with fashion shows. Nevertheless, the place was extremely crowded with college students and friends of the most well known designers. People just wanted to be on TV. I was just thinking about it when they invited me to Araceli Pourcel's presentation, at the VIP room.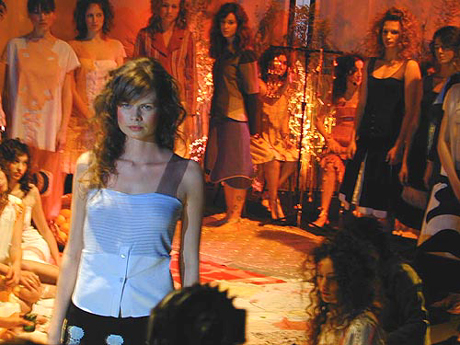 It was called "Little Dance", and a small lovely chorus sang traditional northern songs while a bunch of girls showed us their garments.
Some people claimed that the show did not represent a whole collection, but I liked it particularly. The sweetness of faces and the closeness of textures really helped us all: that was the only way to really appreciate the clothes. They seemed wearable, colorful crafted works.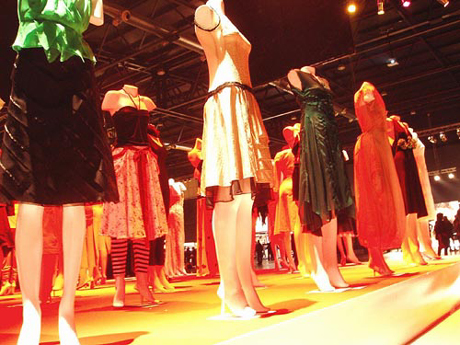 But in the middle of glamour, somehow everything looked quite the same. Everybody needed to make an impression, by doing the same thing. They wanted to be unique, but they repeated the same pattern. So I managed to get inside Estebecorena Brothers show.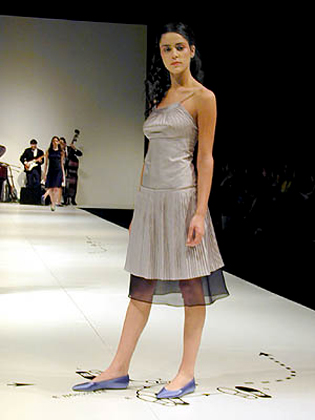 Men walking like robots from another time surrounded us. They were reflected on a huge screen, which showed as well postcards from Argentina. The beach, the mountains, and the peaceful south: every possible place to go on a holiday.
Suddenly, an ancient vision came to me. They were actually telling a story of a different time and place. The male models could actually be our ancestors, visiting us on a brief tour. Or they could have escaped from "Dead Poets Society" movie, walking through the catwalk softly whispering "Carpe Diem…make your lives extraordinary, seize the day". Maybe the difference was that these guys looked fashionable and wore really cool and comfy underwear.
Although Estebecorena Brothers wanted to surprise us, by mixing high tech with national folklore, I got the feeling that those people weren't real. Maybe models are never real, and that's a fact.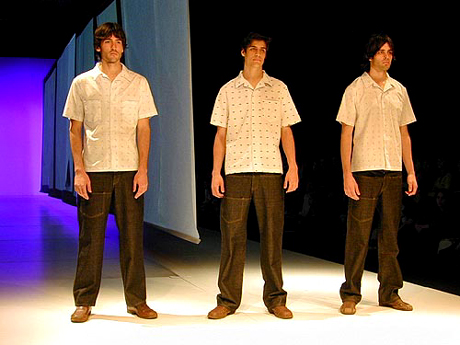 The multimedia side of Fashion Week gave us a good feeling. Again, fashion essayed to approach art. Even if those designers couldn't express it all for themselves, they were supported by fine music and technology, which surely made an impression. Fashion Buenos Aires keeps an original style and shows it through sound and vision. So, everybody: strike a pose.
6th Buenos Aires Fashion Week
Date: 1st – 4th September 2003
Place: Yellow Pavilion. Rural Society, Buenos Aires, Argentina
info@grupopampa.com
http://fashionweek.grupopampa.com
Text: Gisella Lifchitz
Photos: Gisella Lifchitz

[Help wanted]
Inviting volunteer staff / pro bono for contribution and translation. Please
e-mail
to us.