UP OUR SLEEVE, THE DUBLAB COVERS PROJECT
Marriage of music and art is not a ground breaking news. Yet to deliver the sense of community, connection, and profound nostalgia all in one behind these pleasantly bulky record sleeves, are most definitely unique to Los Angeles based web radio and DJ collective Dublab's 'Up Our Sleeve'. What they represent, goes beyond the pile that these 200 some one-of-a-kind sleeves would visually suggest.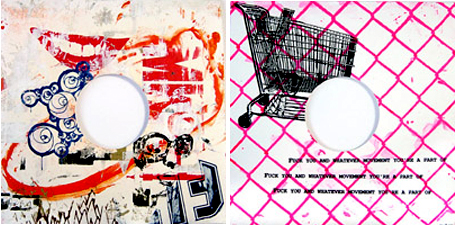 © Up Our Sleeve
12″ x 12″ surface was scribbled, painted, silkscreened, embroidered, collaged, stained with drink of choice… you name it. Curated by Dublab frontsman Mark McNeill (a.k.a. Frosty) and artist Brandy Flower (whom always is behind Dublab's flyer creations), the sleeves were neatly put into plastic outer coverings (with exceptions of those who made their sleeves furry and poofy – "nah, it looks forced," as Flower puts it) and displayed one by one on pegboards.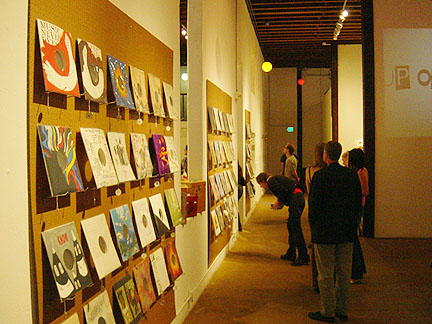 With the selections of spacious venues like LA's Inshallah Gallery & SF's Punch Gallery, they manage to convert the space into an one night only record store…where audience will be rewarded with quality music selection by Dublab's own turntablists. Nobody, Jimmy Tambarello of Dntel & Postal Service, Allen of Mannequin Lung & Headset, Frosty, Carlos Nino, Daedelus and more have spun in LA & SF, and its cohabitance with art (of all the artists that are part of extended Dublab community) is just a sweet way of putting a face…faces in this case… to what they are and what they represent.
Dublab's blood, pumping behind the organic computer screen interface is indeed warm. Frosty's everyday linguist notation via e-newsletter & hollar behind the microphone reminds you that life is good. Or on any given day, Dublab crew could be spotted on the street corner handing National Geographics' world map out to kids (Sprouts Project). Knowledge is a gem, and with the caliber of internet as their means to deliver the message "positive.music.driven.lifestyle", Dublab crew's living it, and proving it strong to the local community and world wide audience.

© Up Our Sleeve
In such times where there's plenty of uniquely themed group shows being announced oh so often, the attitude seen at 'Up Our Sleeve' was just honest and humble. It is about their love to the music. Love to the hundreds or more records they flip through every week with nothing but a joyous grin. Love to the artists they dig (and all of them dig back too). Love to the community they cater to and belong. McNeill & Flower, whom with such a passion and their hands on production made all this possible. Artists from all over the world have well responded. Frosty and Flower recall that it was possibly February of this year that the first sets of blank sleeves were sent out to the artists. Then the extra sleeves given to artists spontaneously got passed on from one to another, forming this intersecting link of community amongst the participating artists.
Read more ...

1
2
[Help wanted]
Inviting volunteer staff / pro bono for contribution and translation. Please
e-mail
to us.