I LOVE T-SHIRTS EXHIBITION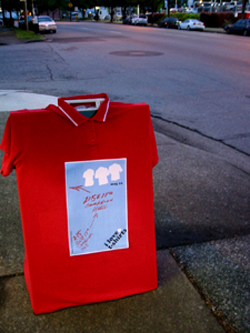 A fashion show titled "Champions of the Universe: I Love T-shirts" was held recently at Cambrian Hall. Local designers and Amsterdam- Paris-based graphic/textile designer, Fredreque Daubal, were some of the participants in the exhibit curated by Robin Cameron and Niall MacClelland. Frederique Daubal makes classic and folk design into stylish garments with the text, "I love Adam." Without being conscious of trends, he creates his own trend. His strong idea is conveyed through refined, elegant silk-screen T-shirts. In this show the participants present stenciled, embroidered, silk-screen prints on T-shirts. The models dancing on a stage with B-boys freely introduced the T-shirts.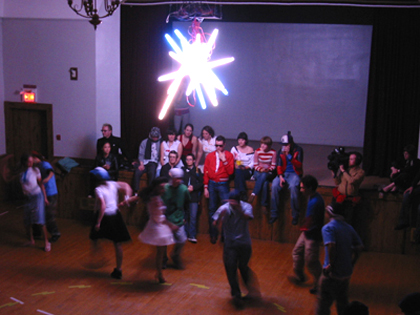 Participants: Anna Sulikowska, Anne Elizabeth Low, Anika Yuzak, Annice Kessler, Claudia
Rosa Lukas, David Lehman, Eli Bornowsky, Frederique Daubal, Kim Norcott, Lance Sells, Lukas Giniotis, Morgan Buchanan Watt, Nathalee Paolinelli, Niall MacClelland, Nick Pittman, Nina Palmer & Larry, Panagiotis Tsagaris, Robin Cameron, Sean Coggins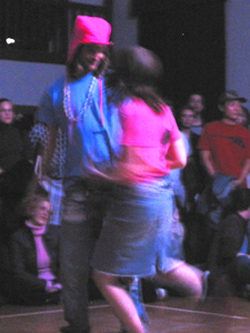 Robin Cameron makes a girls' basketball team uniform. She, in Grade 8, couldn't join a longed-for basketball team. " I wish I was little bit taller…but I don't need such a wish any more, coz I've got my own team, except the outfits are way more color coordinated and we carry trophies." Her tight and sexy uniform was introduced by the models enjoying a basketball cheerfully.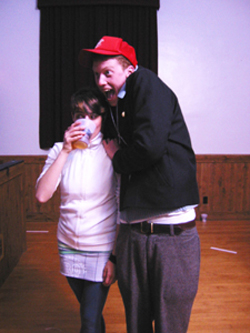 The targets of each designer in this show are the people in this event. The curators, Cameron and MacClelland seem to understand how the city of Vancouver approaches the public. It focuses on local communities rather than global interests that cycle quickly. Since Vancouver is not the cutting edge of fashion, the city builds up its own style. This would be Vancouver's style that holds a tight relationship between the public and the city, which is represented by the curators. For example, Cambrian hall is a building that various communities in Vancouver use. Cameron and MacClelland chose this hall as if they're introducing the public hall space as a place to express themselves to the youth community. Interacting with different cultures within a city is important for both the citizen and the city to develop them. All the profits from the fashion show are donated to the Downtown Eastside Women's centre. T-shirts from the show are sold in a clothing store in Gastown, Dream that deals in garments by local designers. The sales surely will be donated to the centre.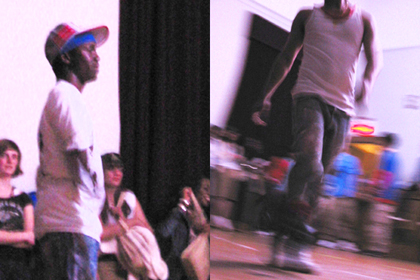 As the website states:
For 20 years, the Downtown Eastside Women's Center has provided a safe place for women and children living in a neighborhood now referred to as "Canada7s poorest postal code." Many Downtown Eastside residents experience violence, drug abuse, low self-esteem, illiteracy, racism, and classism. To alleviate the impact of socioeconomic disadvantage, the centre provides for basic needs in conjunction with long-term support.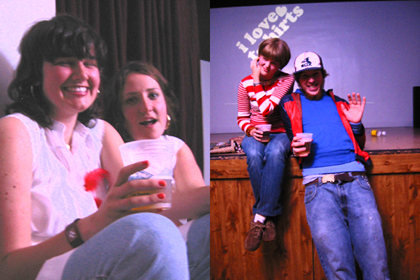 There was a booth set up in the hall, so that the audience could get information about the Eastside community. This actual communication successfully proved the show to be positive and interactive. It was pleasing to see a fresh youth activity supporting local communities. Physical participations in the event seem to encourage both the audience and the participants.
Young people tend to leave a local area for a broader field. I myself left home for global visions before knowing my local community. Fortunately, I have experienced a tight community in Vancouver by going through art exhibitions and events. I have learned how to communicate myself to the community that I share in Vancouver. As the city provides a friendly environment and supports local artists, we need to exchange our creativity with local communities. Since local and global, private and public relationships are related to each other, hopefully, the local talents will grow on a global scale.
Champions of the Universe
I Love T-shirts
Date : 16th June 2003
Place : Cambrian Hall (Welsh Society)
Address : 215 E.17th Ave., Vancouver, Canada
Tel: 604-876-2815
fgevans@direct.ca
http://wapnw.org
Text and Photos: Aya Takada from SML-(6j6)
[Help wanted]
Inviting volunteer staff / pro bono for contribution and translation. Please
e-mail
to us.