ECHIGO-TSUMARI ART TRIENNIAL 2003
Then, I went to Matsunoyama Town to see "Echigo-Matsunoyama 'School in forest' Kyororo" designed by Takaharu+Yui Tezuka at Matsunoyama stage. This is a unique facility that offers the natural science and the culture through a living textbook: forest and village.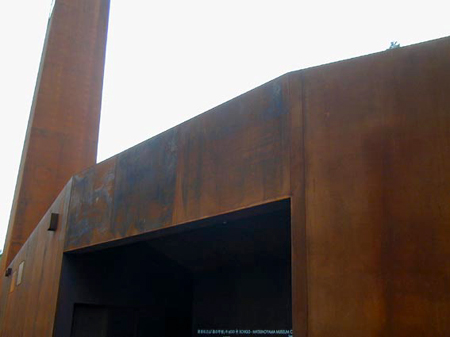 "Echigo-Matsunoyama 'School in forest' Kyororo"
Not only the big scale modern art exhibition about Australian aborigines, but also I could see the great collections of butterflies by Usuke Shiga. Mr Shiga is the honorary townsman of Matsunoyama Town and he is known as "The best entomologist in Japan. "Kyororo Tower is a work of Takuro Osaka and this is a fantastic work that 7,656 diodes blink in a dark. "Don't worry. It's not scary. We can reach the top soon. "As I encourage ourselves with local children, I climbed up narrow stairs but it was a great shame that windows of the tower were locked. Instead of this, somebody told me that it is possible to observe a cross section of snow and light but I wanted to breathe a fresh air. When I got down, I saw a group of girls from Tokyo. They told me that they arrived in Tsumari at noon and will back to Tokyo at night. I recommend them to climb up the tower. Their stay was short, so I wanted to give them muscle pain as a souvenir.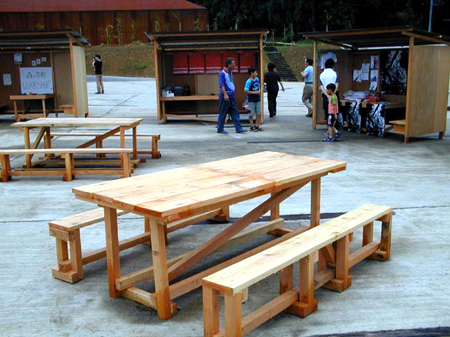 Tadashi Kawamata
I saw many sheds, which were selling local special products, at a part of the parking space that Tadashi Kawamata designed with students in 2000. I also saw similar sheds on the way to my inn. I was talking and laughing with my friend that "they look like Mr Kawamata's work" but they really were. He made Tsumari's traditional "Hase" (tool for drying rice plants) for several kilometers in last festival and he made the works that camouflage scenery again. That's interesting.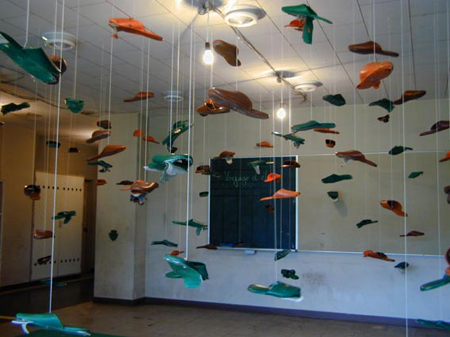 Christian Boltanski + Jean Kalman "Summer Journey"
I caught another friend in Tsunan Town and went to see Christian Boltanski + Jean Kalman's work "Summer Journey" in Matsunoyama Town. They used a whole elementally school, which was closed down because of the depopulation, and their installation was amazing. Sound of piano and children's voice were echoing in corridors where nothing was placed. In a one-class room, children's clothes were hanging. In a corridor on the second floor, a fan was sending wind to shake white curtains. Nobody was there but there was full of sign of life. Desks were covered with white clothes and they were placed at random in music room. Photos of kids, who were doing a vocal exercise, could be found over a fog. Is this installation about a requiem for the closed down school? I was getting frightened so we decided to leave before the sun goes down.
The opening party of this festival was held at "Tokamachi stage – Echigo-Tsumura Koryukan" at night. Hiroshi Hara +ATELIERΦ designed this building. A space with water at the middle of the billing gives us an open wide impression and this building has hot spring facilities as well. Corridors around the space are used as a gallery space and I could enjoy some nice works that are made by have a communication, such as "Kaekko Shop" by Hiroshi Fuji, "Jewel Quickies" and "Shoot a film! Tokamachi Defense Rangers (School Kids version)" by Parco Kinoshita. The party was in full swing and dazzling selection could be seen more than the opening party in Tokyo. I could see sense of relief from the faces of staff and guests seemed to be enjoying the time as if they were on a holiday. At 8 o'clock, White Base (Jiro Hirano+Seiichi Saito) had a Kimono Flowing event. People in Kimono with gleam balloon slowly paraded through the town and it created a fantastic night festival atmosphere in a humid summer. After this parade, it started to rain as if the sky was waiting for the end of this event.
Read more ...
[Help wanted]
Inviting volunteer staff / pro bono for contribution and translation. Please
e-mail
to us.