A creative studio in London "Hi-ReS!" made a cover design for this issue. You might have seen their name in SHIFT many times but this is the first time to interview with them. It can be said that they are the very one of them who works in the front lines of the creative world. How do they look at the future of web? Find out about "Massive Attack" site as well as the ones they made before.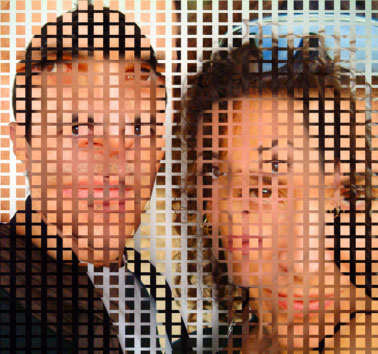 Please introduce yourself.
My name is Florian Schmitt, and I am the artistic director at Hi-ReS! London. Hi-ReS! was founded by Alexandra Jugovic and myself in 1999, when we moved from Germany to London. We met in art school in 1993 and soon started to work together, first on personal, then on commercial projects.
While Alexandra's background is in fine art and graphic design, mine is film and music. We had not worked in the web before 99, but upon discovering Flash we immediately realised that this was a chance to combine our skills in one medium, add interactivity and stream it across the web – at the time (and still today) this was an exiting prospect.
Hi-ReS! are 7 people at present plus a pool of freelancers we like to work with.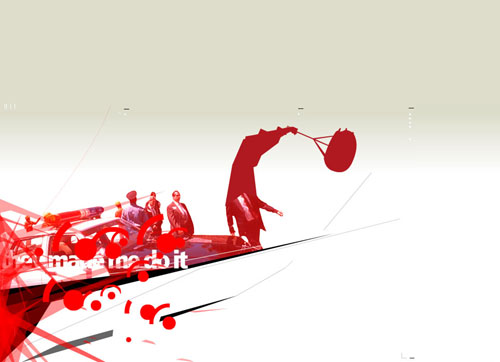 What sort of works/projects do you usually do? I heard that Hi-ReS! is based in London and many of Hi-ReS! members are from different countries. Do you divide members into several teams when you forward a project, for example? How do you allot roles to each member?
The very first online project we did was our own experimental playground Soulbath. At the time, we had no idea what was out there on the web, we had 2 trial versions of Flash4 and we had a brief that we had written for ourselves: to create a site that was almost like an instrument, that valued sound, visuals and text equally and that was void of any colours. while we worked on it, it became apparent that we also wanted to introduce elements of artificial disruption into the site, malfunction and decay, things that we have always found very interesting.
In the process we developed a concept for an online exhibition of banner ads, entitled clickhere! The project was a sardonic twist, delivering adverts but no products. The collection of "artverts" were produced on an open-submission basis and curated by Alexandra and myself.
What was amazing and totally unexpected was the kind of attention we received, eventually leading to an article in the New York Times. (and our mock of banners eventually garnered the attention of ad agencies, which i still find extremely ironic.)
As a result of this, director Darren Aronofsky contacted us and asked us if we would be interested in creating a website to accompany the release of his new film "Requiem for a Dream".
We said yes and the rest is a blur… Since then we have worked on many film-sites and many music-related sites, but we have always been very conscious of the danger of repeating ourselves and have therefore stopped doing film-sites for while to concentrate on other things.
We have since done work for clients such as SONY Playstation, NTT Data, Mitsubishi Motors, Diesel Stylelab or Lexus Cars.
And to answer your other question:
Amanda, our studio manager, is in fact the only English person working in our studio at the moment. it's weird and it was never meant to be like this, but I guess it just happened. Also, people in the studio don't necessarily come from a web or even design background, and because we are relatively small, we all do a bit of everything although everyone has their core competence.
I think our ideal way of working would be to all work on one project at the same time, focusing on one goal, but in reality there are always several projects running at the same time, so we create little teams, often we will jump in between projects as well – it's sometimes chaotic, but it works.
You have created many high quality sites. Do you have any Hi-ReS! original process when you do a client work?
I guess the common denominator in our process is that we try to always approach a project from a conceptual and not necessarily from an aesthetic angle to begin with.
We need to be sure of what it is we want to say before we think of how we want to say it. Tthat's why it is important for us to be allowed a big amount of freedom in the development phase of a project and we have been very lucky so far with our clients.
Everything we do is based on a simple (and sometimes not so simple) idea, something that we came up with in the first few days of a project. We then start to refine this idea, adding detail and slowly getting a feeling for the aesthetic that would suit the concept. And if the idea still stands after a week or two, it's worth doing it and you know you are going to enjoy working on it, even if it means late nights and weekends.
Those projects where you aren't convinced or where you try to compensate gaps in the concept with graphics are the ones you shouldn't do in the first place.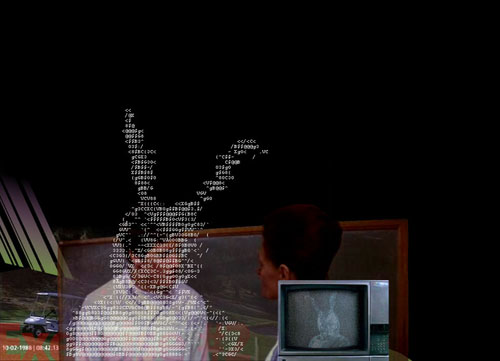 You have created many film sites, such as "The Business of strangers" and "Donnie Darko" as well. Do you think you can effectively use your experiences of scripting or directing that you gained in works related to films?
This is an interesting question, especially as my background is in film. I used to direct music-videos and commercials before I got into interactive design and have always regarded the web as a place where I would like to continue storytelling, but in a very different way.
I think narrative is still one of the focus points in our work and we would like to be able to extend the narrative beyond the web, by involving many other forms of media in the narrative, by combining all of it to tell one big story. but this needs a client who is willing to take a chance and go all the way.
On the other hand, we are still very much interested in traditional film-making, we just have not found the time to get back into it.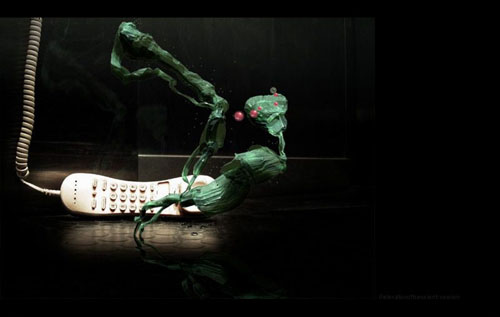 You positively participate in many conferences, such as "Macromedia DevCon 2002 Japan" held in last November in Tokyo. Do you enjoy of flying all over the world?
It's the most amazing byproduct of our work and stands in stark contrast to the way we usually spend our days and nights, hunched in front of a screen. it's great to get out, it's great to be able to travel and see other cultures and most of all it is extremely rewarding to meet other people who have a similar passion and be able to exchange views with them.
Tokyo was certainly one of the highlights of our travels so far. we fell completely in love with the city and the people we got to spend time with.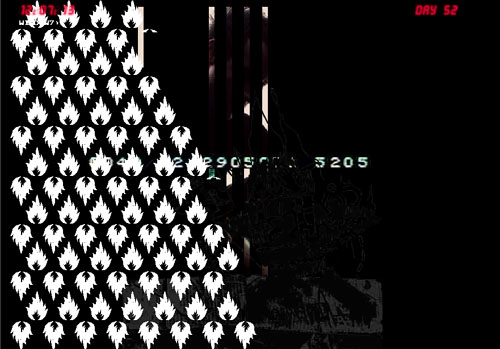 I would like to know about "Massive Attack" site you recently made. How did you take this production forward? Are there any special experiences that people can experience only in this site?
Working on massive attack was in many ways a dream come true for us. not only have we been huge fans of the band since day one, but we also knew that they value the creative input of others to a great extent.
And in many ways, the site was done in close collaboration with 3D (Robert del Naja), who is a very accomplished artist in his own right, but also with UVA, who did the visuals for the live show and Tom Hingston who designed the cover for their latest album.
The site itself is based on the idea of delivering and representing data, both relating to the band and the outside world. To achieve this, we created a pretty complex submission system which will allow them to update the site constantly while on tour, uploading sounds, videos and images from each location they are at.
This input is juxtaposed with live data feeds we get from scripts that search the web for news images, earthquakes, stock-data, keywords, colours, etc. And the site was always meant to have two sides, innocence and experience, raw accessible data and the bastardised version of the same data, mixed with data-feeds.
The site has furthermore a general emotional state which is set by the band, based on how they feel, and this is reflected in the site as well.
It is an ongoing project, we are still adding content to massiveattack.com and 100thwindow.com, for example you are now able to send messages from the site to the live show you chose, which will then be projected on a giant LCD screen before and during the show.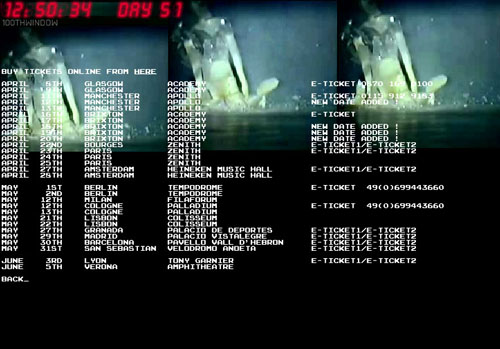 How do you understand the latest webs? What do you think how web will change in the future?
I have to admit that the raw excitement i used to feel about all things web isn't as strong as it used to be. maybe because i see too much, maybe because there is too much stuff out there, maybe because things are too much the same, I don't know.
I think it is time we re-evaluate what the web stands for and what its strengths are. there is a lot of work out there at the moment which is a translation of print to the web and while some of it is fantastic (eg. www.thisisamagazine.com), I think it is time to push interaction to the next level.
And it's not about another flash-experiment, it should be about communication, communication between people and communication of ideas and stories. I still think things such as webcams and live chat are among the most fascinating online, because they shrink time and distance to zero.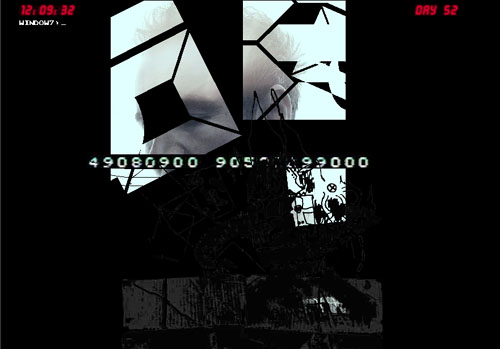 If you give an advice to people who wish to start to design, or those who have already been doing, what would you say?
Do what you believe in. Find a voice inside yourself. Try to find inspiration everywhere.
Please tell us your cover design for this issue. What did you image when you were making this?
The cover was meant to be something totally removed from the web, an excuse to get out and do something other than making an illustration or a flash toy.
We took a golden plastic bag and sewed the letters S H I F T and then formed a short sentence out of the letters with images we took in the neighbourhood…
Please tell us your plan from spring. Also, do you have any dream that you wish make it come true in Hi-ReS!
It's been a busy three years and this year is no exception. We are currently doing work for US channel HBO , new work for Lexus Motors US and we have some projects lined up that have no web-background at all.
I think we would just like to diversify again – one of the projects we will start this year is clothing and accessories (Hi-BoY! and Hi-GiRL!) and we have plans to get into creating products.
Please leave a message to SHIFT readers.
Peace.
Hi-ReS!
Address: 47 Great Eastern Street London EC2A 3HP, UK
Tel: +44 (0)207 684 3100
http://www.hi-res.net
Text: Sachiko Kurashina
[Help wanted]
Inviting volunteer staff / pro bono for contribution and translation. Please
e-mail
to us.