A London-based motion studio "Addictive TV" had VJ performances at two nightclubs "Yellow" and "Alife" in Tokyo. Not only having a VJ performance like this time, they are producing an audio visual mix DVD series "Mixmasters" as well as organising visual event "The Audiovisual Lounge" with "Cinefeel" in London and Paris. Nick Clarke, Graham Daniels and Francoise Remy visited Japan for the shows in Tokyo.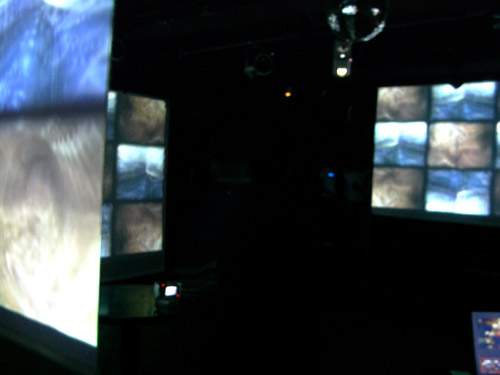 "London Initiative"- this is the title of the event held at "Yellow". Several screens were placed in various angles at the venue, and it was like motions on the screens surrounded a DJ booth. This direction seemed to create a space that stresses on the mix of motions and sounds. Basically, Addictive TV's VJ style is a quite improvise one as Graham selects motion resources and then, Nick mixes them with a VJ mixer. By allotting complex procedures of equipment to each, they try to have a real-time collaboration with sounds.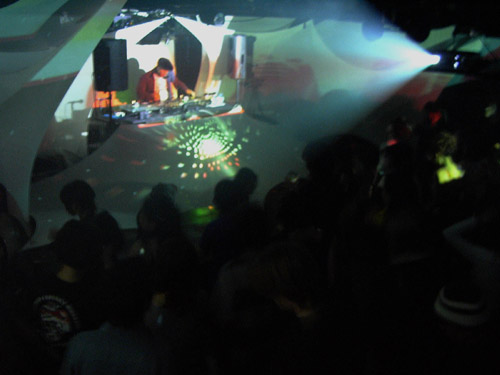 I could strongly feel that unique style from a DJ session with Howie B, because Addictive TV's motions sychronised with Howie B's playful DJ play well. As Nick said, "we just express what we feel without thinking anything", I could see Graham was dancing as he was mixing motions at a VJ booth. Feelings that they get every moment and how to express them. These two points seem to be important in their VJ style.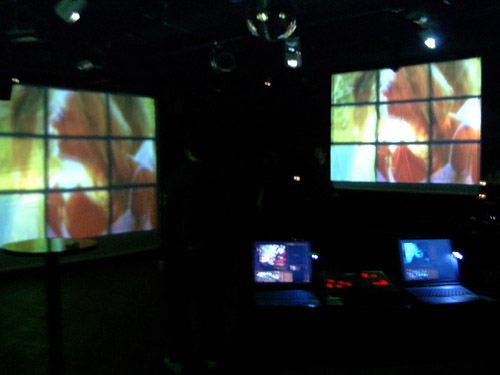 According to Addictive TV, they could have a similar performance to "The Audiovisual Lounge" at an event "FOUSKILL featuring PIX" in "Alife". Since the first half of the event had a strong lounge taste, visitors seemed to enjoy of watching their motions enough although each set was not so long. Their VJ performance was gradually getting a physical one in the latter half. Both those who were dancing and just sitting could enjoy the atmosphere there.
I could have a chance to interview with Graham and ask him about their activities.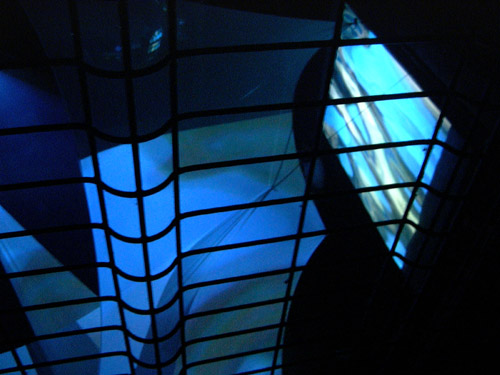 First of all, please tell us about Addictive TV.
I used to work until early in the morning before and I saw newspaper boys and postmen were working very hard. And I wondered what I could provide something fun for them. Then I started to edit about 5 short programmes and show them at a nightclub called "Scala".
Addictive TV are 7 people, Nick Francoise Rob Paul Tori George and myself. Not only making motions, but also some of them work as a DJ and a composer. Our main activities are making TV prgrammes, organising a collaborative event of Francoise "The Audiovisual Lounge" and releasing the DVD series "Mixmasters" as a label. "Cinefeel" is Francoise project and he curates underground films and artists.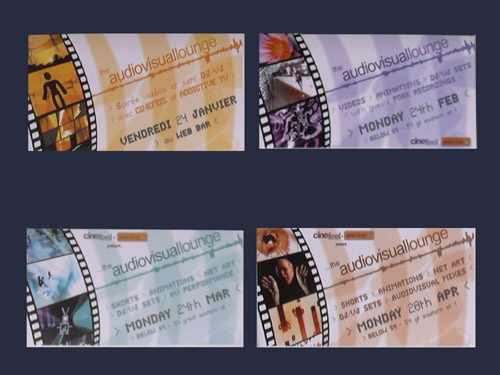 What sort of event "The Audiovisual Lounge" is?
We wanted to make a place where people can enjoy motions more than ever before as well as VJs can have a performance at the same time. We also thought a cinema is not an appropriate place to watch several 10 or 15 minute long short films. This brought us the idea of the style that people can enjoy both music and short films as they are freely getting to know each other. Also, not only it should have space effect elements like motions that are showing at events in nightclubs but also we thought it should be entertaining as a one single stuff. In The Audiovisual Lounge, a DJ mixes visuals with music, a VJ mixes music with visuals or connecting them with short films and interesting music clips.
We want people to acknowledge VJs more through this event and want the condition of this scene to improve as well. For example, if you look at a flyer of an event, names of DJs are written in big letters but VJs are still credited in small letters. In order to improve this condition, we need to make this scene bigger and bigger. It would be nice if this event will be a place where many overseas artists come and people can have a good time with them. Many events are held in weekends and this seems to be very competitive. However, our event is held on Monday because the style of The Audiovisual Lounge is different from them. We hope to give people energy from this event to work hard in a coming week by holindg the event at the bigging of a week.
How and what do you want to express as a VJ?
Some VJs put various messages such as "peace" in visuals or projecting a destructive image but I just try to enjoy the time without thinking anything. I think people can feel messages by looking at myself who is enjoying the time. What I do is lifting up them.
Where do you get inspirations from when you create a work?
From a usual daily life. When I asked the same question to Ridley Scott, he said he felt a real beauty when he looked at patters of waterdrops that was lit by headlights of hundreds of cars from a taxi in a rainy crowded road. I felt sympathy toward that very much, because ideas are everywhere around us.
Also, it is just creating things that come up in your head unlike trying to making something cool. If you try to just listen to music withouht thinking anything, many images will come up to you. Then, just express them.
Please tell us your future project.
We will release a new series of DVD "Mixmasters". Some Japanese artists are involved in this series. We will have "The Audiovisual Lounge" soon as well. We are going to Chicago to participate in a VJ symposium. I think these sorts of various projects bring us chances to see many VJs and they revitalize this scene.
Movements like "The Audiovisual Lounge" are organising all over the world now and I think a demand of this sort of event will rise, because not only for visual artists, but also the development of the digital technology gives many chances to create works to many artists from other disciplines. That's why we now need more places to show their works.
In addition, Addictive TV's activities, which clearly package up the fusion of music and visuals, revitalize not only the VJ scene, but also the music scene and other fields.
'LONDON INITIATIVE' ADDICTIVE TV vs HOWIE B
Date: FRIDAY 14th MARCH
Venue: Yellow (Tokyo)
Entrance Fee: 3500 Yen with 1 drink (3000 Yen with Flyer)
Time: 10:00pm – 5:00am
VJ: ADDICTIVE TV (UK)
DJ: HOWIE B (UK), Sodeyama [General Effect], Marshall [Nuphoria], Yukalicious [Nuphoria], DJ Cloud [Dubstrakt], Muthafunka [Bongoloid/Play Label]
LIVE: Cinema dub Monks
VISUAL DEVICE: Pinxnake
Hosted by Cep TV (www.cep-tv.net) / @NetHome Co. Ltd.
ADDICTIVE TV
Address: The Old House, 39a North Road, London N7 9DP, UK
mail@addictive.com
http://www.addictive.com
Text and Photo: Yasuharu Motomiya from Nordform
Translation: Sachiko Kurashina
[Help wanted]
Inviting volunteer staff / pro bono for contribution and translation. Please
e-mail
to us.