CONTEMPORARY ART IN BUENOS AIRES
Since November 2002 and during the year 2003 the Museum of Latin American Art of Buenos Aires (MALBA) has introduced the series 'Contemporary', which involves five leading curators and multiple emerging artists of the current local scene. The MALBA is white and cosmopolitan. Only a step before climbing up the stairs that lead to the main entrance, one can already sense the strange and foreign air that inhabits those walls. The people outside look at the new visitor waiting to find a familiar face or a pre show entertainment.
From last year and throughout this year, the museum is developing the series called Contemporary, which involves the action and opinion of five curators invited personally by the Director, Marcelo Pacheco. This series could be the triumph of the curator's race, if there is one. Each of them claims for him the right and responsibility of choosing a group of artists (there must be at least two) to make them coexist in a peaceful exhibit of their virtues and contradictions.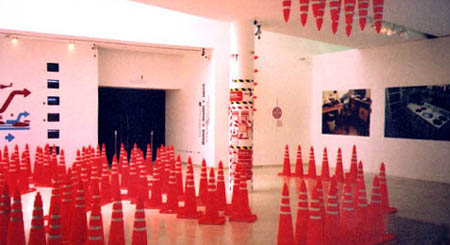 Contemporary 2, Installation view
Maybe Contemporary 2 was the clearest example of the idea that Pacheco had in mind. Rafael Cippolini, the curator, has chosen the exposits in an eclectic way, reuniting three exhibits in one: Guillermo Ueno's, Mumi's (both photographers) and Doma Collective (graphic arts and design). While explaining his choice, Cippolini tells "Guillermo is a guy with a tender and clever look on his environment. I met Doma when my girlfriend brought me one of their postcards of urban interventions, for our first date. Finally, I liked Mumi's portfolio, and she was a Doma's fan and wanted to work with them and let them intervene her work. I tried to reunite an irregular group of artists whose work moved me, in a trial of aesthetic coexistence".
The combination produced an original result, being contrast the main character. If we analyze it in different portions, as worlds in themselves, the exhibit brightens up. That's where Doma unleashes its rational and technological fury through cows that imitate people and dead sculptors in the middle of a dirty tank. Social violence and loss of freedom in the panoptical society penetrate inside each of the assistants to the exhibit while they try to walk between police bright orange cones and invasive security cameras specially installed for the occasion.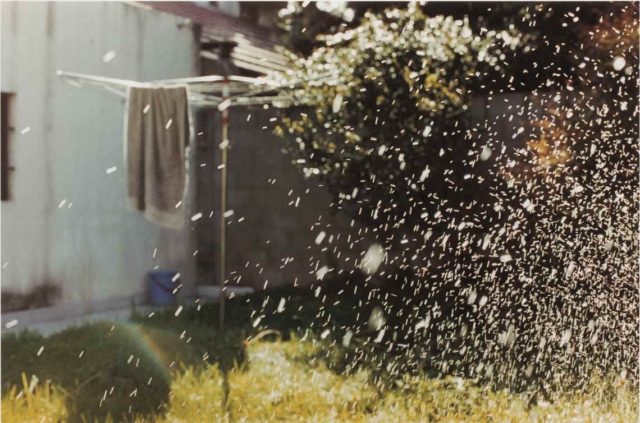 Guillermo Ueno, Untiteled, 2002
Desperation provoked by little men who pursue me disappears when I find the photographic gallery of Guillermo Ueno. Ueno's images transpire peace and tranquility. It's almost as if we could enter his place and the light from the window could embrace us, too. In the visit we meet his family and the colors of his life. That's the time when the Malba isn't an alienated place anymore and becomes, for a very short moment, our home: a house inside a house.
When we get to the end of the exhibit, we can see Mumi's pictures, which worked with Doma and they both intervened her work. Reality is rude again, with cold images that impact with their sobriety and ominous feeling. There are TV cameras and people wanting to be filmed, while the shiest take a refuge in the intimacy of Ueno's pictures, on one quiet side of the huge gallery.
Read more ...

1
2
[Help wanted]
Inviting volunteer staff / pro bono for contribution and translation. Please
e-mail
to us.