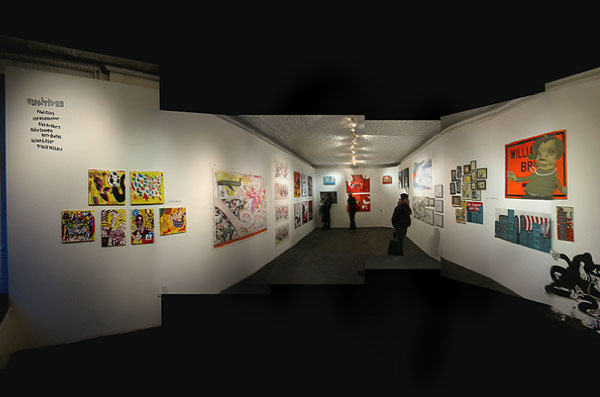 Fugitives is a group show that brings together seven artists from diverse backgrounds whose work fuses the formal protocols of graphic design, comics and illustration with the more traditional media of painting and collage. One is just as likely to encounter their work on the street, on an album cover, or on a t-shirt as in a gallery, in a magazine, or on the web. Bound together by their ability to move fluidly between personal and commercial work and material and digital realms, they are best described as "fugitives." A series of limited edition t-shirts and a sticker packs accompany the show, available for sale at the gallery and online.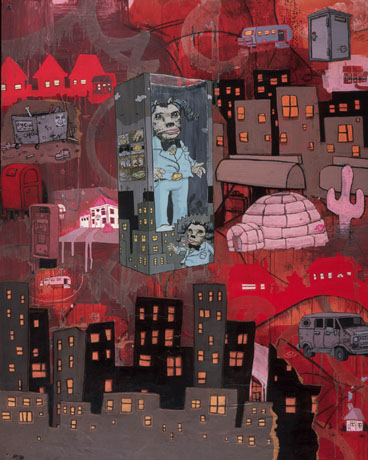 Travis Millard is originally from Kansas and currently lives and works in New York. His paintings and collages are populated by the "dirty schoolbook urbanism" of his distinctive Fudge Factory Comicscharacters. Fudge Factory 'Ram Head' tags can be found on signs andlightposts throughout New York, and the regular comic strip can be seen in the pages of Spin and Shout magazines. Travis's work has appeared in the recent Decipher show in New York and in the Hit &
Miss show at Max Fish with Shepard Fairey.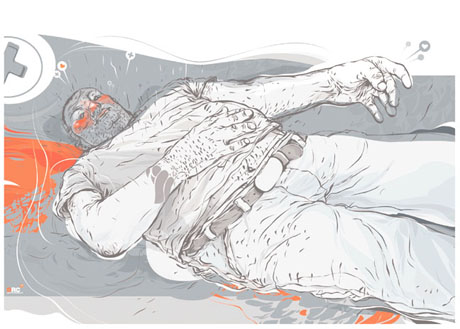 Lee Misenheimer is a graphic designer from North Carolina currently working in New York. Originally trained as an illustrator, Lee has been creating drawings, paintings, and screen based work under the name Destroyrockcity since 1994, first as a self-published fanzine. Lee has shown work at Raleigh's Lump Gallery, and his design work has been published internationally.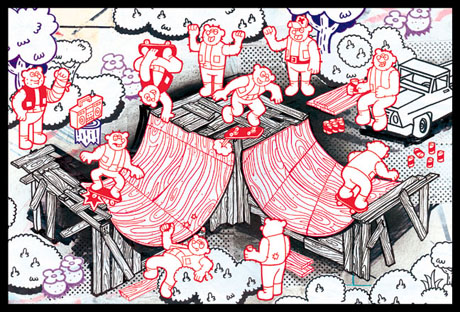 Paul Clark is a designer and Illustrator, formerly at New York's Funny Garbage, who has been creating personal and professional work for over five years under the name Blixie. His work has been incorporated into promotional materials for the lower east side record store Sound and Fury, and has been published in Bikini and Eastern Edge magazines. Currently Paul is creating large-scale collage pieces and skateboarding almost every day.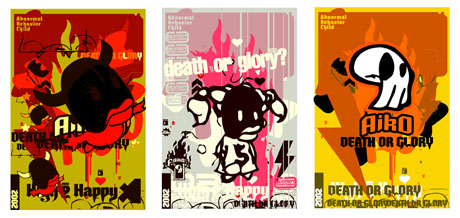 Niko Stumpo is a painter and former professional skateboarder who works as the creative director of the 'quam' agency in Milan. His canvases negotiate a space between graffiti and charicature, and he uses his website abnormalbehaviorchild.com to bring his "destroy everything" characters to life. Niko's paintings have been shown at the Biennale exhibitions in Tirana and Valencia and at the Pompidou in Paris. His work was also featured in Arkitip Magazine issue 10.
Scien and his wife Klor are graffiti artists and graphic designers in Paris. As part of their graffiti crew 123Klan, Scien and Klor have had work shown throughout Europe and have done graffiti demos from the Bronx and Zurich to Singapore. Their work bends graphic design and graffiti in a truely unique and new way, both on the street and online.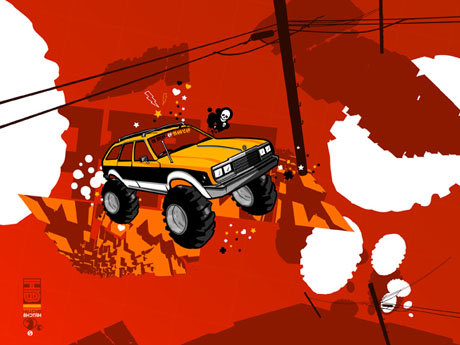 Matt Owens is originally from Texas and has been creating art and graphic design under the name Volumeone for six years. In 1999 Matt co-founded the New York design firm One9ine. Matt's digitally rendered canvases have recently been included in the Move 8 show at New Image Art in LA curated by Rich Jacobs and in the Icons of Action show at Southern Exposure Gallery in San Francisco last year. Most recently Matt completed spreads for Arkitip Magazine Issue 13
Rick Froberg is an artist and musician whose work has graced the covers of albums, punk rock magazines, skateboards as well as gallery walls. Rick's work combines a graphic/illustrative sensibility with painting to create surreal hybrids of the comic and the commercial.
For more information on Rick, check out hotsnakes.com.
The Riviera Gallery is the collective project of 5 designers and is located in Williamsburg Brooklyn. Established more out of love than money, Riviera hopes to mix art photography and design in is roster of shows.
Fugitives
Date : Jan. 23 – Feb. 23 2003
Place : Riviera Gallery
Address : 103 Metropolitan Ave. Brooklyn NY 11211
info@seeyouattheriviera.com
www.seeyouattheriviera.com
Text: Matt Owens From Volumeone
[Help wanted]
Inviting volunteer staff / pro bono for contribution and translation. Please
e-mail
to us.