ART BASEL MIAMI BEACH 2002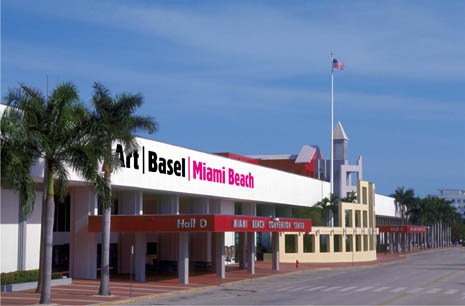 Miami Beach Convention Center. Courtesy Art Basel Miami Beach

First edition for the American offspring of Art Basel. Art Miami, lively and colourful, has little of the airs of its mountain relative in Switzerland. Ilaria Ventriglia paid a visit for us.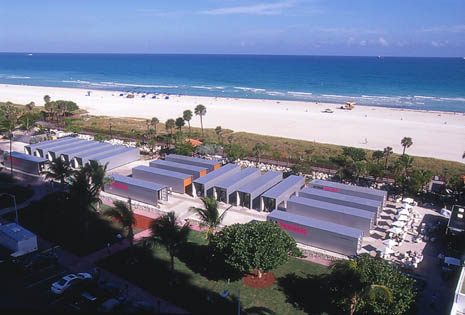 "Art Positions", container at Collins Park. Courtesy Art Basel Miami Beach
The fastly multiplying number of fairs leads us to believe that it is something of a winning formula. It is of little relevance whereabouts in the world it takes place, whether it is art or design, crafts or food, the mechanics are the same. Strong communication, an opening party for "selected" guests, white spaces, lots of people ranging from trade operaters to Sunday visitors and you've got the show on the road.
This year Art Basel/Miami Beach (5-8 December 2002) was something new. After no less than two years of preparation – the last edition was cancelled as a result of the unhappy September events in America – here we have the child of Art Basel. The Swiss art fair which is held in June with 33 editions under its belt, has become big enough to be repeated with a winter edition.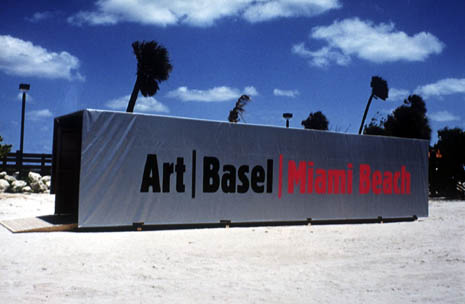 Container at Collins Park. Courtesy Art Basel Miami Beach
So the handbook for the perfect art traveller now should include a stop of in somewhere warm. Starting in January with the Arte Fiera in Bologna, following on with Arco in Madrid, The Armory Show in New York then back to Europe with Zurich, Milan, Brussels and if you fancy it also Chicago and Frankfurt.
Then comes the date in Basle, the most "established" moment, followed by a summer break. During this time there are a number of Biennales and huge international events, then continuing with Berlin, Paris, Cologne, Turin and now, with Miami. There are also a number of other less sophisticated sisters.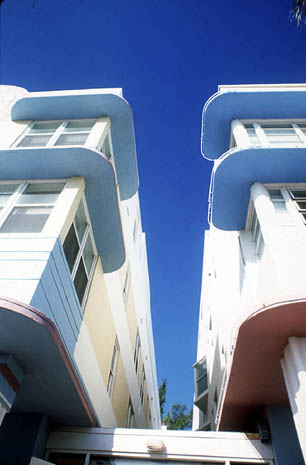 Art Deco architecture, Miami Beach. Courtesy Art Basel Miami Beach
Miami is a hot spot even before you get there, not just because whilst in Europe it is the middle of winter and in New York it's snowing (causing many to miss the opening party) here its 25 degrees, but also because it intends to become The American Fair, to the great irritation of the Armory Show.
The sequence of the appointments, the opening parties which invade Miami Beach and the famous Art Deco district, hold a faithful sample of the art star system, as well as a making a valuable contribution in transforming the event into a partying city.
The Convention Center houses the 150 most important galleries in the world, selected by a strict jury and made exclusive by the prohibitively expensive costs of participation, divided between Art Galleries – the best of the official artistic offerings from the twentieth and twenty first century – and Art Statements – which instead allow twenty up and coming artists to be present at the Fair with their own exhibition -.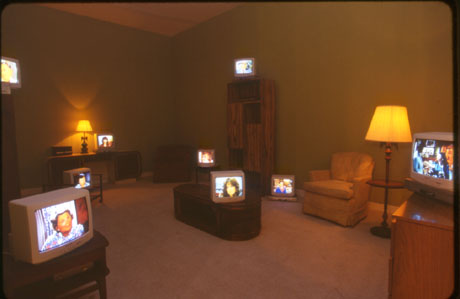 Candice Breitz, 2002, Diorama. Nine-Channel Video installation.
Courtesy Galleria Francesca Kaufmann
From Tim Noble & Sue Webster, a light at ground level illuminates a sculpture made out of refuse projecting shapes onto the opposite wall. Moving on then to Modern Art up until Jim Lambie for the Modern Institute. The living room old style of Candice Breitz has nine monitors each obsessed with a personality from Dallas representing the Italian gallery of Francesca Kaufman. From the cardboard house by Costa Vece to Franco Noero or noir painting by Italian Alessandro Pessoli from Anton Kern. And then 50 magazines, both American and international, and a few institutions.
In the Art Galleries section some galleries decided to share their space such as Italian Massimo De Carlo who is with Casey Kaplan from New York, or the successful German example in which three galleries from Berlin, the Klosterfelde, and neugerriemschneider have joined forces and presented just big sculptural installations, by John Bock, Andreas Slominski and Jorge Pardo.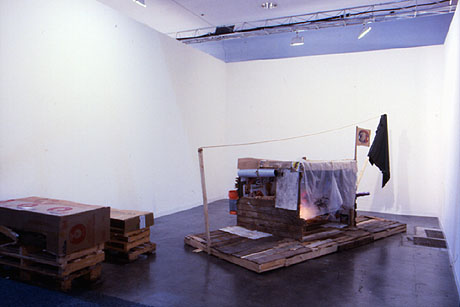 Costa Vece, "Adonde vas mi vida?", 2002. Mixed media, variuos dimensions.
Courtesy Galleria Franco Noero, Torino<
On the beach, not far from the Convention Center, is Art Positions. It looks like a holiday camp, twenty containers used by young galleries for alternative offerings and a look at what could be the future of contemporary art.
We are looking at China Art Objects from Los Angeles, the young Fa projects from London, the amusing Jack Hanley gallery from San Francisco with work by Chris Johanson, a young artist from San Francisco whose presence is felt, Anthony Goicolea, Sandroni Rey from Venice or Rare from New York.
An electric atmosphere, music and drink at dusk. A hiccup only on the first day when the air conditioning system (a must for surviving between the metal walls and a crazy American obsession) gave up, leaving the gallery owners in a state in tension.
Everywhere you see a bright pink sign, something is going on and Miami seems to be partying like it was a huge village fete. There is a programme of video art and a video collection at Art Vide Lounge, sculptures and installations spread around the city under the name of Art Project.
Art Loves Design invades the streets, galleries and showrooms of the Miami Design District. Until late at night if offers a showcase of music, performance, food and over fifteen exhibitions.
During the morning, thanks to the generosity of a number of collectors, the doors are open on public and private collections such as the Rubell Family Collection or the Margulies Collection, visited by real school trips; in the evening one is spoilt for choice amongst the numerous parties.
And if all that wasn't enough or if the desire to purchase was to come upon us, but at more accessible prices, there are still another two small side events.
ArtPoint, twelve non profit making organisations and a number of small galleries offer a range of proposals which are exclusively American. And then there is Scope Miami, into its second edition.
It is an entertaining idea of a fair which is certainly growing, and which has already had suceess with both public and collectors.
Thirty small one man shows held in the private rooms of the Townhouse Hotel, a small hotel with character and atmosphere just a short distance away from the fair. The work is on the bed, in the bathroom, in the wardrobe and when the fair closes (very late obviously) the gallery is transformed back into a bedroom for the artists and young gallery owners.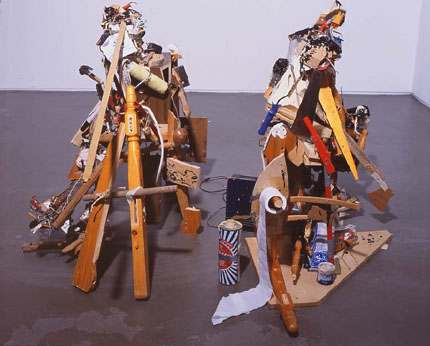 Tim Noble & Sue Webster, "Real Life is Rubbish", 2002. Courtesy Modern Art Museum
In the end, anyone who has seen a few art fairs in their time can see a certain amount of trend setting in this first edition in Florida: there is certainly much more painting and sculpture compared to photography and a tendency on the part of many gallery owners to adapt to local tastes.
Works emerges with a Latin energy, a great deal of colour, little which is conceptual and little with a minimalist touch, almost always large scale works. We are not in New York now and the people here live in houses where space is not a problem. Miami is a Latin city – so much so that when they speak to you in English in a Cuban restaurant it sounds a bit weird – and is a regular haunt for rich families from South American: this makes it a winning strategic choice.
Together with 30,000 visitors to the fair, making the event a success, have passed through the most important collectors from around the world, along with a new wave of rich South American couples.
Covered in designer labels, bronzed and glittering they wander round the pavilions, often taking little notice of the names of the artists as well as the prices. The result has been of great satisfaction for the gallery owners.
This lively and colourful Art Miami has little of the airs which its mountain relative in Switzerland has and doesn't intimidate anyone.
Alongside in the Vip-area in the Convention Center we can even have a massage with tropical oils in between a chat and a look around. And if instead we need help, the magazine ArtNexus can organise us a daily tour around the fair in English or Spanish. 15 dollars… ask at the desk.
Art Basel/Miami Beach
Date : 5th – 8th, December 2002
Place : Miami Beach, Florida.
miamibeach@artbasel.com
www.artbasel.com/miami_beach/
Text and Photos: Ilaria Ventriglia from Domusweb
[Help wanted]
Inviting volunteer staff / pro bono for contribution and translation. Please
e-mail
to us.