I was listening to the radio in my car when I heard Programme for the first time. I was fascinated by their music and the poetry of their lyrics. It was a shock. So I decided to interview them. They melt programmed music with live music in a dramatic mood. Their new album titled "L'enfer Tiède" is just published in France and this album will be available in Japan 25 January.
Hostess Entertainment Unlimited deals with Programme promotion and distribution in Japan.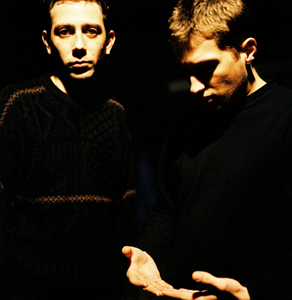 Can you introduce Programme?
It's a mid-term project. The goal is to touch sensitive dots and to stop to believe that all is right. We did a balance about our personal life and the circumstances and we decided to use songs and music to share our feelings with people who are in our situation.
What influences do you recognise?
Pollutions, despise of the dominion, influences traffic, discomfort about relationship, fear, ethical blackmail, respect of false values , media and technological power, insoluble inhibitions,
neurosis and mental troubles bring by present time, urbanism, nervous war, capitalism fall, capitalism rise, mercenaries war, strongest's
reason, pictures weight, situation of everybody and the music.
How do you work ? How do you compose music and lyrics?
When something must be said, it becomes a text. When something must be done, it becomes music. Our aim is to meld music and lyrics and this melding becomes a singular song. Our EP is designed like a globality. We don't want product reiteration, copies or filling. We prefer to construct a universe, a mood than a basic suite of songs.
Can you introduce your new album "L'enfer Tiède" (tepid hell).
Our Album is a proposition about our point of view. We tried to share our desire to expose the perturbations or our little lives: it's ,for example, a comfortable cocoon of principles that hide a psychologic misery.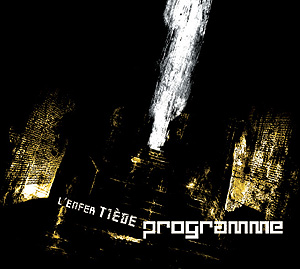 What are you doing?
We are on a French tour and our performance proves our veritable intention.
What do you think about contemporary creation, today?
We think that contemporary creations often are short of conviction. Without dealing with the commercial matter of an artistic work, we consider that creators may start from the ground to show a new something. There are few artists who solve problems and avoid traps of artistic creation and also who push the system.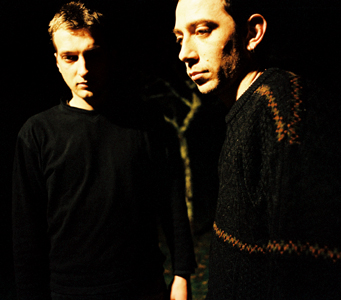 What sort of artists do you appreciate?
We appreciate artists who push the system. Nevermind the subject or the style where they sink.
We appreciate very much these who have a veritable desire of expression without the usual masquerade that sticks around.
What are your projects?
We want to continue to dig our project. We will try to finish our initial project in radicality without ever give up the underhandedness.
Can you leave a message to Shift's readers?
Stop, look askance teenage girls !!
Text: Jerome Lacote

[Help wanted]
Inviting volunteer staff / pro bono for contribution and translation. Please
e-mail
to us.