Shift 2003 Calendar is now ready. The aim of this calendar project is to provide up-and-coming fresh creators a calendar as a medium to let them express their creativity and we invited all Shift readers to submit their works to the competition. Thankfully, we received approximately 150 works from all over the world in a month.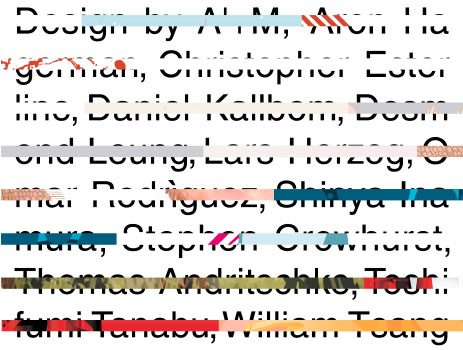 The reason why we horizontally put the dates in a row is that we would like you to customize the schedule in your original way as well as using this product regularly. This calendar will be available ーon the 1st of December at "Shift Factory". We are also planning to distribute this product through many shops in the world and now looking for the shops that support this project. If you are interested in this, please e-mail us: staff@shift.jp.org
The 12 works below are the best works, which will be used in the Calendar. Please have a look with the comments from each creators.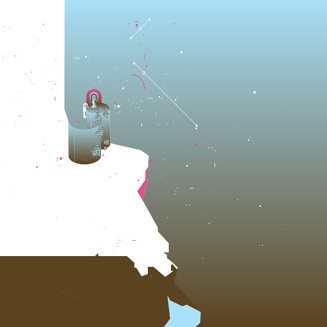 A'+M
A' (Clarissa Tossin- Brazil) + M (Miguel Vasquez -Venezuela) an exchange process for visual ideas.
Our work has been showcased together and as individuals in T26, Neomu, Mtv VMA LA, Los Logos and LATINO published by Die Gestalten Verlag.
Work description: Piece title: Abismo A space where our mind can flow freely.
The exact limit between freedom and madness.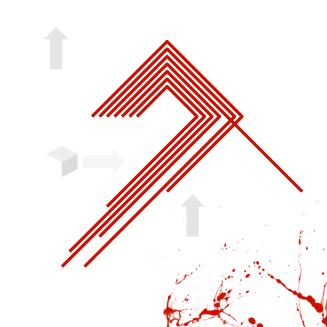 Aron Hagerman
Aron Hagerman. 22 years. I am currently working at an animation company in Stockholm called Filmtecknarna, with computer-supported animation. And before that I worked at a small Motiongraphics / Filmproduction company named Apparat.
Work description: I like to work with geometrical figures and experiment with how they interact. The red ink(?) stains gave an absurd touch to the whole thing, plus a bit of organic feeling to I guess since they are real stains and not computer generated.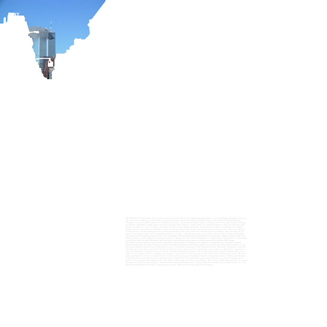 Christopher Esterline
A designer from Portland, Oregon currently working in the field of web/interface design.
Work description: By chance I viewed the work of George Weld, an amateur photographer living in NYC. I was captivated by the emotion George exposed on the morning of 911. In that moment, viewing these very candid
expressions, I felt as if I'd gladly give everything in place of the innocence lost through such misdirected and grievous malcontent. I felt others would do the same.
In this piece, a stoplight, looming ever so vein in the shadow of the twin towers, rests on stop.
Men offered what they could. NY City's finest gave their lives. A President somberly shed tears. NY / the United States of America / the world stood in silence. These Brownstones, absent from the original shot, were my submission to that thing, being, et all, who/m might reverse the path of destruction triggered by the loss of life and the sanctity of freedom demonstrated in the attacks of 911.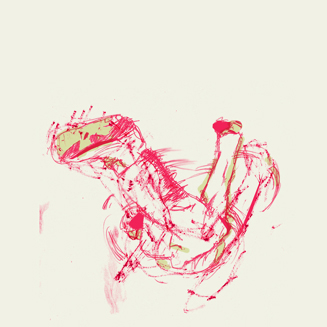 Daniel Kallbom
I'm a student at Hyper Island in Sweden but right now interning at Method in San Francisco.
Work description: This illustration was originally created for a project called Uncase, but it was never used. I experimented with both analog and digital techniques, symbolising speed and creativity.

Desmond Leung
25-year old Desmond was born in a tiny Pacific Island, then grew up in Hong Kong. He graduated with honours in graphic design from Swinburne, Melbourne. Currently, he works as a freelance graphic/web designer and devotes himself to motion graphics.
Work description: An abstract visual interpretation decodes the fragmented memory and feeling of one's travelling experience. It symbolises a traveller undergone an unknown visual and geographical territory. The body of a human figure transformed into a contour map. The image plays with symbolic topography, mapping and objects which suggests a traveller's recall of an ambiguous sense of place and season. Those memories are vivid, chaotic and yet surreal.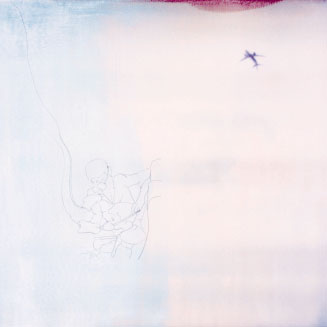 Lars Herzog
31 years old. Hamburg. Freelancing (Art Director). Lecturing. Noncommercial Arts.
Work description: This work's origin is a Polaroid I took at the airport. Everything was fine (as usual). I am often more sensitive to things that might occur than those that do. So the work's origin might also be called paranoid, I guess. I used analog and digital media.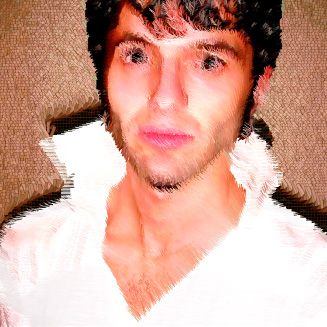 Omar Rodriguez
A 26-year-old Spanish creative technologist. Designer, illustrator and computer engineer. Currently working in Madrid at an advertising agency as interactive-web programmer and moving to Tokyo next year for an interactive graphics research project.
Work description: The main purpose of the piece is to experiment into different ways of perceiving and showing information. A portrait, used for the representation of that process, is both the canvas and the observer. There is a unique idea for visualization information: the line as the basic unit.
Basicaly, the areas of interest are analized and classified. Only after that analysis the computer can start to create particular representations for those areas. The features to take into account include: color, contrast, brightness, space, position in the surrounding areas, definition… All that information is collected and translated into more practical factors, such as the importance into the complete picture, the "amount" of relevant information it contains, and the nature of it.
The final picture is a representation of the information treated by the computer to show a new look into the way we can represent such information and into the way we can perceive it.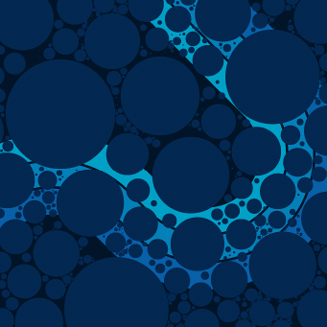 Shinya Inamura
A creator. Born in Shibata City, Niigata, Japan in 1977 and living in Niigata City now. Graduated from the faculty of economy in Niigata University. Running the site "everyday icons". I would like to express my own images with the most appropriate way in various types of media. The word I dislike is "a fixed idea".
Work description: I imagined music and liquid when I was creating this piece. A slow flowing and its floating feeling. Rhythm. I hope you will feel a special atmosphere in this piece.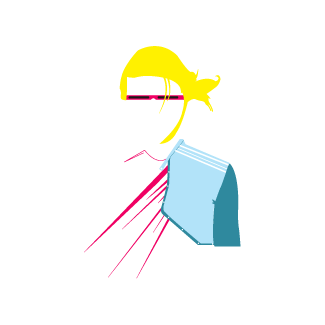 Stephen Crowhurst
Creative Director. Curator of Tekko Exhibition
Work description: This illustration is actually a portrait of my sister Samantka, circa 1985.
I am currently working on a series of portraits that involve subjects from
my past that are strongly reflected in current trends.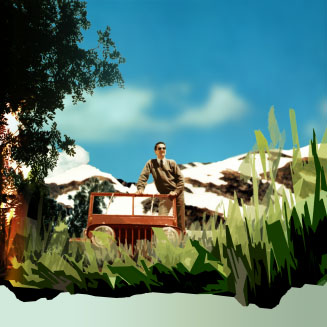 Thomas Andritschke
Thomas Andritschke, a 31-year-old web/graphic designer/illustrator from Duesseldorf/Germany. He studied Communication Technology at University in Ulm, Germany.
Work description: The electric field between an "objet trouve'" (here the photo of my father-in-law) and reduced graphics communicates under-cooled elegance. My design is very emotional and intuitive but also controlled and reduced to very few design elements.
Special thanks to my father in law for the picture of him (1967).

Toshifumi Tanabu
A designer. Born in Hachinohe City, Aomori, Japan in 1976. Living in Tokyo now. Graduated from the department of economy at the faculty of economy in Hosei University. Worked at a design agency in Tokyo, N&C Ltd. for three years. Starting to work as a freelance designer from February 2002. I am mainly doing web designs at the moment but hope to expand my field in various media. My site is "TBTF".
Work description: "The New Year". I was not making this piece with this theme when I started to create it. First of all, I was thinking of making this piece as the one mixed with all pieces, which I show within my site, but I felt the impression of the New Year on the process in the end. Many of my works I made before remind me of the terminal of the world with the design of snow and ice. Therefore, it surprised me to see this bright feeling piece and I felt something destiny with this. I put my with that this piece will be a new starting for myself. B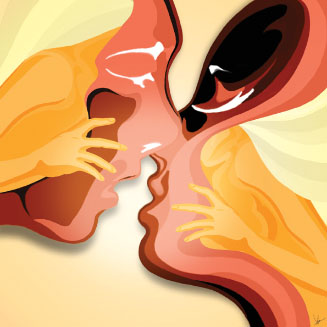 William Tsang
A designer, who deals with graphic design, web design, illustration and multimedia design, in Hong Kong. He is 25 years old this year.
Work description: Where will make you feel choky? When will make you feel choky? What will make you feel choky? And how will make you feel choky?
Shift 2003 Calendar
Size: 210 x 210 (mm)
Pages: 28 pages
Price: 2000 yen
Publisher: Shift Production Limited, Japan
[Help wanted]
Inviting volunteer staff / pro bono for contribution and translation. Please
e-mail
to us.