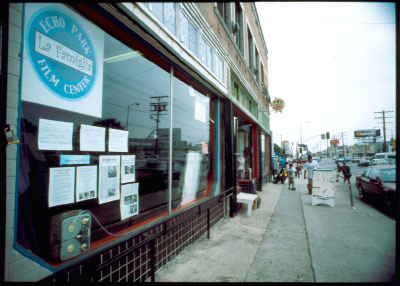 "Welcome to the Film Center, " greets two friendly faces, and sometimes more. These are coーfounders Paolo Davanzo and Ken Fountain of the Echo Park Film Center, located in the heart of Alverado art complex. Being next door to 33 1/3 Book store and skateboard shop, center confortably welcomes various visitors to explore their offerings, since its opening in December 2001. It's a store that specializes in 16mm and Super8 equipments, an archival resource (video rental for$1/wk), youth media access center, a theater offering weekly screenings, and a 8mm & 16mm repair shop all in one.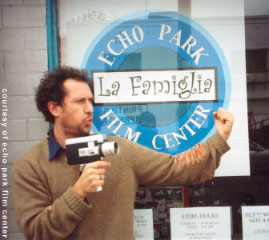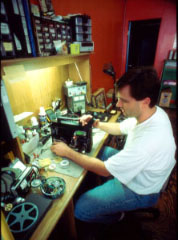 Italian decent Davanzo proudly displays the sign "La Famiglia" (meaning 'the family' in Italian) on his storefront window. "That's what it's all about, " continues Davanzo expressing his intention to nurture community based microcinema in this film capital, Los Angeles. "This city is so much about commercially successful films and unfortunately does not offer much support in the true art of film making. We are more inclined towards non-narrative works, such as experimental films or documentary," kind of films that usually do not get a break in Hollywood. Although Davanzo responsively pre-screens and curates all weekly screenings, every Thursday offers a different types of showcase and audience comes back for that diversity. Most of the films are non-language based, sometimes silent that often DJs, opera singers, and even a punk band accompany the film presentation. The show sells out every week, and this usually spacious floor is filled with various generation film lovers. "It's so popular that now we have special screenings on Fridays and Sundays too." indicates Davanzo. Truely, the Center has offered its screens to Slam Dance fundrasing, Silverlake Film Festival (that have credited Mike Mills and Geoff McFetridge as a local participant), the guerrilla-style Echo Park 24 Hour Film Project (where you call in to get a theme and shoot & edit in the same day for next day screening) and many more to come.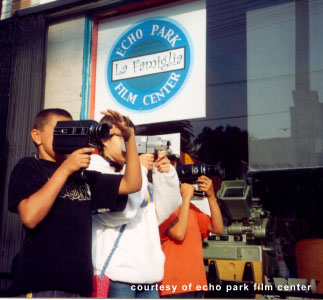 Being a passionate film maker himself, Davanzo used to travel all across the globe leading the tour "Super Super 8 Roadshow", with his Polyester Prince Production films. It all started as group screenings of his friends' films or something he picked up on the road. Roadshow reached places where those kind of entertainment was rarely enjoyed. Several years of touring and experiencing the reception in each community, Davanzo finally felt ready to set up a home for his movement in this city he grew up. He met his co-founder Fountain who happen to be a student of Davanzo's film making class at College of the Canyons in Valencia. "That was one of the best class," his mind procrastinates to the past. Being a talented craftsman, Fountain has been busying himself lately with repair orders that pours in non-stop ever since the Center opened its door. Yet he finds time to retrieve gems from local thrift store and garage sales, which eventually contributes to the collection at the Center. Cameras, projectors, viewers, splicers, found footage films, reels editing supplies, 8mm and 16mm film and much more colorfully decorates Center's interior, and be reminded that all of them are available to your use.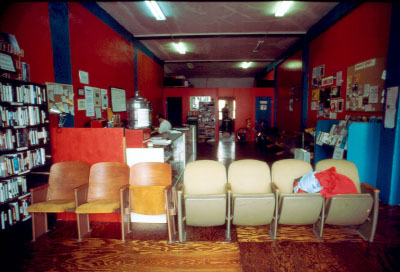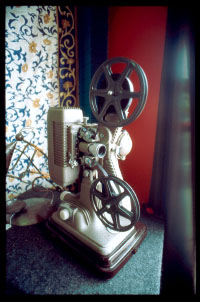 One of the most unique offerings at the Center is free-of-charge Super 8 filmmaking classes for kids under 17. "Teaching is just my passion," Davanzo excelerates his words, "and it's amazing how kids respond to it". By the end of 7 weeks session, kids will complete editing their DIY work that were written, acted, and shot by them with Davanzo's humble help. With popular demand, Center now offers weekend workshops (i.e. FInal Cut Pro etc.) for adults with a nominal fee. Also the back room is being prepared for future artist live-in program to come. Echo Park Film Center is only growing, and happy surprises are yet to come.
Contact Paolo Davanzo for further information.
Echo Park Film Center
Address: 1200 Alvarado St. (x Sunset Blvd.), Los Angeles, CA 90026
Opening Hours: Monday-Friday 12:00−17:00 + special screenings
Tel: (213)484-8846
Text and Photos: Aya Muto from New Image Art Gallery
[Help wanted]
Inviting volunteer staff / pro bono for contribution and translation. Please
e-mail
to us.