Annecy festival is the animation meeting for the professionals as well as for animation films bulimics. More than the huge competition including short films from 33 differents countries, various events take place all over the town so it becomes one week of non stop action: conferences, exhibitons, special guests, retrospectives, free cinema in the open air or parties could possibly make you crazy. But the essential caracteristic of the festival is that it provides a large view on international animation, including both a professional market (Mifa) and a creative exciting festival (as in the Hiroshima festival).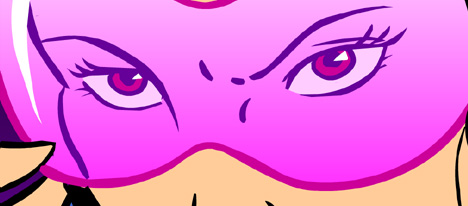 This year we could see the vitality in all the categories from advertising films to school films. With cinemas all over the town playing 6 films at the same time every 2 hours during 6 days, it is absolutely impossible to see everything ! Fortunatly Annecy is a peacefull holiday town, and we have to take time to relax near the lake, and eat melted cheese specialities. This is interresting to notice that traditional animation technics such as clay, cut paper, or even puppets are still alive next to the computer animated productions. Computer makes animation quicker and easier to access. The general trend is a mix betwin these mediums, showing sometimes week quality, sometimes skillfull use as in "Das Rad" (the rocks) from german students.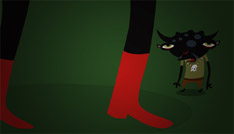 Left: Popolopompom by Dominique Baillot, france, 2001. Right: How Quest Sought the Truth by Nathan Jurevicius, Australia, 2001.
The category "short films for the internet" was little special in the competition. All the films were in flash format on the net so that people can watch them and vote. Even if the awards have been given ("Les d'emons d'Inoshiro" and "Kevina"), you still can see the whole production. It seems rather democratic in terms of means, the most complex are not always the best. Really short films, sometimes technically very simples such as the minimalistic clip popolompompom, wich is made only with white circles on a black background. "Space man in distress" is a an intergalactic Star Trek type saga where 4 sex-crazed scientists cast their horny eyes over monstruous worlds. Other episodes are on Visiodrome.com.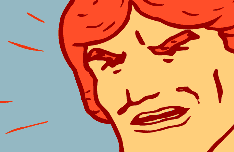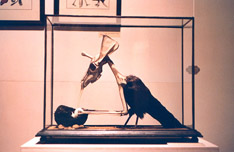 Left: Spacemen in Distress by Pierre La Police, france, 2001. Right: Exhibition of Jan & Eva Svankmajer.
The Mifa (International Animation Film Market) is the place where filmmakers can meet producers, and companies show their last technological innovations. There is also many events. Vector Lounge organises festive multimedia happenings during events all over the world. There were at the Mifa for a hot session in Annecy. During two days, web designers from different places met for a flash design contest and produced several animations that finally constitute a large web site. Next session will take place in Singapore.
In order to keep away from hi-tech possibilities, there was also an excellent exhibition of Jan and Eva Svankmajer, a couple of surrealisit artists who have worked on sculptures, collages and animations. Their work seemed to have come from the last century, using a mix of old scientific objects and fairytales. It was low tech visually, but the weird ideas were amazing. There is no good animation without good idea.
Annecy Festival 2002
Place: Cica (Centre International du Cinema d'Animation)
Address: 6 avenue des Iles, BP 399, 74 013 Annecy Cedex, France
Tel: 33 (0) 4 50 10 09 00
presse@annecy.org
http://www.annecy.org
Text: Jeremie Cortial from Elshopo
[Help wanted]
Inviting volunteer staff / pro bono for contribution and translation. Please
e-mail
to us.