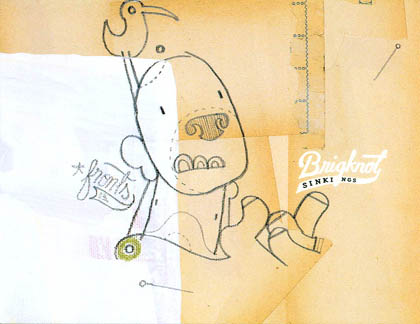 Architecture has never been this close influencing the art and fashion world. Perhaps the definition "post" has become more familiar in a daily life level because of that. Modernism or modern architecture eliminates the fringes and stands with full-on function and represents the authoritarianism towards the given space. Post-modernism, which came to challenge the existing stream of power and structure, allows rules or common sense to slip away. The definition itself is rebellious. In fashion, function becomes less concern and nature of the body is denied.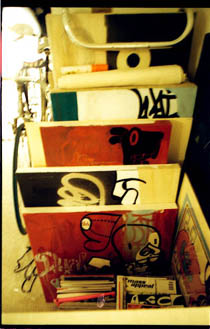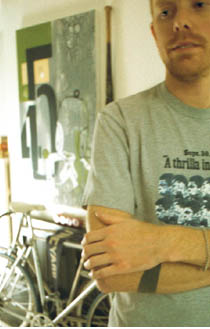 Growing up skating the city of Washington DC, Chris Yormick headed north to NYC to attend School of Visual Arts in 1994. It was not long before he departed from the school programs, and started working under record labels' art director. Yormick's canvas was primarily streets, but his time in NYC broadened the creative field to the graphic design as well. Upon the call from the skate world, he relocated himself to the west coast, taking shoe designing next in his hands. Now, Yormick is responsible for the overall art direction of Skateboarder magazine. That all explains his flexibility with skills, and full control of space sensibility which are all well observed in Yormick's paintings. His methodical practice of art seems to always be defined as post-graffiti, however it almost seems as if his art suggests the movement to come freshly soon after, instead of "post" to another.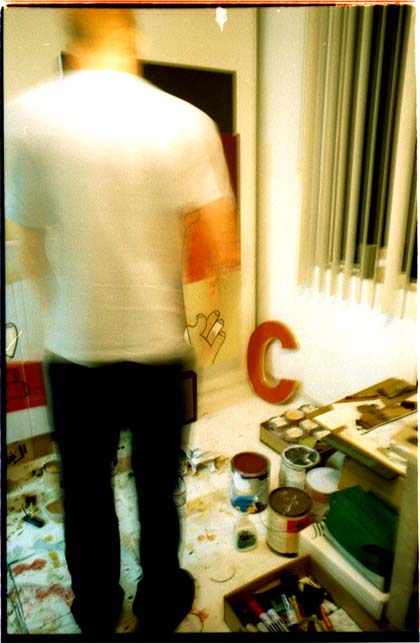 While the modernism describes "monotone and function", graffiti emerges from "noise and disorder". Both will describe the encounter theory by assigning the phrase "post" in front. Post-modernism pursues "noise and chaos" while post-graffiti seems to cover "serenity and balance". Here it's clearly seen that the street movement goes a step ahead or opposite vector of the social movements. Yormick's work can definitely be described as post-graffiti's "serenity and balance", yet also includes organic element to add a soothing noise. For example, the found items such as tanned receipt paper rolls to create a pattern, or loud '70s wall paper with retro orange to suggest a play. This attitude to screw off several bolts from full-on functionalism is indeed post-modern. Furthermore, Yormick's favorite: paint stroke bamboos, smells neo-modern, which is to come after post-modern. Bamboo is made of straight lines, yet certainly is a product of moody nature. That betrayal are often preferred in neo-modern space design. This fickle bamboo hides in Yormicks layered paintings, just like
how his text hide and seeks. "I love the throwups and tags, which most people hate. I LOVE those things, " comments Yormick. This nostalgic statement just confirms his boundary, being way far out, while he shys away with a friendly smile. I don't know how many movements have spinned around in that head.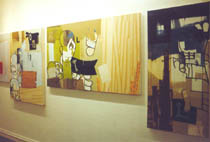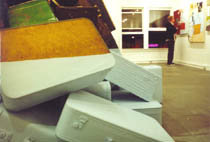 Currently a resident of Los Angeles, Yormick's solo show is viewed at New Image Art. Show titled "Brigknot Sinkings", suggesting sinking battleship, are lined up with human size canvas and pile of vintage suitcases. Soon after you'll realize the water level reaching your knee cap observing the soaked (with pastel blue paint) suitcases. The artificial dynamics rule the gallery space while the leak of water calls for trauma against great nature. Water here is the organic element in the gallery space, balancing out the ultimate order that the canvas display creates in the room.
To be organic while pursuing minimalism seems all of a sudden popular now, but must not forget these emerging artists who has a say on the "trend" or social tendencies instead of synchronizing with them. Nostalgia is encouraged through most unexpected's mouth at times. "What is good is good", simple yet strong streamline of thoughts connects the the neo-graphic artists. Flex your antenna. You might be able to catch the noise in the air.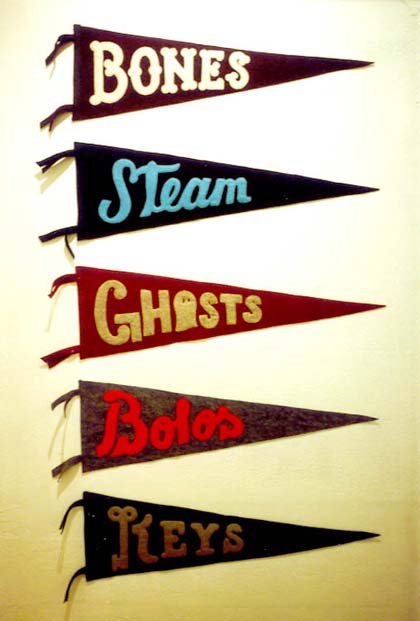 Part of the current show on view "Brigknot Sinkings", Yormick's banner (limited edition of 10 each) is available through New Image Art for $100 per piece [+ shipping fee] .
"Brigknot Sinkings"
Date: 23rd March – 27th April, 2002
Place: New Image Art
Address: 7906 Santa Monica Blvd #208, West Hollywood CA 90046, USA
Tel: +1 323 654 2192
newimgart@aol.com
http://www.newimageartgallery.com
also on view;
"The Other Side of the Fence" by Christopher A. Ruess
All inquiries on artists, please contact Marsea Goldberg.
Text and Photos: Aya Muto from New Image Art Gallery
[Help wanted]
Inviting volunteer staff / pro bono for contribution and translation. Please
e-mail
to us.