Comics in France are part of popular culture. However the habits in comic consumption are rather rigid as classic color hardback albums still rule on the French bookshops shelves. In the 90s, the manga tsunami and US comics swell broke in Europe. This upheaval opened new horizons for authors and readers, then it helped the emerging of new forms of comics during the last few years.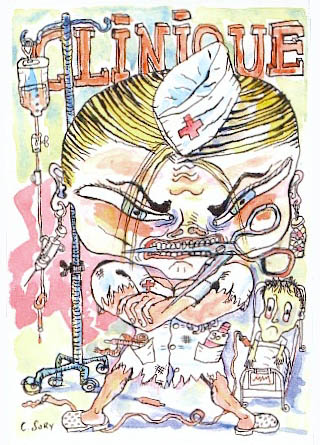 1st New Comic Festival was held in Valence, in a high school closed during holidays. It was the first festival dedicated to independent comics here. The atmosphere was relaxed, in a decor that seemed improvised. We could see exhibitions of original works, talk to authors and publishers, and make an incredible amount of shopping as we could find a collection of rare books.
Usually to get them you have to stroll for hours on the net, get informed in independent music and comics magazines, and order from different places. Today all was there and we could touch.

I've appreciated the serigraphied magazine "Stomack". It's a production limited to 100 copies. The serigrapher gathers illustrations and comics from various drawers, and uses them as a material, arranging them to compose as he likes the whole magazine, trash experimentation mixing serigraphy and linography, on different papers, with various inks so you can feel their textures. This comes to an extremely rich and compact result.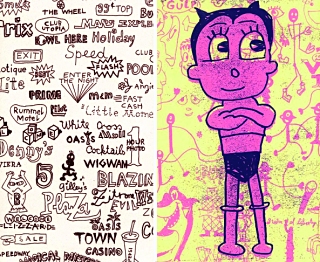 Another stand very interesting though better-known: the label "Le Dernier Cri". Their productions are raging and psychedelic, full of thick and vibrant colors. Caroline Sury explains the situation of their atelier. "We left our atelier in Paris because we had not much money and we wanted to do nothing else than what we wanted to do. Now we are set up in Marseille in a squat, with other associations." They are really productive.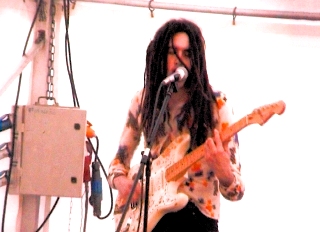 The lunch was like a country picknick, with "Cote du Rhone" wine. Famous cartoonists as Mattt Konture or Carali were playing electric guitar under a big tent. I asked authors how they were managing to make a living out of comics nowadays. Nicolas Poupon said "I make little 30 pages-books so it seems like I draw a lot. My last album "Le Bocal" sells pretty well, but I have to make illustration works also if I want to live. I also try to go to every festival where I can eat for free".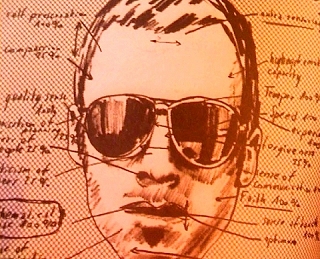 Then I met a group working on an interractive comic on the web developed in Flash, called Supershoes. This project implies to find a form between comic and animation, including an ounce of interactivity. It should be a kind of boosted comic. Eventually, they will add some video games parts within the frames.
It's becoming complicated. Today, media are meeting and crossing, there is constant emulsion which leeds to both virtual and plastic forms you can taste and live.
1st New Comic Festival
Date : 2nd-3rd March, 2002
Address : 8 Avenue Jean Moulin, 26500 Bourg-Les-Valence, France
Tel: 04 75 82 00 10
info@nouvellebd.com
http://www.nouvellebd.com
Text and Photos: Jeremie Cortial
[Help wanted]
Inviting volunteer staff / pro bono for contribution and translation. Please
e-mail
to us.