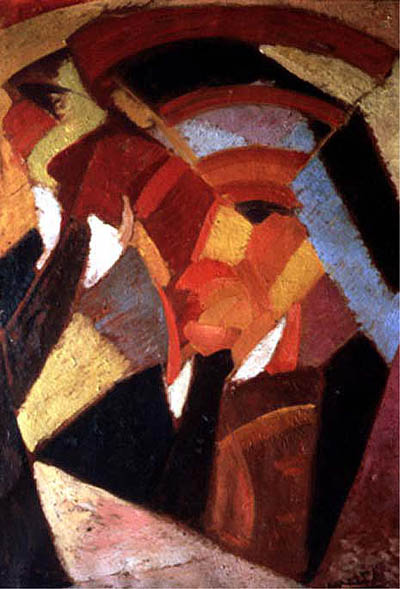 "If there is no form there is no life". This is how Achille Funi sums up in his painting the scrupulous definition of the object, the predominance of line on colour, the solid tangibility of volumes which express themselves as a silent testimony of things: a characteristic which was to become something of a hallmark over the course of his artistic development, forming a continual comparison between the traditional and the new.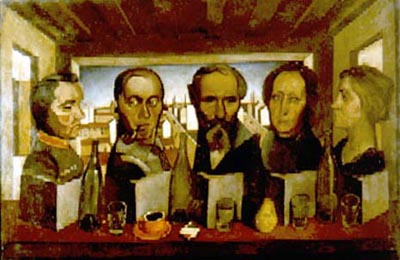 Achille Funi, Genealogia (Genealogy), 1918
Virgilio Socrate Funi chose a mythological and poetic name for himself ("because mythology is truer than history") and became Achille; a painter, he was born in Ferrara in 1890 and died in 1972 in Appiano Gentile near Como. Both the man and his work are today under scrutiny in an exhibition at the Spazio Oberdan in Milan, organised by Elena Pontiggia and Nicoletta Colombo. The subtitle "L'artista e Milano" (The artist and Milan) indicates his relationship with the city which the exhibition investigates through a series of external itineraries, revealing his monumental frescoes and mosaics in Chiesa di Sant'Angelo dei Frati Minori and Chiesa di San Giorgio al Palazzo as well as the decoration of many public buildings; the Palazzo di Giustizia, Banca di Roma and Teatro Manzoni. He moved to Milan as a young man in 1906 and his relationship with the city was a close one, made closer still by his links with the Accademia di Brera where he was first a student then a teacher (he taught a number of artists including Morlotti, Cavaliere, Adami), finally become director. Oppressed by the fortune he enjoyed under Fascism, after a long period of obscurity he is now being rediscovered.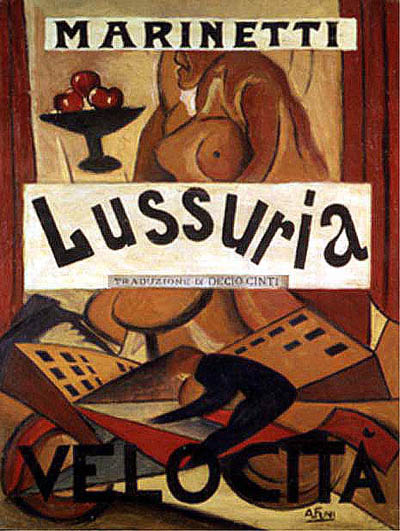 Achille Funi, Marinetti, lussuria, velocita (Marinetti, lust and speed), 1913-14. Photo Vasari, Rome
Funi bridges with intelligence the most important movements of the twentieth century: Futurism (Nouve Tendenze 1913-14) when he voluntarily enlisted in the First World War along with Marinetti, Sironi, Boccioni, Russolo and Sant'Elia in the famous Battaglione Ciclisti. This was followed by the Italian twentieth century classicism of the twenties to the thirties. Within the atmosphere of "return to order", Funi followed the ideals of perfection and beauty and was obsessed by reproducing the body. He always worked in a highly traditional way: the study of geometry as the basis for any composition and drawing as the key and central working method, even in the brief futurist period immersed in the discovery of space he preferred the tension of volumetric contrasts to abstraction with a tendency towards the monumental already in the making. A long period of mural painting followed and in 1933 he signed the Manifesto with Mario Sironi. In the same year he took part alongside Carra Sironi, De Chirico, Campigli, Cagli and Severini in the V Triennale d'Arte Decorativa, at Villa Reale in Monza. These were years in which the artistic atmosphere Milanese was highly charged, thanks to the public commissions and Triennale exhibitions which created an increasingly lively debate between architecture and decorative arts.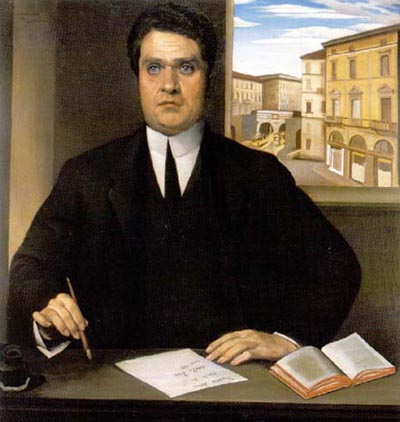 Achille Funi, Umberto Notari nello studio di piazza Cavour a Milano (Umberto Notari in his studio in piazza Cavour, Milan), 1921
Taking part in many of these same events was one of the major catalysts of the cultural scene of the time, Gio Ponti, who had inherited a renaissance conception of art and was both a great experimenter as well as an intellectual (an exhibition in Milan is showing a range of work – majolica, furniture, drawings and documents from the Art Deco period – of which Ponti was an elegant master) Funi encountered him again in the competition for the Palazzo del Littorio in Roma; these collaborations, born out of an association with Massimo Campigli, are an important testimony to the productive atmosphere of the time, despite the difficulties and awkwardness concerning the equivocal relationship between the regime and intellectuals.
Achille Funi. 1890-1972. L'artista e Milano
Date: Until 24 February 2002
Address: Spazio Oberdan viale Vittorio Veneto 2, Milano
Tel: +39-02-77406354
Gio Ponti. Maestro del Deco
Date: Until 31 March 2002
Address: Biblioteca di via Senato via Senato 14, Milano
Tel: +39-02-762151
Text: Ilaria Ventriglia from Domusweb
[Help wanted]
Inviting volunteer staff / pro bono for contribution and translation. Please
e-mail
to us.