Roughly there are two types of 3D models in the show. The first ones are miniature world of clay monster models. Different environments are created in each glass boxes, monsters in outer space, monsters listening to records in nature sitting next to a stream of water, etc.. Looking at them, stories appear though my mind. People stares at the little monsters' world in a manner that's almost breaking through the barrier of the glass walls. Probably so many stories without languages are being created in many audiences' minds.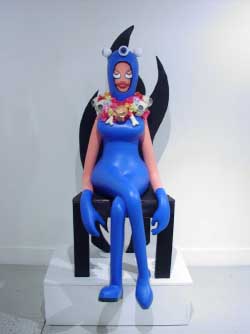 The other types are life-size monsters, each one of them has a unique name and posing as they have been in our world for sometime. The largest one is small adult size, but most of the monsters are cute and loveable, they're like young monsters. They look so friendly, I had the urge to shake their hand or pat their head.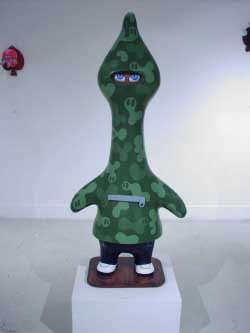 I am quite surprised that all the work in this exhibition is 3D models. What response are you getting form the public so far?
I've had a great response so far, I think they shared your surprise in seeing the 3D creatures so big, I've had lots of requests from people wanting to get their photos with them!
Are the large monsters supposed be the life-size models of the monsters you have created?
With the larger pieces I see them as life size, as if you were to meet the real thing face to face, of course that is unlikely as we have yet to invent to parallel world travel device.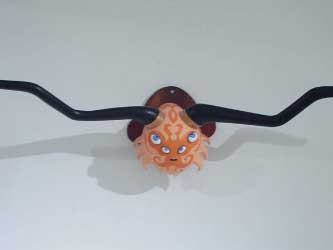 If you drew and created as a child (as most children do), can you tell me did you ever have the vision or wish to be a grown-up and still creating fantasy worlds like your own 'cam-guins' etc!?
I drew a lot as a kid and always looked up to comic artists as special creators so I had respect for those kind of people but never thought about the possibilities of creating monsters at 32 years old. I don't think I really believe my situation sometimes, I'm lucky to do something I love for a living, I think that's rare.
Creativity brings ideas to audiences who experience the works, and helps us to create "new" ideas in our minds. Pete Fowler's monsters can provide that to all kinds of people without any restricted age or status which is something very important in our society.
Pete Fowler "Monsterism"
Date: October 15th – November 9th, 2001
Open: 10:00 – 16:00 (Closed on Saturday and Sunday)
Place: Exposure
Address: 22-23 Little Portland St, London W1W 8BU
Tel: +44 (0)20 7907 7130
http://www.exposure.net
Text: Natsume Shiroyama
Photos: Natsume Shiroyama


1
2
[Help wanted]
Inviting volunteer staff / pro bono for contribution and translation. Please
e-mail
to us.