IDN Fresh Conference Sydney
It all kicked of with the RMX launch on wed nite where beer and nibblies got everyone in the mood for what was to be a monumental weekend. The day after the IdN Fresh party rocked also where all newcomers got to meet eachother and let off some steam at on of Sydney's top dance spots "GAS". Again another alcohol consuming nite to set everyone up for fresh.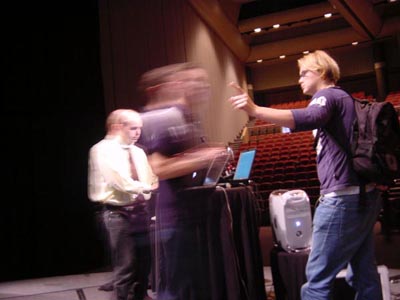 IdN's Fresh Conference rocked, despite the absence of some key speakers the auditorium was filled beyond capacity with students and industry members alike. From the captivating talk given by such players like Attik's Dave Taylor and Design Graphik's Mike Young.. it was a throeoughly enjoyable spectacle of talent. Fresh work was shown by Tomato Interactive and some amazing techincal wizardry by Yugo Nakamura.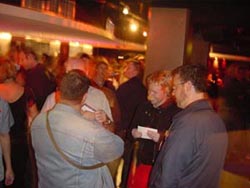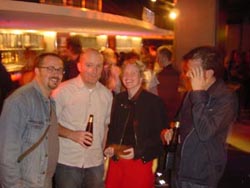 right: Rilla from Rinzen. left: Designer, Andrew Johnston of Design is Kinky and Rilla of Rinzen.
Showbags were given out per entry to the conference wich kept most punters happy .. they consisted of booklet and cd.. plenty of cool toys and T-shirts for sale in the IdN shop aswell. Overall it was an awesome event where alotta designers got to meet one another face to face and exchange ideas. Two amazing sun filled days.. left everyone iunspirted to go home and do some wicked design.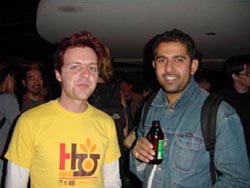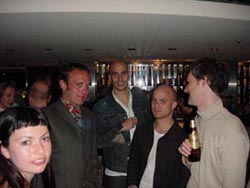 right: Andries Odendaal of Wireframe Studio and Simon Sankarayya from Digit. left: Designer, Tom Roope, Joel Baulman and Token of k10k.
Here is a line up of the key players :
ATTIK // Dave Taylor (Australia)
Animal Logic // Andy Polaine (Australia)
Design is Kinky // Andrew Johnstone + Jade Palmer (Australia)
Deepend Sydney // Matt Griffin (Australia)
Designgrphik // Mike Young (US)
Digit // Simon Sankarayya + Orlando Mathias (UK)
Future Farmers // Amy Franceschini + Josh On (US)
PrayStation.com // Joshua Davis (US)
Tomato Interactive // Tom Roope + Joel Baumann (UK)
Tree Axis// Krister Olsson + Stella Lai (US)
Wire Frame Studio // Andries Odendaal (South Africa)
Yugop.com // Yugo Nakamura (Japan)

RMX EXTENDED PLAY: IN EXHIBITION
As a catalyst for the creative industry, IdN joins with RMX project to meld graphic designers, artists and illustrators in an unpredictable and chaotic collaboration. Passing a series of initial pieces between players from Switzerland, Sweden, Germany, Japan, the US, the UK and Australia, the remixes combine radically different approaches and styles. Participants include Sweden Graphics, Volume One, FutureFarmers, E-boy, Shynola, The Designers Republic, Evan Hecox, Tycoon Graphics and Rinzen.<
Text and Photos: Luca Ionescu