Since being stuck in New York City because of the terrorist attack of the World Trade Center, this month's article comes directly from Brooklyn, New York. Having searched for several places to go out and listen to IDM music all over Manhattan, one night i discovered the Level X in Williamsburg on my way home.

It all started out in July 2000 when Lara and Adesh, two of the three founders of Recordcamp, heard about this new spot close to Bedford Avenue
in Brooklyn. Back then there used to be an open turntable night on every monday which they signed up for. Having been into the New York electronic music scene for the past years this was their first public dj'ing gig.
Showing up every single monday night from then on, they soon got the night for themselves. They teamed up with Dan, a hip hop dj that Adesh used to work with and held a regular monday night at the Level x, called Recordcamp. In the early days, their music was usually a mix of all kinds of hip hop, electronic and even punkrock, and there would always be a number of guest djs coming in and spin some records. When they were asked to do new years 2001, they invited their favourite and most admired djs to come in and play on this once-a-year night together with them. The line-up that night included Sky Tucker, Otome and dj Aura (schematic, warp, isophlex) who got the huge crowd going.

Having had such a success on this new years eve, they got in on the following Saturdays as well to push forward electronic music in this indie-rock dominated neighbourhood. The Saturdays, called the "Recordcamp Allstars", focussed on more abstract electronic music. Including a live act playing on each show, their first Saturdays had guests such as Daniel Givens and GoSub! in the house.
When Dan, one of the founding members of Recordcamp, left for California to do volunteer teaching for underpriviliged kids, the Monday already was a hard night to bring especially party people from Manhattan across the river to the club. Tired of playing for nobody, they decided to switch to Thursday night that soon got them going again. Having guest djs spinning every week, the club soon got crowded again at Recordcamp. Both of them always tried to get some of their "dj heros" to team up with them, which f.e.brought Hefty Records (Slicker, Beneath Autumn Sky), BipHop (Marumari, Warm Desk, Sulako, Crix Madin) and Other Music (Kompakt) to this New York hot spot.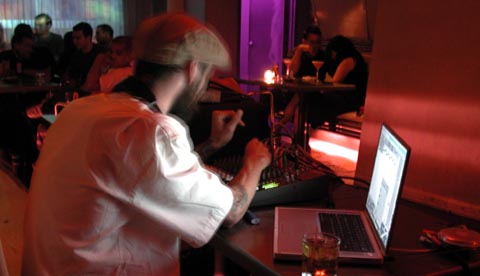 (Beneath Autumn Sky, July 2001)
Part of Recordcamp's concept is to give unexperienced djs a chance to take over the early slots. If their taste of music somehow fits into it and is not mainly hardcore techno or cheesy house music, they are more than welcome to drop a mail on the Recordcamp website and introduce themselves. Besides meeting most of the djs spinning today going out to the local scene, they got to know a lot of people that way, being in town for just a few night and not willing to get dust on their records.
"The whole recordcamp thing is about nerdy record buying and being into music" according to the words of Adesh, whose passion is graphic design besides IDM. He doesn't consider himself a dj though, but just likes to spin his favourite records. "The Problem about dj'ing is", he says, "that a lot of djs are too limited to their style and have lost the freedom to just play their favourite records, no matter what that might be."
Listening to so many diverse records as he does, he still likes to experiment and occasionally throw in a record that maybe doesn't get the crowd going wild but is just an expression of his own taste and mood he's in.
In Lara and Adesh's opinion a general problem of IDM parties is that people are used to listen to IDM's "greatest hits", so the dj ends up playing the same Squarepusher or Boards Of Canada songs and the same style over and over again because that's what the crowd's expecting. Exactly this diversity of the music played at Recordcamp is what they both enjoy so much. Over the past years they have learned from the different styles of music that they were hosting. If you're into these musical experiments, they both agree that Thursday night is the perfect night to host.
On Saturdays people who go out usually aren't that open to some not-so-straight-set but just want to listen to dance music and party. Another important keypoint to their philosophy is that they don't want to be part of the so-hip New York club scene but rather gather a crowd that really knows to appreciate the quality of the music played at the Level X. It is this unique atmosphere that the more than 70 guest djs like about this Williamsburg joint that has been open for almost two years now. The list of have-been-theres includes quite illustrious names such as Schematic Records, dj Radius, Sky Tucker, Gliese (Schematic Records), Beta Bodega, Jake Mandell, MachineDrum and dj Aura (Warp, Isophlex).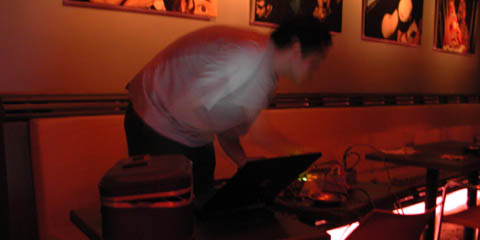 (Danny L, June 2001)
For the future, both, Lara and Adesh, would like to concentrate on having more live acts playing. Since they don't charge a cover at the door though, it's kind of hard to raise money to fly in djs who aren't in town anyways.
The plans for the next months include a livestream from the Level X and a MP3 portal site to give people a chance to listen to new unsigned artists putting out tracks every week on their site. Also they'd like to extend the Recordcamp site with features and interviews on upcoming events and eventually create a network of people who want to express their love for IDM music. There's a lot to look forward to.
So for your next stay in the big city, don't forget to visit the Level X on a Thursday night, it's definately worth it.
The Level X
Address: 107 N. 6th street, Williamsburg, NY 11211
Tel: +1 718 302 3313
http://www.recordcamp.com
Text: Daniel Goddemeyer
Photos: Adesh Deosaran

[Help wanted]
Inviting volunteer staff / pro bono for contribution and translation. Please
e-mail
to us.