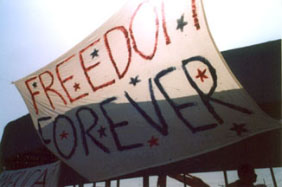 I have finished my morning routine as usual, then I got work 7:00AM. It was a normal morning until I heard the news from Sanny, a cleaner at office. At first, I couldn't believe what happened, so I rushed to PC then I looked for the information but they didin't have any at the moment because it just happened an hour ago.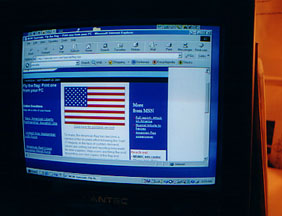 In the morning I work at a stock photo agency (mainly about celebrities), and with movie magazine in the afternoon. I can't believe, even though that terrible thing had just happened, I have to work as usual. We have many clients in NY, of course we can't contact each other, and I knew that everyone got shocked badly so I felt terrible when I had to start to talk about work. "Why am I looking for some photos of celebrities today?" for no reason, tears running down my cheeks.
We can imagine easily, suddenly about 7000 people were taken from our ordinaly daily life. We won't find a word to express the sadness of NY -some people related to some victims somewhere for sure. Three airplanes out of four airplanes were supposed to go to LA, so I know some of my acquaintance lost their family and heard their despair. It was a day which our way of thinking had changed, what the safe is and what the dengerous is, what we think it's precious.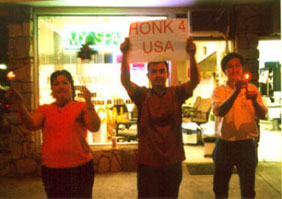 The govermwnt, media, citizen, they all got huge shock but quickly started to move. The news casters had been reporting anxiously the information which is renewed every single minute, and there were flags say "FREEDOM FOREVER" or "GOD BLESS AMERICA" at the crossroads. When it got dark, peaple who brought candles gathered to down town. So many people put American flags on the entrance of their houses,and balconies. Even on the cars. People went on volunteer and blood trasfusion.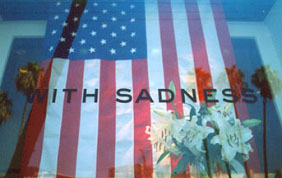 Civil war, race war, terrorism and resistance for them are happening every single day, but for America, this terrorism had happened on their own country, and it was a huge disaster we couldn't avoid. Now I can see that everyone seems very patriotic, and I have never seen the American flags show so much unity and the strongness of its meaning.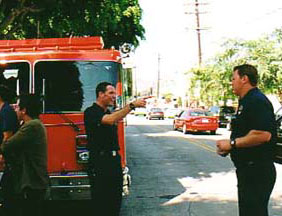 They had BBQ to gather money for charity campaign for families who lost
their family -almost 300 NY firemen sacrificed themselves.
A few hours under the flamming sun, more than 2500 people came to this small parking MOOVA, the profit went over \6,000,000. Many chefes participated from fashionable restaurants in LA, so there were "hip" crews everywhere. Jason Bentley, Garth Trinidad(well known DJs in KCRW.ORG) took a part as DJ, the presentation was very unforgettable.
And there is no need to say that the image of firemen became so much powerful ever. The event ended with the silen of some fire engines and the great applause from many people.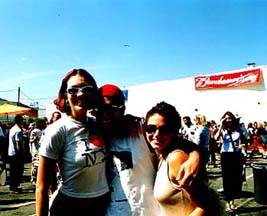 The charity campaign goes on through these various unique event. Sadness, fear, anger and confusion don't disappear soon, but at the same time, many peaple seem to try to understand the importance of making our way to next step. It is not about forgetting this disaster. It is about how we keep our mind to not to give way to these cruelty by fringe.
I sincerely pray for people who sacrificed due to this disaster that should not happen, and not to be repeated all over the world any further.
Text: Aya Muto from New Image Art Gallery
Translation: Junko Isogawa
[Help wanted]
Inviting volunteer staff / pro bono for contribution and translation. Please
e-mail
to us.