In a brick-walled vault under the Toyoko-line tracks from Nakameguro, restaurant bar 'depot' has recently become one of the more interesting gallery spaces in Tokyo. In the second volume of the 'versus' exhibition series, graphic designer, illustrator and director Ito Keiji (UFG – Unidentified Flying Graphics) joined with mates David Duval-Smith and Michael Frank from creative chameleons Namaiki, to create a super-polygonal sculpture of a calf cow, with accompanying blown-up photocopied sketches of the work-in-progress.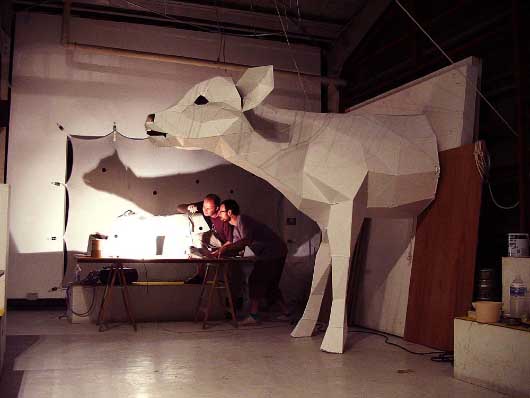 The intricacy of the composition was bloody impressive and definitely painstakingly put together, and reminded me of the streets in Chicago where multi-coloured cows are scattered across various corners of the city centre. Namaiki and Ito Keiji are always on the move between different creative projects, producing work that surprises and entertains, but remains distinctively theirs, and in this case sparked a thought-provoking and striking image.
As Tokyo is generally an animal-free zone (bar the odd designer dog, stray cat, scavenging crow and irritated mosquito) it would be good to see their collaboration on this theme rewarded with a commission to animalise the streets of the neon city with a set of similar polygonal creatures.
Shift interviewed Namaiki and Ito Keiji about the exhibition:
Firstly, please introduce yourself.
Namaiki (David Duval-Smith and Michael Frank) and Keiji Ito. Long time friends and fellow fools. The madness hidden inside is aroused whenever we work together. Our relationship maybe something likes that.
How did the collaboration for the versus exhibition come about?
Namaiki: A collaboration in the true, great sense of the word. We started out on a journey with no idea where we would end up and followed that path as far as we could. We saw some great things along the way and returned with many treasures.
Keiji Ito: We were sure that the collaboration would succeed when the words 'Technique and Picnic' came to us. The words seem stupid enough as the motivation.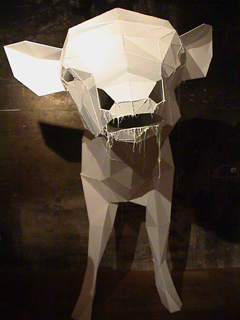 What was the process for creating the sculpted calf/cow?
Namaiki: Working from sketches of real cows we developed a series of clay models which were then digitised and laser etched from high tensile foam-core. The cow drool was first modelled in CAD software using a saliva simulation module, and then dribbled on the cow directly with a hot glue gun…
Keiji Ito: It was really enjoyable to see 'Namaiki' in creating the cow. They are like mad scientists as well as big kids.
Read more ...

1
2
[Help wanted]
Inviting volunteer staff / pro bono for contribution and translation. Please
e-mail
to us.