In a brick-walled vault under the Toyoko-line tracks from Nakameguro, restaurant bar 'depot' has recently become one of the more interesting gallery spaces in Tokyo. In the second volume of the 'versus' exhibition series, graphic designer, illustrator and director Ito Keiji (UFG – Unidentified Flying Graphics) joined with mates David Duval-Smith and Michael Frank from creative chameleons Namaiki, to create a super-polygonal sculpture of a calf cow, with accompanying blown-up photocopied sketches of the work-in-progress.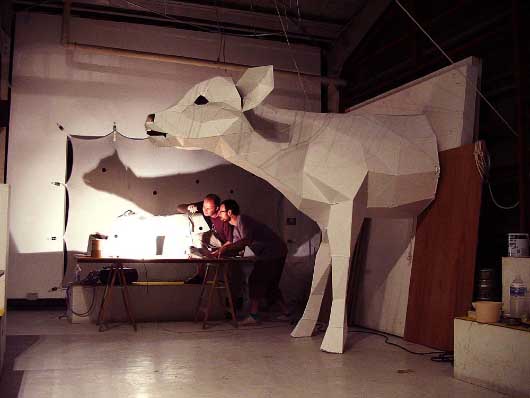 The intricacy of the composition was bloody impressive and definitely painstakingly put together, and reminded me of the streets in Chicago where multi-coloured cows are scattered across various corners of the city centre. Namaiki and Ito Keiji are always on the move between different creative projects, producing work that surprises and entertains, but remains distinctively theirs, and in this case sparked a thought-provoking and striking image.
As Tokyo is generally an animal-free zone (bar the odd designer dog, stray cat, scavenging crow and irritated mosquito) it would be good to see their collaboration on this theme rewarded with a commission to animalise the streets of the neon city with a set of similar polygonal creatures.
Shift interviewed Namaiki and Ito Keiji about the exhibition:
Firstly, please introduce yourself.
Namaiki (David Duval-Smith and Michael Frank) and Keiji Ito. Long time friends and fellow fools. The madness hidden inside is aroused whenever we work together. Our relationship maybe something likes that.
How did the collaboration for the versus exhibition come about?
Namaiki: A collaboration in the true, great sense of the word. We started out on a journey with no idea where we would end up and followed that path as far as we could. We saw some great things along the way and returned with many treasures.
Keiji Ito: We were sure that the collaboration would succeed when the words 'Technique and Picnic' came to us. The words seem stupid enough as the motivation.
What was the process for creating the sculpted calf/cow?
Namaiki: Working from sketches of real cows we developed a series of clay models which were then digitised and laser etched from high tensile foam-core. The cow drool was first modelled in CAD software using a saliva simulation module, and then dribbled on the cow directly with a hot glue gun…
Keiji Ito: It was really enjoyable to see 'Namaiki' in creating the cow. They are like mad scientists as well as big kids.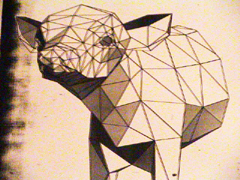 What were your inspirations and intentions for the exhibit?
Namaiki: Inspirations; The place and space to make a mess. A recurrent obsession with animals and their role played in the world today. Sketchbooks from our recent european tour. Mischeviousness.
Intentions; To confirm a hunch that collaborative process should be allowed to follow its own logic – and will produce interesting and intriguing work that will surprise both collaborators and audience. To work with drawing in a way usually associated with music. (esp. improvisation.)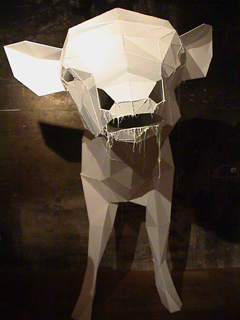 Keiji Ito: Animals, fruits and music, drawing and improvisation, suddenness and accident, are our inspiration. The tape drawings in the venue were very from these.
You are often working in different media, please comment on how you feel about creative freedom and your range of art projects.
Namaiki: Creative freedom is something you give to yourself. The greater range of things we can imbue with our own sense of fun (nonsense?), the more meaningful our lives become.
Keiji Ito: To create something is the same as to breath, eat, and sleep. I think that to create balances our body, brain and soul.
What are your current and future projects?
Namaiki: Unit_bath live and dvd. Strange kinoko's 2002 performances. 'technique and picnic' at Parco. The Namaiki submarino for Yamaha Motorycles. A new media library rescource for people in need (us). Maybe something with ecosystems.
Keiji Ito: The publication and exhibition for the new portfolio 'Super Cassette Sounds', and Versus Exhibition at Parco Square 7. I think I did more but I have just forgot.
Any message to Shift readers and viewers ?
Namaiki: Command option control & escape.
Keiji Ito: Do you want to eat something?
VERSUS 02 – KEIJI ITO VS NAMAIKI
Date: August 20th to Septemeber 1st, 2001
Place: DEPOT
Address: 2-43-6 Kamimeguro Meguro-ku, Tokyo
Tel: 03.5773.5502
Text and Photos: Andrew Thomas
[Help wanted]
Inviting volunteer staff / pro bono for contribution and translation. Please
e-mail
to us.