The cover of this month is made by Soda in London. They have been working on a lot of on/off line interactive projects. Their representative work 'Sodaplay' is an amazing interactive work with Java. Many of you might have experienced it. We asked them about their recent projects and London.
First of all, please introduce yourself as well as your background.
Ed Burton. My official hat in soda is research and development director, but we're still small enough for everyone to be doing a bit of everything. I'm also known as the original culprit behind sodaplay, and playing remains one of my favorite soda activities. Before soda I meandered through an education in Architecture which taught me a lot about design and creativity, but also taught me that I didn't want to grow up to be a real architect.
What kind of activities is Soda currently doing?
Soda is working in lots of areas of research, design and product development involving interactivity. As well as looking after our busy sodaplay site we're busy developing online toys, games, interfaces and strategies with our clients.
How was Soda founded?
The meeting of the soda founders was about 5 years ago on a quirky post graduate course at the centre for electronic arts (CEA) in Middlesex University, London. The course took predominately fine artists and designers and taught them to write computer programs in C and Java. I was doing research into artificial intelligence and children's drawing behavior at the CEA when a handful of students wooed both their teacher and myself into joining the fledgling soda. I've not looked back and we've grown slowly and steadily since then.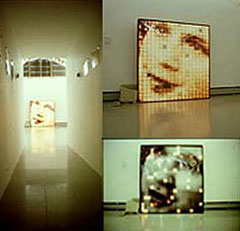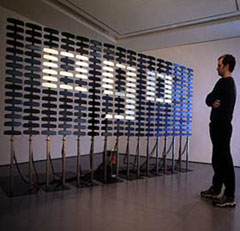 Where does your inspiration and idea from?
For myself the inspiration is play; the joy that comes from spontaneous experimentation and discovery. Playing has always been a central part of way I work and now facilitating creative play has become a fulfilling aspect of what I produce when I work.
What do you think is the most important aspect in interactive design?
Responsive systems rather than scripts. My favorite interfaces invite very open interaction and exhibit emergent behaviors in response to how they're used. I want users to be free enough to discover potential in how they use an interface beyond the confines of the imagination of its designer.
Are you producing any games besides of Soda Constructor or do you have any idea for games that you would like to make in the near future?
We've got a couple of very cute toys in the pipeline specifically targeting next generation mobile phones. A lot of my work comes out cute, however I'm trying to counter this infantile tendency with an altogether more adult game I'm developing employing A.I. [artificial intercourse] technology to involve users in a simulated online world of networked pan-sexual promiscuity.
I'm also noticing the quality of the work proceeding me at Singlecell.org and beginning to think about what I'll be doing for my December spot at this online zoo of artificial life. I want to do something that takes a very minimal element and allows users to breath a very maximal amount of life into it.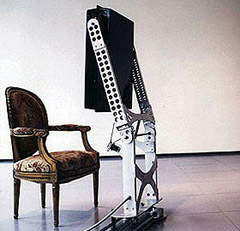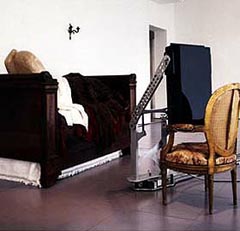 What did you imagine in working on the cover design of Shift this month?
The cover was developed by programmer, interaction designer and soda collaborator Tim Pickup with a special soda flavor added to the visual design by our lead graphic artist, Stine Sjastad. It contains lots of simple units who follow their own simple rules. The interactions of these elements produce unexpectedly rich and varied emergent behaviors. I love the fact that you have to play with it to uncover the behavioral properties of the system; there's more to it than initially meets the eye.
What is interesting in London now? Please tell us about noteworthy people or issue.
I love living in London. While from the outside it can appear an overwhelming urban sprawl, from the inside it is in fact countless overlapping villages with room for everyone to find their own neighborhoods which are often defined by common interest rather than geography.
What do you think about Japan?
I want to go to Tokyo. I grew up on a farm in the English countryside dreaming of escaping to a big city and always had a strong attraction to places that look like an imagined future. I guess Tokyo is one of my imagined futures.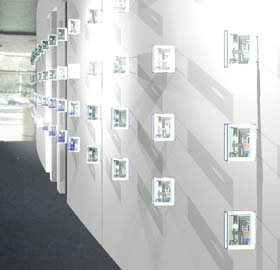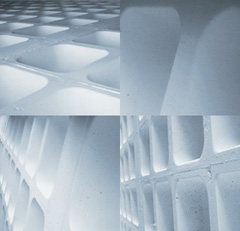 What is the thing that you are interested in the most?
Creativity, be it professional or personal.
Who are your favorite visual/graphic designers?
I like systems that are logical but unexpected. Two instance that leap out at me are John F. Simon Jr and Schlunzbergers Slavelabor.
This is the last question. Would you tell us about your plan for the near future?
Soda are very excited about moving our activities into the bourgeoning world of ubiquitous computing. Right now this is focused on the next generation of mobile phones. As computing continues to spread out from the desktop and dissolve into the world around us we see lots of new unexplored potential for creativity and play.
Soda Creative Technologies Ltd.
Address: 2nd Floor, 17-25 Cremer Street, London E2 8HD
Tel: +44 (0)20 7739 6217
http://www.soda.co.uk
Text: Naoko Ikeno

[Help wanted]
Inviting volunteer staff / pro bono for contribution and translation. Please
e-mail
to us.