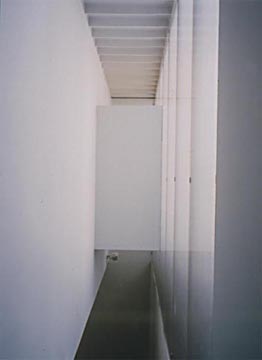 Villa in the forest of Tateshina, Kazuyo Sejima, 1995. Photo by Luisa Labri

Luisa Lambri is one of Italy's best known artists. Born at Cant (Como) in 1969, she lives and works in Berlin and Milan. She was awarded the "Leone d'Oro" at the last Biennale in Venice.
Her work consists in photographing or filming places: constructions of volumes, lights and transparencies. We are unable to identify them but this does not seem important; they resemble each other, they become mixed up and the light makes them unreal.
These are anonymous interiors seemingly not intended for socialising, but existing only to be crossed by the gaze.
Then the surprise emerges from between the lines, like notes in the margin, when speaking to Luisa Lambri: the pictures are of buildings that are the symbols of modernity. Her camera has travelled to India, Finland, the Czech Republic, Italy and Japan to converse with the historic fathers of the architectural Idea.
The last decade has been marked by female art, with public recognition of the few already active artists and a rising surge of mature "female artists" speaking autonomous languages. After the decade of the Eighties during which the artist was the suffering hero of ideological gestures has come a new vision of art, constructed by a more intimate and subdued voice that is naturally more feminine.
Luisa Lambri sees the photographing of architecture merely as a pretext to speak about herself; in this she strays from the tradition of architectural photography and in particular from the trend of German realist photography dating from the 60s to the present day represented by the D"sseldorf school, the photography academy directed by Bernd and Hilda Becher, attended by Andreas Gursky, Thomas Ruff and Thomas Struth among others. The centrality of the architecture, the elimination of technical expedients, a strictly realist intent and an objective shot make up their way of showing the tensions hidden beneath apparent uniformity.
Luisa Lambri constructs an international map of relations; she traces co-ordinates. She draws parallels between herself and the world and, in a "reportage" of places with no identity, strives to rediscover just her house and herself.
Luisa Lambri's artistic story started with a 1920 magazine of Le Corbusier: "L'Esprit Nouveau". She was struck by the relationship that Le Corbusier created between the possible and the impossible, almost anticipating the dynamics of virtuality. Architecture has a physical limit but Le Corbusier intervened on the images of his constructions to overcome this. He no longer had links with the actual or the physical. Architecture became an Idea, a mental space.
Luisa Lambri chooses an architect and then a building. She goes there, visits it, selects points, references, details and angles and photographs them. Photography encounters architecture and Luisa Lambri encounters: Le Corbusier, Alvar Aalto, Mies van der Rohe, Giuseppe Terragni, Kazuyo Sejima.
She does not produce a work on architecture nor does she pretend to. She starts from architecture in order to rediscover what Roland Barthes defined with a Latin word "punctum"; a fate present in photography: "a sort of subtle out of range shot, as if the image were projecting the desire beyond what it showed". ("La Chambre Claire", Einaudi, Turin, 1980).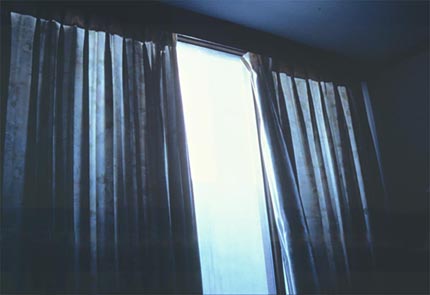 Assembly Hall, Chandigahr, Le Corbusier, 1950. Photo by Luisa Lambri
Le Corbusier
"Architecture is a pretext to move something else. Today what interests me is the specific moment when a place is transformed into a space".
Luisa Lambri photographs architecture, her pictures stem from a personal relationship with the great modern buildings. Behind her is the vast tradition of the documentary, but this is far from what Luisa is seeking – the immaterial nature of space. Le Corbusier built an entire city at Chandigarh, in India; he attempted the ambitious dream of transporting western architecture to a place where the only architecture possible are the individuals; people are the foundations of palaces, the soul of India. In Chandigarh Luisa chose an undefined, strictly uninhabited view, no geographical reference, no time reference, not night or day; she makes a mental place real and frees Chandigarh.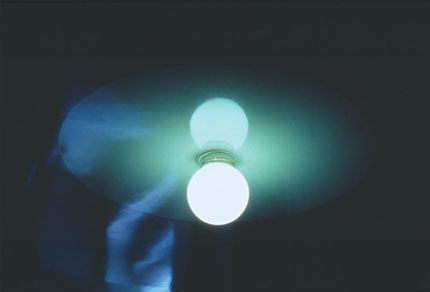 Turun Sanomat – Headquarters, Turku, Alvar Alto, 1927-29. Photo by Luisa Lambri
Alvar Alto
"My work does not speak about me. I try to keep a distance, to find a balance between the objective and personal visions of things".
There is a strong social tension in the most recent contemporary research, a humanistic drive that tends to recover the subject and its reflective dimension in every possible way. Even in uninhabited space, even with silences and absences, Luisa Lambri's work also speaks of the human but uses an abstract vocabulary to do so: secondary details, glimpses, lateral views, escape lines, windows, doors, corners and lamps. Alvar Aalto tried to reconcile the tradition of the place with architectural functionality – a living culture that seems human, but that again moves to a basically abstract tune.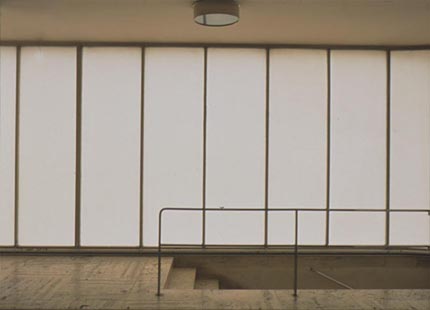 Villa Tugendhat, Brno, Ludwing Mies van der Rhoe, 1928-30. Photo by Luisa Lambri
Mies van der Rohe
"Architecture and space have a social impact, but I am more interested in sensuality and sentimentalism; architecture speaks to me through personal involvement".
Luisa Lambri uses her camera like a diviner's rod; it vibrates when she senses a soul or a remembered emotion.
Like a heroin from times gone by, she enters the houses of the great fathers of rationalism and rigorously, coldly and almost without emotion changes their reason to be. She writes in light what architecture cannot write on the ground, sentimental documentaries and fragments of personal stories.
As for Mies van der Rohe, the interior and exterior of the spaces interpenetrate; but for Luisa this dissolving lends itself to the imagination. She starts from the reality of things seeking an emotion and encounters herself in the void reinventing the spaces.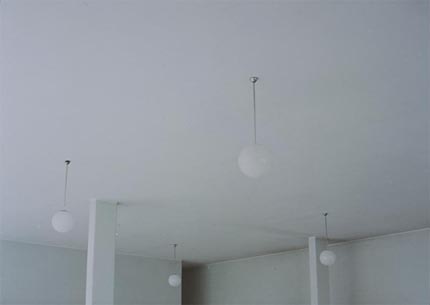 Asilo d'infanzia Sant'Elia, Como, Giuseppe Terragni, 1936-37. Photo by Luisa Lambri
Giuseppe Terragni
"It is not the celebration of a functionalist architecture; I was seeking that immaterial quality of space, the abstract dimension that runs invisibly through all his work".
Light is one of the most fascinating elements in Luisa Lambri's work, which she often changes digitally: liquid electronic blue, rays of light, transparencies, toning and white. It is an immaterial state, fluctuating like perceptions; it is the light of the soul, unnatural, mystical and almost divine.
The relationship between natural and artificial is an important concept in Luisa Lambri's work: the natural space of the building is transformed into an artificial – mental – landscape. The light and colour seem to be the fabric of the walls; on the one hand, they mark the boundaries of its territory and, on the other, they are a necessary characteristic to describe it.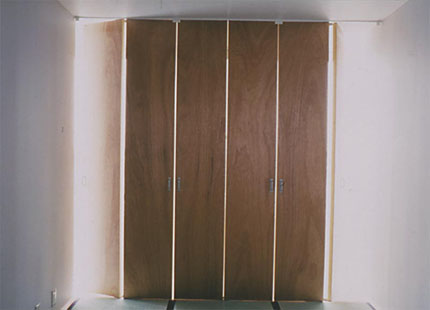 Villa in the forest of Tateshina, Kazuyo Sejima, 1995.
Photo by Luisa Lambri
Kazuyo Sejima
"The spaces that interest me are almost abstract; they are voids that need a human presence that can complete them. Memories are concentrated in every detail, in every line".
Photographing architecture is in itself a paradox. Photography subtracts from architecture its corporeity and functionality, all material substance, to give it a state made purely of light.
Transporting architecture into an immaterial world does not require the elimination of its three-dimensionality, but a rereading of it through the photographic shot. The forms and the lines restrained by photography free themselves and flow into an evocative space. They reach an ethereal place where only the Idea of architecture exists and they reconstruct a fine weave of rooms of the soul and invisible houses. For the first time, with this most recent cycle she approached a living architect to once more photograph virtual interiors.
Text: Ilaria Ventriglia From Domusweb
[Help wanted]
Inviting volunteer staff / pro bono for contribution and translation. Please
e-mail
to us.