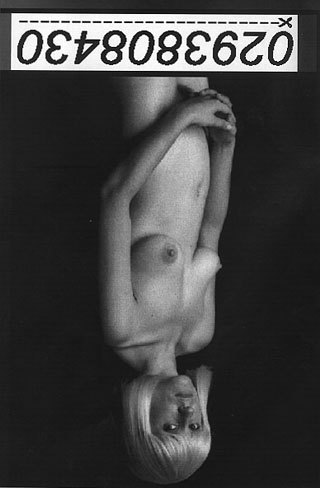 In Western society today, the emergence of the photography as a powerful form of expression, is the subject that occupies young Sydney artist, Anthea Behm.
Behm is concerned with the ways in which photography – primarily due to its historical discourse – is inseparable from the institutional frameworks in which it was conceived and its uses (or misuses) put into motion. For Behm, photographers within these frameworks confront us everyday (and in such abundance), that the way in which we perceive meaning has been conditioned. With the rapid rise of digital technologies however, the barriers between fine art, advertising and mass media are breaking down, resulting in the dissolution of the institutional spaces in which photography has drawn its meaning for so long.
Working in both a public and institutional spaces, she is seeking to reveal context as a regulator of generated meaning. By situating her images within the historical contexts of advertising, fine art and mass media, Behm aims to create an environment where viewers experience the same image in contradicting and repetition, each image is displayed outside the gallery space, in conjunction with each other and in consecutive order, over the period of several weeks. Through this process Behm is exploring the crossing of the boundaries between: art and advertising, the creative and the campaign, in order to question meaning as a marketable product, and the historically loaded notions of our perception.
0293808430 Leading to a live answering service inside the gallery space, the telephone number is a means by which Behm leaves her work open to the public for discussion. Acting as a medium for audience response, the telephone line is an opportunity to investigate thought and interpretation.
affix photo here By taking the body out of the image, the image out of the frame, Behm is playing with the expectations of the viewer. Outside the gallery space, in cponjunction with the number, expectations of the image are endless… body as object… 0055… (WHO's SEXY?) Body as number… 0293808430… LOGO, Identity… "SELL!"
The Female Body In placing the female nude in contexts created to sell underwear, beauty products, glossy magazines, and sexual services, where the female body as object abound, the female nude is perceived to be accessible. The meaning produced is one that is to be consumed. The audience and their perception is the object of Behm's work. Displayed together, the portraits are ambiguous, appearing homogenous and at the same time revealing different identities, as constructed through appearance.
Anthea Behm "0293808430"
Date: July 4th – 28th, 2001
Place: Gitte Weisse Gallery
Address: 56 Sutherland Street, Paddington, Sydney
Tel: +61 2 9360 2659
http://www.gitteweisegallery.com
Text: Luca Ionescu

[Help wanted]
Inviting volunteer staff / pro bono for contribution and translation. Please
e-mail
to us.