In our media saturated culture, it is easy to get lost amidst the happenings that surround us promoting the collapse of sound, image, technology, fashion, etc. Such was the case in finding a suitable venue to relay in this month's edition of Infoworld NYC. Navigating across a number of disciplines and options to report on which included furniture design, Djing/projections/perfomance, and even a rooftop party, I resolved on the current Jeremy Hollister display at Zakka.
Peacekeeping is the latest body of work from Mr. Hollister who has adorned the pages of Shift through his work for Manhattan Transfer and his contributions to Gasbook. Widely known as a prolific broadcast/motion graphics designer, my report focuses solely on a series of still images invoking ideas of war through it's representation of soldiers, tanks, and choppers. The irony, or rather it's cunning lies in the use of the peace symbol as the primary element in creating each of the images. Unlike much of the ASCII art we are familiar with (think M/M) which provide commentary on symbol/image, there is a nuance to applying such a politically charged icon as the peace symbol in order to create these images that embody power and destruction.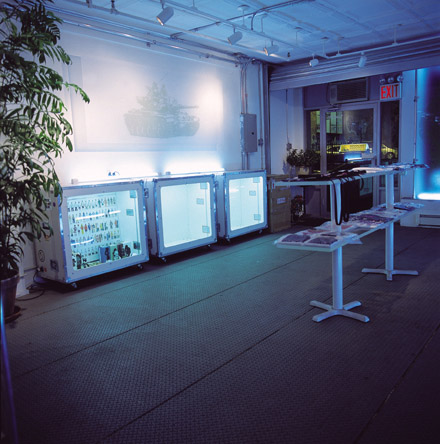 Careful consideration has been given to the images, from the color palette (camouflage green) to the way they have been displayed (they are translucent, mounted on Plexiglas and hang from aircraft cable). This balance between vulgarity and frailty make for a rich expose on the course media has taken, whether it be applied to advertising or the news. The ads of Bennetton are as political as the coverage on CNN is orchestrated. Even browsing a recent Sunday Times, one realizes the capital effects of war; Bush hoping to re-invoke Star Wars in the Week in Review and Camouflage being the style on the street in Sunday Styles.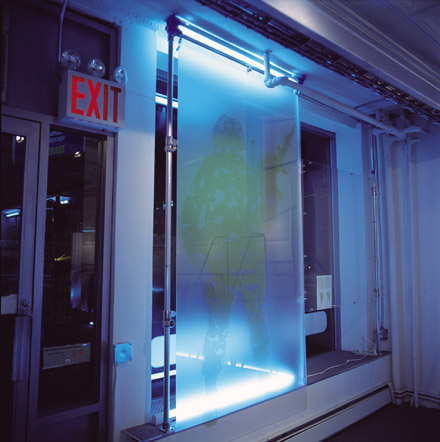 Peacekeeping is definitively of "The Moment". Unfortunately, I was not in attendance for the viewing of the projections. Therefore it's quite possible that my reading of this work is way off. Maybe there are no political motivations or messages being communicated. In fact, speaking with the proprietor of Zakka, t-shirts will be sold with the images. Nevertheless, the images speak to me as an individual and help raise my own level of awareness.
Jeremy Hollister: Peacekeeping
Date: May 11th – June 10th, 2001
Place: Zakka
Address: 147 Grand Street, New York, NY
Tel: +1 212 431 3961
http://www.jeremyhollister.com
Text: Michael Foronda
Photos: Michael Foronda

[Help wanted]
Inviting volunteer staff / pro bono for contribution and translation. Please
e-mail
to us.